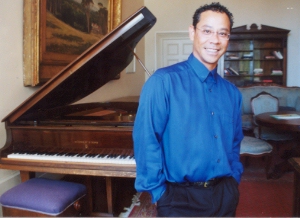 Associate Professor Franklin Larey, new Director of the South African College of Music.
WITH his appointment as the new Director of the South African College of Music (SACM) on January 1, Associate Professor Franklin Larey made history at UCT by becoming the first black person to head the prestigious music school.
Larey succeeds Professor James May, and will be at the helm of the SACM for the next three years. The award-winning pianist, who hails from Malmesbury and only started playing music at age 16, has been at UCT since 1996 following studies at the University of the Western Cape and the University of Cincinnati in the US.
The musician, unabashedly, admits to a certain fondness for administration, one of the reasons he accepted the post. Another was "the overwhelming support of my colleagues".
"When I provisionally accepted the post and negotiated their portfolios with them, I indicated that I would expect them to give their all. And so far everybody has been absolutely fantastic."
As well as things have gone so far, Larey realised that there would be a price to pay for accepting the post as director, notably around playing the piano and teaching. "I obviously cannot behave as if I only perform and teach," he said.
Which means he's had to cut back, among other things, on planned performances for 2002. "But I also made it clear to my colleagues that I'm not giving up the piano – it's my first love, after all."
The SACM's 2002 inaugural concert on March 19, he joked, will however, be an opportunity for others to see if the life of an administrator has in any way diminished his gifts as musician.
Plans for the future include elevating the College to a level of financial independence, which involves working closely with the UCT Development Office, Larey said. He also wants to continue with the good work of his predecessor, who he describes as a close colleague and friend.
"I'm particularly pleased and honoured to follow in James' footsteps with what he did here at the College, bringing the top South African musicians to work here." Which, he added, has helped make the SACM a very active place.
"It's probably the only college of music in the country that has such a busy music-making schedule," he said, referring to the 100 or so concerts the SACM has lined up for the year. "That is so wonderful, and it puts us right up there with many other important schools in the world.
"We have the best of all worlds here, with vibrant departments in Western, classical, African and jazz music. And of course, it is
the
opera school in the land."
---
This work is licensed under a Creative Commons Attribution-NoDerivatives 4.0 International License.
Please view the republishing articles page for more information.
---