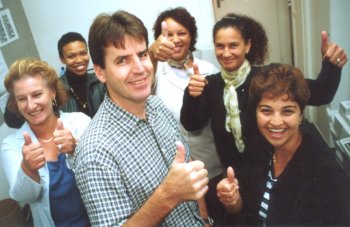 From left: SHAWCO's Karen Theron, Allison Sauls, Glen Truran, Charmaine Killa, Annalise Kingston and Charlette Whittern celebrate the R1,3-million received from the National Lottery towards funding the organisation. Absent is fund-raiser Anna du Bois.
IT DIDN'T take six lucky digits, but the Students' Health and Welfare Centres Organisation (SHAWCO) has hit the jackpot, receiving four different grants – to a total value of R1 334 000 – from the National Lotteries Board over the past few months.
The money will be used on four different projects – including a new one – hosted by SHAWCO at its four community centres in the Western Cape. These are a wetland project in Khayelitsha; the upgrade of sports and recreation facilities at its centres; an arts project in Manenberg; and a heritage project in Kensington.
The largest grant by far, R880 000, will go towards developing the wetland area behind SHAWCO's Khayelitsha centre, which already houses library and computer facilities. "Our vision is that the community could use the area for relaxation, but also to learn about the important role of wetlands in sustainable development," explained the organisation's director, Glenn Truran. Already, the project has attracted the interest of Kevin Winter of the Department of Environmental and Geographical Science, who is keen to give his students hands-on learning opportunities on the project.
SHAWCO plans to fence off the wetland area, enhance its features, and then add a boardwalk, bird hide and a couple of kiosks to boost its commercial potential. By renting out the space, SHAWCO hopes to secure a sustainable source of income to maintain the wetlands.
The second grant of R254 000 will be used to upgrade existing recreation and sporting facilities at SHAWCO's centres in Kensington, Manenberg, Khayelitsha and Nyanga. This will include the repair of cricket nets, and building ramps and bathroom facilities for the disabled.
The Performing and Visual Arts Project in Manenberg will get a R100 000 shot in the arm for its work in providing access to the arts for the 3–13 year-olds in the area. This programme includes a number of creative activities such as painting, printing, pottery and music sessions.
Another R100 000 was awarded to the Kensington Heritage Project, which follows on a heritage exhibition researched, set up, publicised and hosted by high school learners in 2000 and 2001. This time around, a new group of learners will compile a book about the community. The volume will feature chapters on, among other things, education, worship and AIDS. "We want to put a strong focus on AIDS in all our projects," explained Truran.
While there was disappointment that the National Lottery approved grants for only four of the 14 projects SHAWCO sought funding for, the money will make a big difference to the organisation's coffers and plans, Truran indicated. "It's heaven.
"We're disappointed that we didn't get funds for those projects we're already committed to, but we've been under severe pressure for the last six years and have delayed urgent renovations to buildings. This money relieves a lot of that pressure and enables us to focus our energies on raising funds for other projects. It's also a huge morale boost for everyone to know the funding has come." A lot of credit for securing the funding must go to SHAWCO fundraiser Anna du Bois, Truran added.
SHAWCO's work wouldn't be possible without the many student volunteers, he also pointed out, noting that RAG (Remember and Give), had been its biggest single source of funding in recent years until the National Lottery cheques came along.
---
This work is licensed under a Creative Commons Attribution-NoDerivatives 4.0 International License.
Please view the republishing articles page for more information.
---