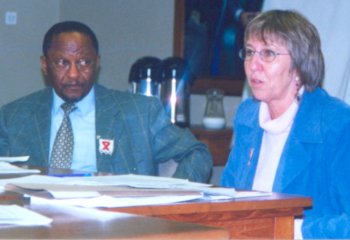 The Cape of Good Learning: Vice-Chancellor Prof Njabulo Ndebele with UWC's Prof Shirley Walters.
THE TOPIC of last weeks Vice-Chancellor's Open Forum was the The Learning Cape Festival: A strategy towards building the Learning Cape. The address was delivered by the University of the Western Cape's Professor Shirley Walters, Director of the Division of Lifelong Learning.
In her introduction, Walters said that it was crucial to recognise the role of higher education in developing the Western Cape economically and socially, and that the Learning Cape Festival was a cornerstone of a larger project to get tertiary institutions involved in regional and national policy decisions.
"When we (the Division of Lifelong Learning) were first engaging with the notion of the learning region or the learning Cape, we thought it had huge potential for us to engage with the province as education practitioners, so we at UWC have been interacting with the province around us and have developed a paper on what developing the Learning Cape might mean," explained Walters.
According to Walters, the Learning Cape Festival is an initiative by the Western Cape Department of Economic Affairs, Agriculture and Tourism to "promote a culture of lifelong learning that enables people from all walks of life to develop their full potential".
"The Department has also identified the project as a key component of its economic development strategy. This follows a growing international trend towards the development of learning societies that are better equipped to compete on global markets," she added.
Walters also argued that the project is not a band-aid approach, but rather a holistic approach to learning that moves beyond the walls of the classroom to acknowledge the value of informal learning opportunities created by the media, information technology and community-based organisations.
For more information about upcoming VC Forums, go to
http://intranet.uct.ac.za/uctnotice
.
---
This work is licensed under a Creative Commons Attribution-NoDerivatives 4.0 International License.
Please view the republishing articles page for more information.
---