The Marketing and Stakeholder Relations unit (MSR) is responsible for conceptualising, developing and implementing an integrated plan that engages with UCT stakeholders to ensure that they are aware of UCT's initiatives and priorities. We ensure that UCT's stakeholder relations programme is effectively promoted, both externally and internally, and synchronised across all faculties and departments, upholding the mandate to promote, support and protect the vision and reputation of UCT. Due to the COVID-19 pandemic, most of our events took place online, which means that the multimedia spend was significantly higher. This is a field that has not previously had a budget, so reallocations had to be made within the department. In-person visits to campus were reduced, which means the spend on direct stakeholder engagement was much lower.
The table below gives a brief comparison of the 2019/2020 year-on-year change in spend.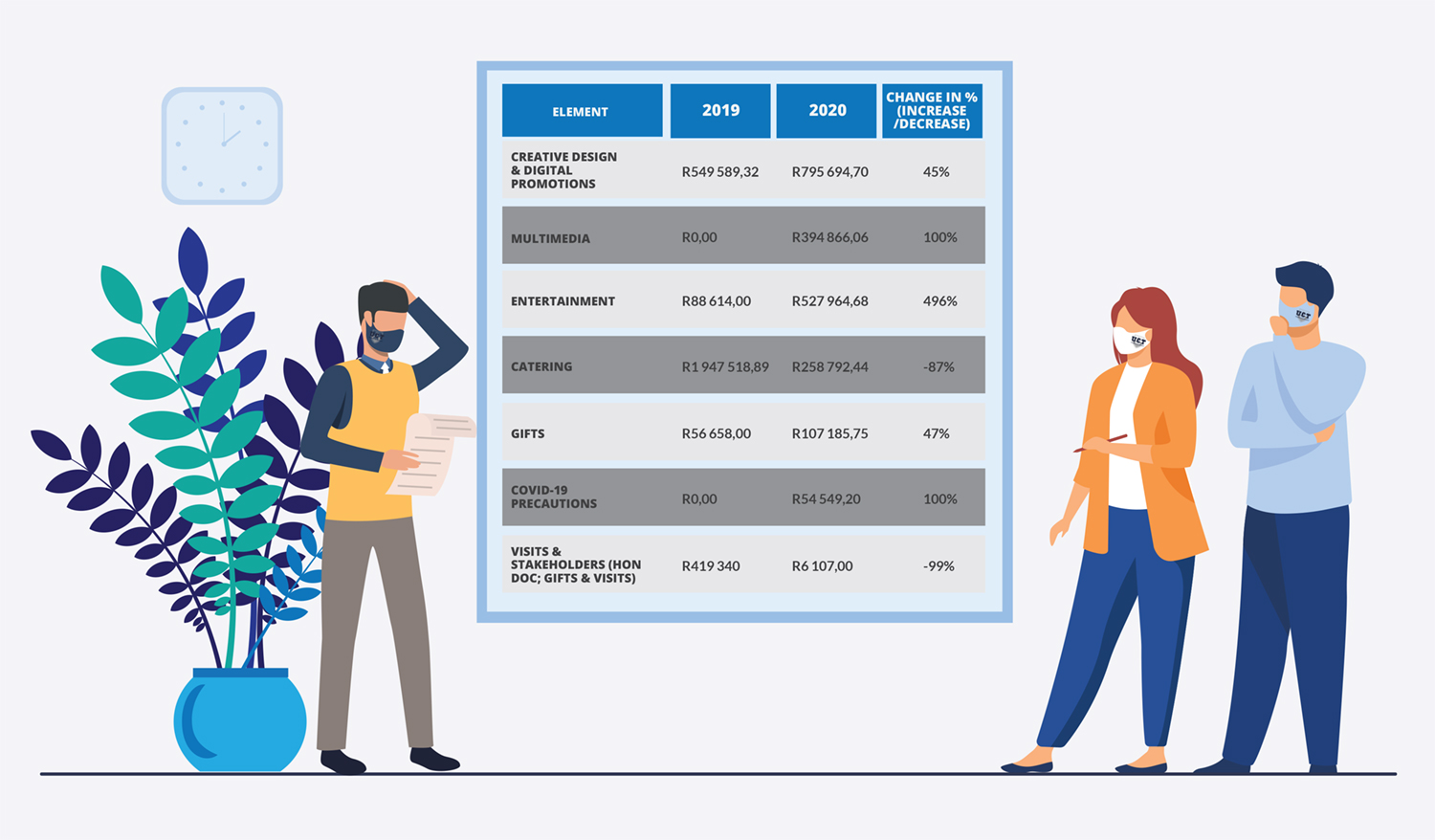 Branding and Campaigns
This subunit within MSR is responsible for the development and execution of brand management and marketing campaign strategies.
COVID-19
In 2020 we conceptualised, designed and implemented an institutionally integrated COVID-19 campaign. The campaign was designed and delivered in three phases with objectives to create awareness; communicate how UCT was to offer internal stakeholders support in financial, emotional and other tangible ways; and also communicated the protocols associated with a staggered return to campus. It included a multifaceted, omni-channel approach, which made use of UCT-owned channels including SMSs, web banners, campus announcements, press releases, email signature banners, video content, poster designs, social media, UCT app content, infographics and VC Desks.
Brand architecture guide
In 2020 we developed a brand architecture guide that defined how the UCT master logo is to be positioned alongside UCT subdepartments and faculty logos. The guide has been instrumental in creating a benchmark of standardisation across UCT using the monolithic brand approach*. It was introduced at a DCAM** meeting in 2020 and has resulted in much more proactive compliance requests coming through to CMD.
*A monolithic brand has one single and strongly identified master brand. It includes its master logo identifier or parent brand in all versions of its sub-brands.
** DCAM is a body of professional staff across UCT who are involved in communication, marketing and admissions.
Data-driven approach
In 2020 we saw all our events (51, with a total viewership of 36 968) moving to a virtual platform due to COVID-19. In moving to this new platform, it was important that we identified the target market and their needs so that we could communicate in a way that appealed directly to them. This was particularly important in the online environment where users were being bombarded with information. Each of our flagship events went through a series of affinity planning, and target market matching and referencing in order to design the correct psychographic and demographic promotional plan to its customised audience.
An example would be that we customised the promotional plan of an event featuring a prominent speaker based on what they were talking about. For example, with the Deputy Secretary-General of the United Nations Amina Mohamed, we unpacked her topic, "Decade of Action for the SDGs: So what?" to target people across the world who would have recently shown an interest in either economic upheaval, climate disruption and/or geopolitical tensions after probing her team on what her talk would cover.
We took a data-driven approach (an approach that uses data to drive all its strategic decisions) to promoting our events, creating brand awareness, driving engagement and calling for event registrations by pre-identifying and matching applicable audiences to the speaker, topic and event objective.
The result was that the total registration figures of major projects between 2019 and 2020 increased by over 170%, from 6 003 in 2019 to 16 211 in 2020. As there was no longer a need to accommodate guests in limited-capacity venues, we were able to cast the engagement and awareness nets much wider.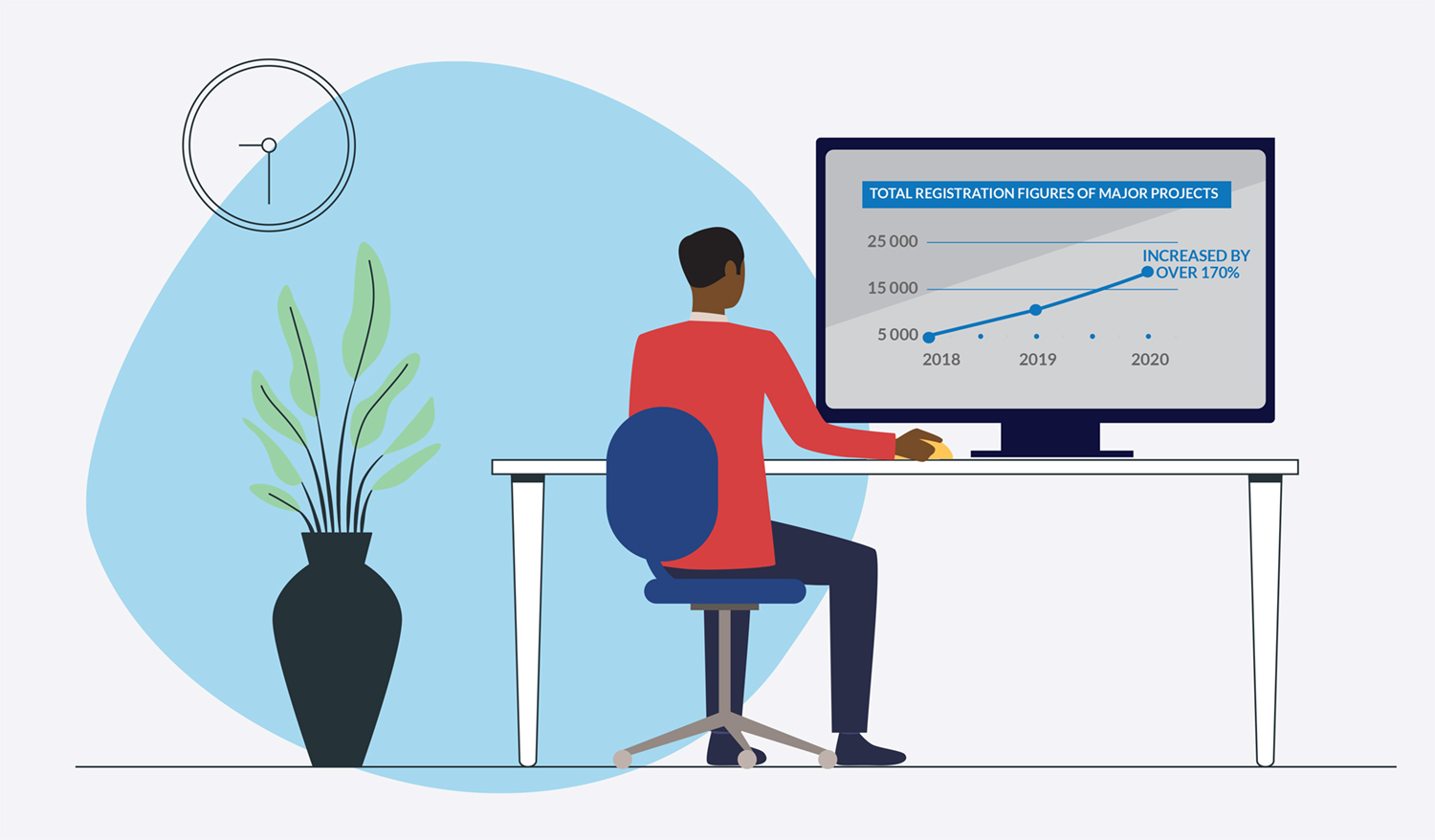 Interest in our events were previously limited to Cape Town but with the increased promotional exposure, the extended geographical locations went far beyond our borders as reach included the rest of the continent and in some cases reached as far as the northern hemisphere, Middle East, and Australia.
---
This work is licensed under a Creative Commons Attribution-NoDerivatives 4.0 International License.
Please view the republishing articles page for more information.
---