During its first alumni event of the year, members of the University of Cape Town (UCT) Zimbabwean Society (ZIMSOC), a student society at UCT, recently enjoyed the opportunity to hear from and engage with Ralph Mupita, a UCT alumnus, fellow Zimbabwean and now the group president and chief executive officer (CEO) of Africa's largest telecommunications company, MTN.
The event, which took place online, provided students with insight into Mupita's life before university, his journey to and at UCT, his transition from university to work, and valuable lessons from his time at Old Mutual and now at MTN.
Mupita graduated from UCT with a degree in civil engineering and an MBA from the UCT Graduate School of Business. He is also an alumnus of the Harvard Business School's graduate management programme. Before joining MTN, he was the CEO of Old Mutual Emerging Markets, which provided financial services to individuals and corporates across 19 countries in Africa, South America and Asia. In 2017, he moved to MTN as group chief financial officer, and in 2020 he became group president and CEO.
Tips for success
Here are nine tips Mupita shared with ZIMSOC members for success in university and work life. His full contribution can be found online, via ZIMSOC.
Have a plan but be flexible: "Be quite flexible in life. Have a plan but learn to accept going on a different course". Mupita explained that the purpose of a plan is to provide structure to your life but "you must have maximum flexibility".
Embrace diversity: When Mupita arrived at UCT, he quickly found his core group of friends who came from Zimbabwe, Tanzania, Kenya and Botswana. "That was the opening for me around the idea of diversity and that diversity brings strength," he said. Mupita added that the more diversity there is in a system, the greater its resilience.
The company you keep matters: While at UCT, Mupita and his friends motivated each other to pursue and achieve academic excellence. But they played as hard as they worked. "The important point … is the company you keep really matters," he said.
Gain work experience: Because of his scholarship, Mupita worked most vacations during his time at UCT. This helped him transition from student life to work life. "If you can get the opportunity to work, if you can work during your breaks, it really helps you ... move forward. Take work opportunities where you can, without pay where necessary … it pays valuably in times to come," he said.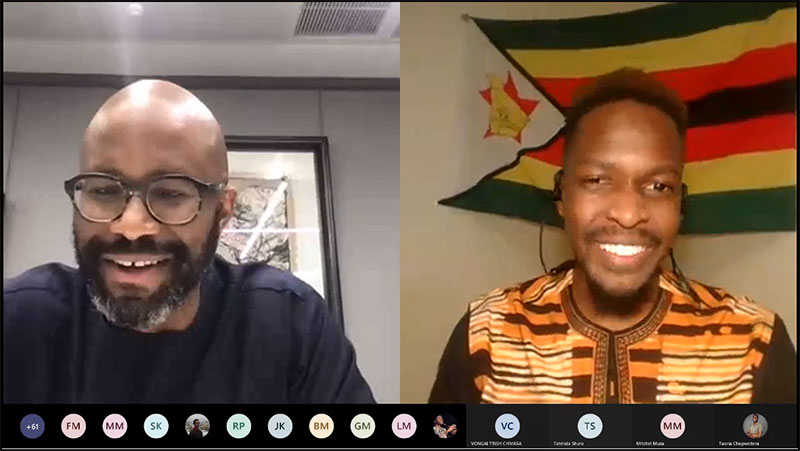 Have a vision for yourself: For students deciding whether to further their studies or join the working world after graduating, Mupita said their decision should be based on "how you see your own career and life growth" and answering the question, "Where do I see myself in three, five and 10 years from today?" If you see yourself in an academic or technical role, then furthering your education would be advisable. But if you want to go into business, for example, get real-world experience – you can always return to study later, which Mupita did when he pursued his MBA.
Be brave: "You're always more talented than you think you are," said Mupita. He explained that in his experience, women, in particular, second-guess themselves. "I find men generally leap into situations that they are 30% ready for, [whereas] I find that women would leap into a situation where they're 90% [ready], so I encourage more women to take risks [and] encourage people to not wait for the perfect answer before [they] move."
Create a team of people smarter than you: "When you lead, make sure everybody else in your team is smarter than you in their area or domain of expertise. What you bring is the ability as a leader to link everybody up," said Mupita.
Learn and unlearn: As part of building personal resilience, Mupita advised honing the ability to learn and unlearn. This forms the foundation of "skills of the future" and being able to adapt to the unknown. "Prepare for it by having the personal resilience and the mindset … to have the capacity to learn and unlearn … that is the thread that is consistent for anybody who is going to succeed in the future," he said.
Finally, know thyself: "Knowing [yourself] helps you know where your limits are … your true potential and capacity … be deeply reflective … because reflections, personal reflections, can really help you see [who] you really are," said Mupita.
Uniting members
The alumni event was one of many events ZIMSOC has managed to organise despite the challenges brought about by the lockdown. Last year, they facilitated a three-day human rights webinar series, hosted online game nights and introduced members to prominent lawyer Fadzayi Mahere.
ZIMSOC president, Kudzai Chris Kateera, a final-year BScEng (Electrical and Computer Engineering) student, explained that ZIMSOC seeks to provide holistic assistance to students throughout their journey at UCT.
"We are committed to uniting our members for them to network, excel, collaborate and realise great synergies, regardless of background. We work together with our alumni network to bring opportunities and their experience to the table," he said.
Kateera added that ZIMSOC, which includes additional events such as forums and informative webinars, is open to everyone "so people get to learn about the rich Zimbabwean culture, meet amazing people, network, innovate and get to contribute to building a better Zimbabwe".
Plans for the rest of the year include the Big Sibling Mentorship Program where more experienced UCT students are paired with first-years to help them settle in and navigate UCT, Africa Day cultural exchange in collaboration with other African societies, a sports day to promote sporting activities and encourage healthy living, a financial literacy talk, and a discussion around the socio-economic situation in Zimbabwe.
To join ZIMSOC, please contact Chris Kateera via email or register online.
---
This work is licensed under a Creative Commons Attribution-NoDerivatives 4.0 International License.
Please view the republishing articles page for more information.
---