In low- and middle-income countries, pregnant women with disabilities face significant environmental barriers to receiving antenatal care. And yet, antenatal care is a critical portal to quality maternity care services. In his home country of Uganda, said inspirational University of Cape Town (UCT) graduand Ponsiano Kabakyenga Nuwagaba, these barriers are even more evident in rural areas.
Ponsiano's doctoral thesis is titled "The Mixed Experiences of Pregnant Women with Physical Disabilities in Accessing and Utilising Antenatal Care Services in Rural South-Western Uganda". It documents and sets out the extent of these challenges, and suggests strategies to improve services in this region, the place of his birth.
His dissertation offers an important case study for other African governments and health departments, as pregnant women with disabilities are among the continent's most vulnerable people.
This week, Ponsiano has undertaken a celebratory journey to the tip of the continent to take his place among 104 UCT PhD graduands – including 36 from the Faculty of Health Sciences – at the mid-year ceremony in the Sarah Baartman Hall on 21 July.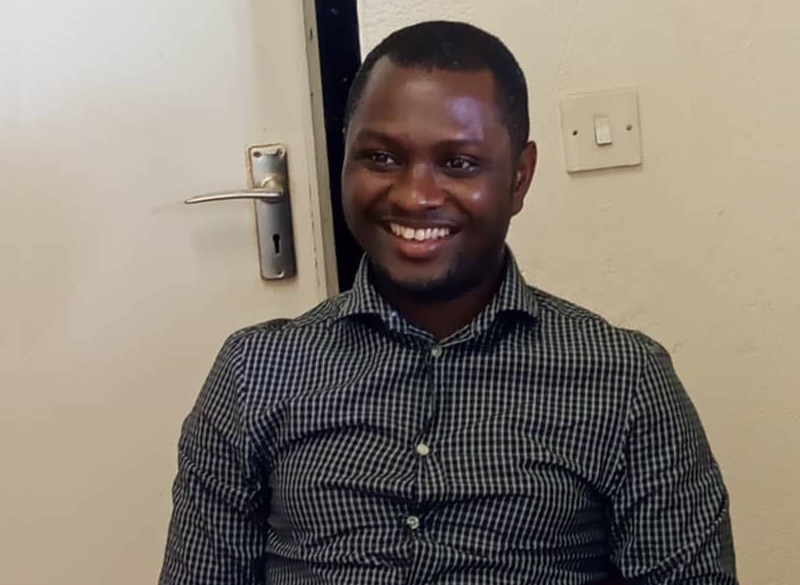 Undocumented challenges
In his thesis introduction, Ponsiano said, "Although the World Health Organization recommends that antenatal care services should be designed and continually improved based on locally generated data to address access barriers, the experiences of rural pregnant women with physical disabilities are largely undocumented."
His aims were fourfold: to describe the accessibility of antenatal services; explain the utilisation of these services; explore the relationship between women with physical disabilities and healthcare providers; and explore how women with physical disabilities as well as midwives understand disability and the provision of antenatal services in rural south-western Uganda.
To do so, Ponsiano employed an interpretive qualitative study using a multiple case study design. The study participants were 12 women with physical disabilities and six midwives from three health facilities in the Sheema district. These women were sampled using snowball sampling, a technique in which existing study subjects recruit future subjects from among their acquaintances. Midwives and health facilities were sampled using purposive sampling, an intentional selection of informants able to explain a specific subject.
Data was gathered through in-depth face-to-face interviews with the women and midwives, a focus group discussion with the women, and an audit of each of the three health facilities' physical infrastructure and equipment, undertaken at the facilities.
Underscoring justice, equity and respect
His findings were grouped according to four themes. The first theme, "Optimising well-being", was shaped by exercising agency, accessing family and community support, and aligning policy and practice. The second, "Undermining well-being", shone a light on ignorance and mental ill-health (including emotional and spiritual oppression), sociocultural prohibitions, and inaccessible transport and mobility systems. Third was "Unresponsive antenatal care policy to women's specific needs", which included the integrated nature of antenatal care services, unresponsive antenatal care policy, and unaccommodating health facility designs. Last, "Improving the quality of antenatal care services". This relates to women's mixed experiences, preparing midwives and other healthcare workers through education, training, and mentoring, and enabling disability inclusion for fit-for-purpose antenatal care services.
"The spirit of ubuntu, which may facilitate women's participation and functioning at the family, community and health facility levels, cannot be overemphasised".
Describing his conclusions, Ponsiano said, "Despite a few enablers optimising their well-being, pregnant rural women with physical disabilities experience many barriers that negatively impact on their pregnancy experiences and pregnancy healthcare. Their spirituality is also integral to their well-being. And justice, equity and respect for their human dignity need to be underscored in antenatal care policy, health system and infrastructure planning, and midwifery education, training and practice."
He added, "The establishment of accessible, quality antenatal care services within under-served areas benefits all women. The spirit of ubuntu, which may facilitate women's participation and functioning at the family, community and health facility levels, cannot be overemphasised".
Integrated framework
Going forward, Ponsiano's recommendations call for an integrated framework for disability-inclusive, family- and community-focused antenatal care services for rural communities.
"This framework needs to be tested to determine its efficacy in other rural African settings," he noted. "I suggest a further study to explore the effectiveness of maternity waiting homes from the perspective of women with physical disabilities and the community, in the context of a rural Ugandan setting."
The PhD caps a long academic journey, which started with a three-year diploma in clinical medicine and community health at the Fort Portal School of Clinical Officers in Uganda. After seven years in practice, Ponsiano completed a course on HIV/AIDS and began working for an organisation dedicated to serving those living with the disease who were poor, and from unserved communities.
He was prompted to turn to studying social work and community development because in most of the work they were doing in the HIV/AIDS clinics, clients were presenting with issues beyond their clinical problems. These had to do with pressing everyday social and economic issues linked to food, shelter and resources – for example, money to pay school fees.
"Often, clients couldn't afford the transport to attend the clinics," said Ponsiano.
It was a pivotal decision.
He enrolled at Kyambogo University in Uganda, in the Department of Community and Disability Studies, for a three-year course on social work and community development. But he soon found that the focus was on disability-inclusive social work.
After being immersed in disability studies, he realised that often, rural women living with HIV/AIDS had additional challenges in the form of physical, attitudinal and socio-economic barriers. In such cases, the social and medical services were wholly inadequate for their needs.
"And they are then doubly vulnerable when giving birth."
A father of three, Ponsiano said vulnerable pregnant women with physical disabilities were being told to climb onto hospital beds when they were unable to do so. They were also subjected to other insensitive treatment, such as verbal abuse, by midwifery staff – the same staff who provided antenatal care. Often these women stopped attending vital antenatal services because of the psychological abuse.
"What disturbs me is that this discrimination and marginalisation is at the hands of those entrusted to care for these women. So, who else would they turn to?"
He added, "And they are then doubly vulnerable when giving birth. And I thought, I should have more training on disability. If I could document their experiences, I could make recommendations about improving care at antenatal level, as it is an entry point to maternity care services."
Master's to PhD
A master's degree in public health from the Uganda Christian University followed, and Ponsiano began part-time lecturing at Kyambogo University while working at the university's tertiary-level hospital. In 2015 he left clinical work to become a full-time lecturer, but soon realised he needed more knowledge on the topic of women with disabilities and their experiences of antenatal care services.
He enrolled at Makerere University to do a doctoral study but hit a barrier: he was unable to find suitable supervisors. His search led him to UCT, where he found supervisors from the Division of Nursing and Midwifery and from the Division of Disability Studies in the Department of Health and Rehabilitation Sciences: Associate Professor Sheila Clow and Professor Theresa Lorenzo, respectively.
"Their names are known in Uganda," he said.
"I am your student. You are going to teach me!"
During the early stages of his PhD, Ponsiano said, he would go from door to door in the rural areas with the village health team leader for each village, to gather oral evidence.
As a man, he was often met by bemused women asking what he could possibly know about pregnancy and issues such as food cravings. His response was to say, "I am your student. You are going to teach me!"
He added, "Also, I believe my position as a man helped me to pose questions from a different point of view, perhaps [on issues] which would be taken for granted by women, that would lead to new information about the study topic."
Who should read his PhD? Everyone from the top down, he said – starting with the president of Uganda, then the Minister of Health, ministry staff, and all those empowered to make the decisions and provide the budgets that support these women.
As for the future, Ponsiano plans to publish at least three papers from his thesis. He is also keen to specialise in women with hearing and visual disabilities, which often result in misinterpretations and misdiagnoses at a clinical level when communications are relayed through sign language practitioners or interpreters and sighted guides.
But for the moment there is a PhD celebration to think about in Cape Town, which he will share with his supervisors, fellow students and other alumni, before travelling home to celebrate with his family and friends in Uganda.
---
This work is licensed under a Creative Commons Attribution-NoDerivatives 4.0 International License.
Please view the republishing articles page for more information.
---