As winter settles across the country, Stay&Connect, a division of the University of Cape Town's (UCT) hospitality division, has released a trove of linen amounting to over R400 000 to six organisations in Cape Town.
Each organisation received R72 378 worth of donations.
The donation includes fitted and flat sheets, duvets, and pillows, and were donated to Friends of Valkenberg Trust, The Salvation Army, The Haven Night Shelter, Home of Hope, Uturn, and Sisters Incorporated.
"The university feels strongly about giving back to the community, and corporate social responsibility is one of the [Vision] 2030 core pillars. We found an opportunity and we thought let's make the most of it," remarked the director of Hospitality, Thobile Dlamini.
They plan on rolling out a towel donation in July.
"We hope that this makes things easier."
"We haven't given back in a while, and we thought let's do it in a big way. We know it's difficult and hard; we hope that this makes things easier," she said.
"This couldn't have been made possible without the generous donation and assistance of the Stay&Connect team, which consists of All Africa House, and Vacation Accommodation."
The donation comes as a result of All Africa House renovations done recently, which prompted them to give away old linen that was still in good condition.
All Africa House offers comfortable B&B accommodation to visiting academics, researchers and postgraduate students from Africa and the rest of the world, conference attendees and visitors on UCT-related business, while the vacation accommodation team allows for students to stay in residences during the vacation period at an extra cost.
Bookings of vacation accommodation fall into academic or personal bookings.
Quality lined: a big help
The director of Friends of Valkenberg Trust in Observatory, Soraya Solomon, lauded the quality of the donation and how sizeable it is.
"We assist and support the recovery journey [of patients] through many projects that we run; [The donation] will help us raise funds and help our patients to keep warm during winter. Everything is in good condition, which upholds the dignity of the patients."
The Friends of Valkenberg Trust offers support services to Valkenberg Psychiatric Hospital, servicing patients, families, and staff.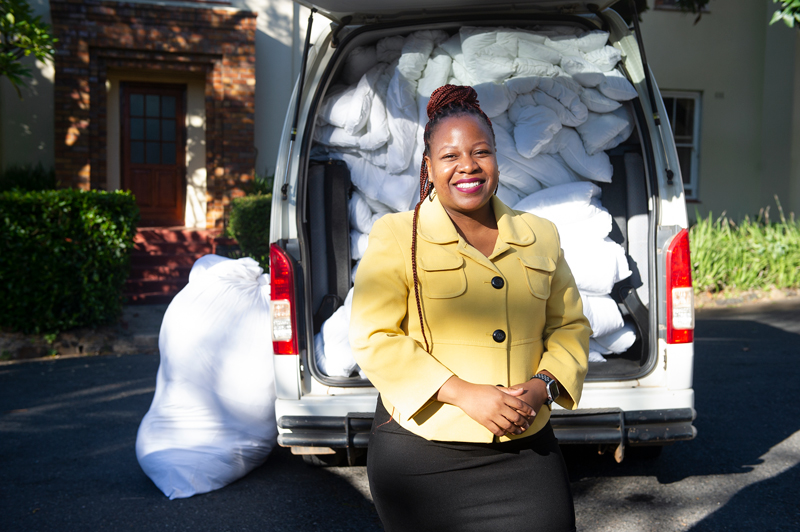 Solomon said they often raise funds by selling what they deem a surplus to requirement to keep their recreational programmes going; however, she stressed that this happens once they are satisfied that the patients the donations are intended for have been well catered for.
She also encouraged people to donate in whatever way they can. "You may think it is small, but it will add to what we have."
She also called on people to prioritise their mental health.
"The issue of mental health is neglected in this country; we have many young people in the hospital and a lot is drug related and we want to emphasise the need to take care of our mental health in the same way we do our physical."
Another benefactor was Home of Hope, an organisation that supports vulnerable children and families that experience various hardships, including Fetal Alcohol Spectrum Disorder (FASD). Home of Hope uses a holistic child-centered approach to help them reach their optimal potential in becoming contributing and socially responsible members of society.
"The donation is not only going to help us now but going forward as well. It also helps the budget as well, as we don't have to purchase; thereby we can direct the funds elsewhere," said the organisation's Bianca Wichtmann, a social worker.
Some of partnerships the organisation is involved with include:
Child and Youth Care Centre: giving children in need a loving and supportive home which is designed to be as close to a normal family environment as possible while catering for their individual and special needs.
Amathemba Special Needs School: one of the few schools in SA with a unique specialisation in educating children with FASD, as well as catering for the needs of other children who suffer from a range of neurological disabilities.
Sunhome Care Farm: providing a solution to challenges for the future of our young adults. Home of Hope believes that in combining the care of the land, animals and that of intellectually challenged young adults we can support them, so that they can function as independently as possible.
Charity Shop: forming a part of the skills development for young adults who are seeking to enter the workplace, while raising much needed funds for the organisation, making it more sustainable.
All Africa House will re-open on 15 June.
---
This work is licensed under a Creative Commons Attribution-NoDerivatives 4.0 International License.
Please view the republishing articles page for more information.
---