For change to occur, one requires a catalyst. Someone or something needs to create change that, in turn, will spark a chain of events. As one of the first centres of excellence established by the Department of Science and Technology (DST) in the country,
c*change
is that something, providing a blueprint for transformation at a tertiary level.
Hosted by the Catalysis Institute in the Department of Chemical Engineering at UCT and led by Professor Michael Claeys, c*change is a virtual centre funded by the DST through the National Research Foundation (NRF).
Claeys is the director of c*change and is leading the nationwide collaboration of 14 research groups at 10 universities. Currently there are between 55 and 60 postgraduate students within the centre, exceeding the required number of 40 as defined by its agreement with the NRF. In addition, 15 postdoctoral research fellows receive support.
The c*change funding covers the students' bursaries as well as the running costs of the respective scientific projects for the duration of their study. At a PhD level, yearly costs vary between R250 000 and R300 000.
This NRF funding is made available to c*change because of their adherence to a strategic commitment to transform the unit. A service-level agreement with the NRF details demographic targets and the duration of degrees, and lists required outputs.
Claeys emphasises that they have consistently managed to meet the targets and nurture a group of students that is "pretty much representative of the country", with half of the participants identifying as female and two-thirds as black.
Of course, change does not come without its challenges.
Claeys and the c*change group often compete with corporates and financial pressures to retain students. Another obstacle to transforming the research cohort is that many black students do not study further.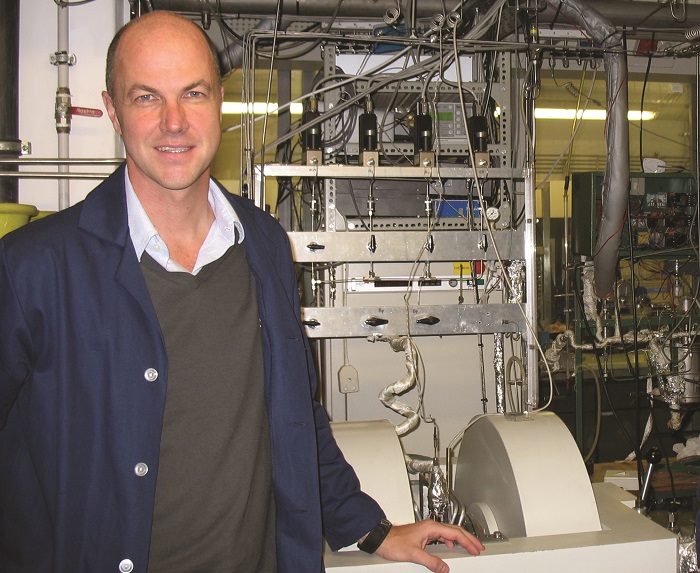 "The question is why they aren't making it to postgraduate level," says Claeys, adding that cost remains a major barrier.
Equally challenging is judging students' potential from their academic records alone, as well as convincing some stakeholders that transformation is a necessary and worthwhile pursuit.
"A mind shift is needed," says Claeys. "Historically, we've needed the buy-in from our partners, but it has become a lot easier because of our success."
Despite the challenges, Claeys listed numerous benefits for c*change students from the transformation journey. The unit provides students and staff with a wide and varied network, infrastructure, collaboration and security.
As for transformation's effect on c*change, Claeys says, "We don't feel that transformation is slowing us down."
Rising through the ranks
More impressive – and testament to the successes of transformation – are those who have come up through the ranks.
Thulani Nyathi joined c*change in 2014 for his master's degree and, after graduating with distinction, began his PhD there in 2016.
Nyathi describes the start of his c*change journey: "I had mixed emotions about switching from the chemistry department to chemical engineering because I was not a chemical engineer and I had no idea how quickly I'd learn. So, that made me anxious."
However, says Nyathi, he received a warm welcome from Claeys and senior research officer, Dr Nico Fischer.
Once he was well acquainted with the deep end, Nyathi soon found himself thriving in c*change, enjoying the coursework, the annual symposium, the constructive discussions with peers, and the ongoing support.
"Apart from my supervisors – who are excellent and have an open-door policy – I also got close to many experienced students, who were always helpful," he says.
He mentioned a few more advantages of c*change: "We have highly qualified people who are able to train students about using equipment."
A lack of resources is also not an obstacle to success in c*change as there is an active exchange of equipment between the partnering institutions.
Nyathi's tenacity culminated in him earning his master's degree and receiving the award for best student oral presentation at the 2015 Catalysis Society of South Africa conference.
Now Nyathi is focusing on finishing his PhD and publishing his MSc work. After that, he hopes to find a research-related job in the chemical industry.
Reaping the benefits
Having already completed her studies within c*change, Banothile Makhubela has reaped the benefits and is now leading a research group at the University of Johannesburg (UJ) affiliated to the unit.
"My entire postgraduate studies at c*change in the chemistry department of UCT have shaped my scientific thinking," says Makhubela. "I have been equipped with the necessary skills and am currently supported by c*change in the research programme I'm running at UJ."
Makhubela arrived at UCT in 2006 to study for her honours degree after graduating from the University of Zululand. Her time at c*change began in 2007.
"UCT was a lot different, both socially and academically. It was one of the most challenging years, but also a turning point," she says.
Makhubela said she was unfamiliar with the research-intensive environment, but she soon became acquainted with it, thanks to the help of passionate, supportive academics. It also helped that she could see scientists that she had read about in her textbooks live at symposiums that had been organised by c*change.
During her time with the unit, which ended in 2012, Makhubela received funding support and opportunities to meet like-minded peers, display her research and attend international conferences.
"This gave me exposure to international labs, and I had the opportunity to expand my network of peers beyond South Africa," she says.
Makhubela says that studying at "the best research university on the continent" enabled her to produce research of an international standard.
Now, heading up the UJ arm of c*change, Makhubela has the opportunity to transfer knowledge and shape minds.
"Given our history in South Africa, I think transformation is extremely important, particularly in the science and technology arena where there is very little representation of previously disadvantaged groups and females," she says.
"Centres of excellence, such as c*change, are an example of what sustained support and a collective effort from dedicated academic researchers can achieve: producing master's and doctoral graduates and, in doing so, driving the transformation agenda."
Main image by Michael Hammond.
---
This work is licensed under a Creative Commons Attribution-NoDerivatives 4.0 International License.
Please view the republishing articles page for more information.
---