The University of Cape Town (UCT) will launch a two-year pilot project, Liquid Workspace, to test new ways of working and utilising physical spaces optimally on its campuses. This follows the adoption of hybrid approaches to work and teaching and learning, following COVID-19. These new modes present major challenges to brick-and-mortar higher learning institutions around the globe.
The objective of the pilot project, which will be launched in 2024, is for UCT to explore options and solutions, said the executive director of the Properties & Services Department, Mughtar Parker. Parker was speaking at the annual meeting of the International Alliance of Research Universities (IARU) Real Estate Working Group (REWG), held at UCT's Graduate School of Business (UCT GSB) from 19 to 21 March. He is also the current global chairperson of IARU's REWG.
To facilitate the project, two floors of Properties & Services' Mowbray Meulenhof headquarters will be converted into various configurations to suit hot desking, ad hoc office and meeting room needs, and other hybrid, more flexible modes of working. An app-based booking system, Archibus, will be put in place.
Archibus is an integrated workplace management system platform, software that is reportedly used globally to manage properties, and is in the Gartner Magic Quadrant, a series of market research reports published by IT consulting firm Gartner.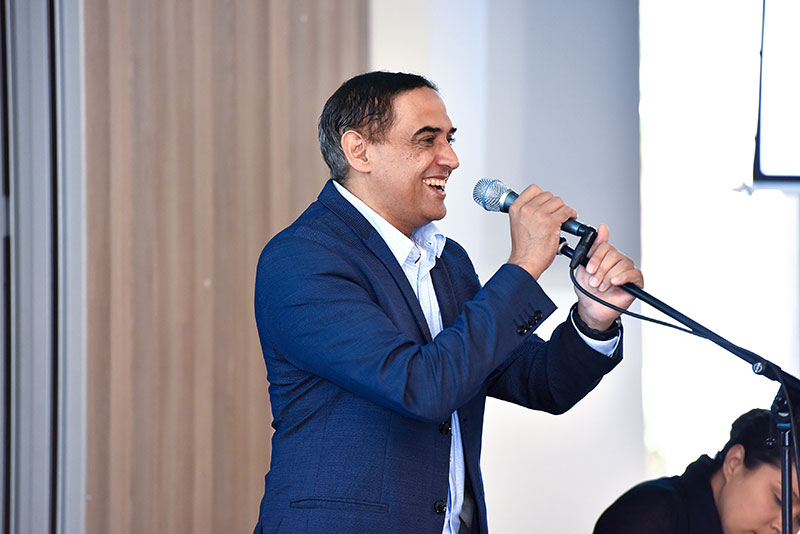 Bold thinking and action
"The time has come for us to think differently and act boldly," Properties & Services' Nigel Haupt said at the start of the presentations at which the pilot project was flighted. "The idea is to bring new ideas into our lecture venues and campus spaces. Our planning must account for the possibility of similar outbreaks to COVID-19, especially in residence design."
In terms of change management, the difficulties in managing hybrid systems would require sound and visionary leadership, Parker added.
UCT is a member of the international IARU group, a network of 11 international research-intensive universities from nine countries across the globe, established in 2006. They share a global vision and a commitment to educating future world leaders.
The IARU members include the Australian National University; ETH Zurich; National University of Singapore; Peking University; University of California, Berkeley; University of Cambridge; University of Copenhagen; University of Oxford; University of Tokyo; and Yale University.
Established in 2017, the IARU REWG was initiated by the Public Real Estate Management team at ETH Zurich, to share knowledge, good practice examples, benchmarks and conceptual frameworks in the field of real estate development at IARU universities.
REWG has developed several workstreams, including space efficiency and productivity benchmarking, shared facilities, capital planning and investment strategies, and tools in real estate management. REWG has met at workshops in 2017 (in Zurich), 2018 (Oxford), 2019 (Yale) and 2020 (online). Members collaborate on specific projects throughout the year.
Future risks
In his welcome to participants, UCT Registrar Royston Pillay said that it doesn't matter where in the world universities are located, they all share the same strategic issues.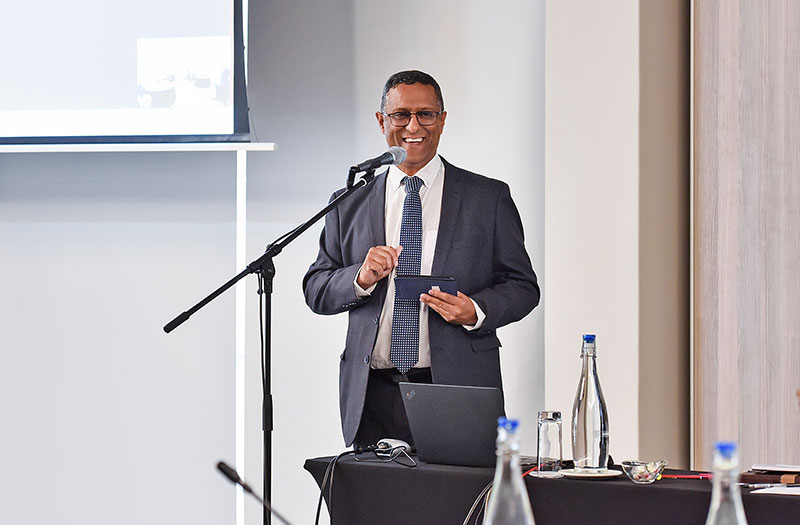 "So that represents a strategic lens in terms of our responsibilities towards society in the future," he said. "We all experienced the devastation of COVID-19 and the lockdown and the impact of that in terms of not being able to interact [with] face-to-face engagements. We have seen what that has done to society in terms of how impersonal engagements have become – and the risks that holds for future societies.
"This kind of debate is really important because it helps us to exercise the roles we play as professionals in this kind of space where we can have physical interaction – and that interaction actually builds community across the world, which is becoming increasingly connected in many ways."
Recap and overview
The meeting also provided an overview of what member universities have achieved since their last in-person meeting. Parker's presentation included the UCT fire, "a disaster that was a learning curve in many respects, and significant for us as an institution".
He also touched on Cape Town's recent drought, which culminated in the declaration of a narrowly averted Day Zero, the ongoing energy crisis and UCT's response to these challenges.
Speaking after the event, Parker said, "The Cape Town Annual Working Group Meeting was a tremendous success. From the common themes emerging from discussions, it is clear that the university workplace of the future is a global challenge for the higher education sector.
"The IARU REWG key theme for the next three years will be to facilitate the re-imagining of our physical workplaces into spaces that are fluid and diverse, where human interaction and technology enhance the learning experience (the perfect hybrid blend) and complement a high-performance teaching and learning, research, and support services culture.
---
This work is licensed under a Creative Commons Attribution-NoDerivatives 4.0 International License.
Please view the republishing articles page for more information.
---