There is no growth in a soft life; but [it is necessary to have] an ability to navigate and remain comfortable in all of life's seasons, University of Cape Town (UCT) Chair of Council Babalwa Ngonyama told graduands at the opening graduation ceremony on 27 March. This is the first of 15 in a bumper, week-long graduation season in the Sarah Baartman Hall.
"Even in your own spaces post this momentous occasion, you will encounter challenges from time to time. It is how you respond to life's challenges that matters," Ngonyama added. Quoting poet Brittin Oakman, she said, "Every season is one of becoming, but not always one of blooming. Be gracious with your ever-evolving self."
It was a strong message to lead with as UCT prepares to cap 5 214 graduands this week. And this morning the second largest of UCT's six academic faculties enjoyed the first of five ceremonies to cap its 1 447 graduands. These include 210 honours degrees, 53 master's and six doctoral degrees.
Overall, 56 PhDs will be awarded across all faculties. In his 23 March communiqué to the UCT community, interim vice-chancellor, Emeritus Professor Daya Reddy, paid tribute to these doctoral scholars, "whose work has in many ways lived up to the university's vision of unleashing human potential to create a fair and just society".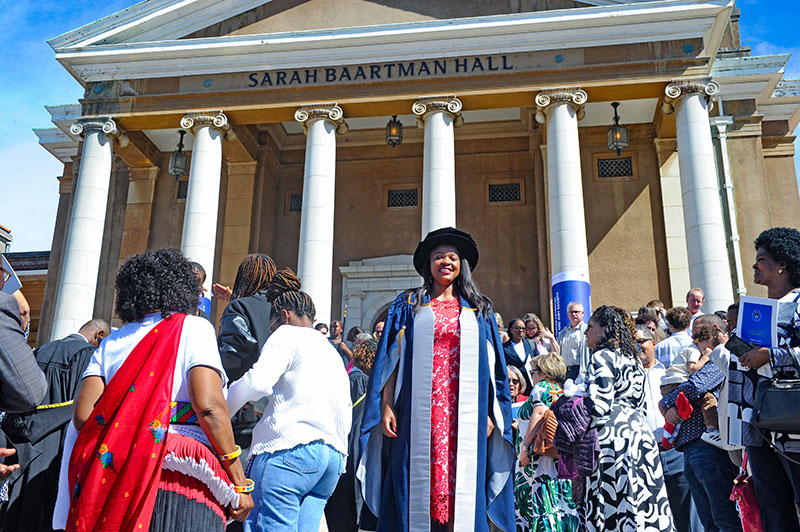 Talent in numbers
The largest number of graduands this week, 1 582, belong to the Faculty of Humanities, with Commerce next, followed by Health Sciences at 719, Science at 563, and Law at 217. The lion's share of PhDs was produced by Health Sciences with 25, followed by Science with 11.
Emeritus Professor Reddy added, "I congratulate most warmly all our graduands who will be honoured and whose achievements will be recognised during these auspicious occasions. In the same breath, let me record my appreciation for the role that our academic staff have played in guiding our graduands, as well as the support ably provided by our professional, administrative support and service [PASS] staff."
He also paid tribute to the many parents, guardians and other family members who got behind the graduands, making significant sacrifices and contributions to ensure their success.
Honorary doctorates
Included in the week's highlights will be the awarding of honorary doctorates – among the university's highest academic honours – to Dr Debra Roberts and Her Excellency ǂXuu Katrina Esau.
Dr Roberts, who will be honoured during the Faculty of Science ceremony on Tuesday, 28 March, at 18:00, is the head of the Sustainable and Resilient City Initiatives Unit in eThekwini Municipality. She has been at the forefront of climate change action and research over the past 20 years in South Africa, Africa and globally. She was also the first South African scientist and local government official to be elected as co-chair of Working Group II for the Intergovernmental Panel on Climate Change Sixth Assessment cycle in 2015.
The second honorary degree will be conferred on Her Excellency ǂXuu Katrina Esau during the Faculty of Humanities ceremony on Wednesday, 29 March, at 14:00. Her Excellency ǂXuu Esau is highly commended for her contribution towards language studies and her mission to preserve the endangered culture of the San people. She has dedicated herself to the mammoth task of teaching a largely oral language and the unique traditions of the San people. She teaches at a small school located at the front of her house in Rosedale, outside Upington in the Northern Cape.
Light at the end of the tunnel
Continuing on the theme of seasons and success, Ngonyama's address also highlighted UCT's recent leadership challenges and changes at executive level with the appointment of Reddy as interim vice-chancellor. However, the university is beginning to reach the proverbial light at the end of the tunnel moment, she said.
"Most of you present here this morning who hold our beloved university so dearly to your hearts would be aware of the turbulent path we have had to navigate in the latter part of 2022 and the first few months of this year.
"I am however grateful that we are at a point where most of these challenges have now been addressed, and others are in the process of being addressed. We have increasingly started seeing strong signs that our university is emerging strong out of this period."
Ngonyama continued, "Over the years, UCT has been through many changes; it is through these upsets that we as the leadership of the university are set up for learning. It's ultimately not an organisation that learns or transforms, but the individuals who make up the institution."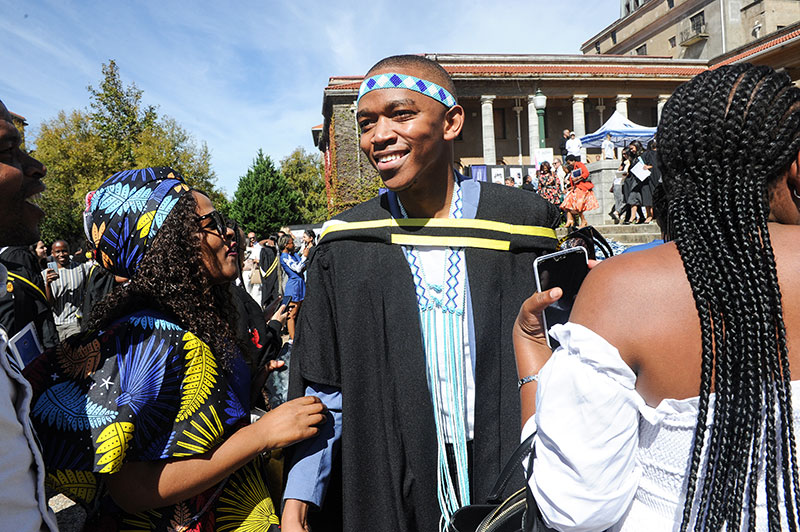 'No small achievement'
To conclude, Ngonyama wished the graduands well and reminded them of their responsibilities to broader society.
"It is no small achievement to complete a programme of study at UCT; it is definitely something to be proud of."
She added, "We develop leaders and critical thinkers, individuals who will create ripples in their communities and in so doing create a better future for all; people who will take on the problems of this world and leave it a better place.
"You have achieved a dream of every African child."
"You are following in the footsteps of Nobel Prize recipients and others who have achieved high honours and recognition: trailblazers of industry, business and government, innovators, explorers and thought leaders across all our academic disciplines. You have achieved a dream of every African child.
"Go out there and take your rightful place in the world – you have earned it. But remember you are the greatest project you will ever work on and you are the master of your own destiny. Continue to develop your intellect, and your ability to reason, contemplate and reflect.
"In this process, be kind to yourself. The longest relationship you have in your life is with you."
Ngonyama also challenged graduands to use their hard-won qualification to help alleviate poverty, unemployment, and inequality.
"One thing I have learned as a leader is that a leader is in a privileged position and there is nothing more gratifying than leveraging it to serve others and creating a better world for all.
"I am excited and inspired by what we have accomplished together. We are very proud of your achievements and are honoured to be celebrating this special moment with you this morning. We look forward to hearing from you and to continue working with you through our Development and Alumni Department as we navigate our vision of unleashing human potential for a fair and just society."
Large contributors to the festive vibe in the hall this morning were the musical and voice talents of UCT'S South African College of Music (SACM) and Opera UCT, in full cry.
The graduation procession was led by Sky Dladla and BlackRoots Marimbas, a neo-traditional indie band from Gugulethu. The band, made up of UCT students and alumni, recently returned from Germany where they participated in an instrument-building reality show. Two members, Keketso Bolofo and Ntombekhaya Halam, will be graduating this week.
The prelude music and the National Anthem were accompanied on the organ by Dale de Windt, who will graduate on Wednesday. De Windt, also a member of the Cape Town Baroque Orchestra, is completing a postgraduate diploma in organ performance.
Pianist Mikhaela Porter accompanied Ondelwa Martins, Dumisa Masoka and Sakhumzi Martins, who sang "O Sole Mio" by Eduardo di Capua. Porter is a second-year piano major at the SACM, and has been selected to participate in the National UNISA Piano Competition. The singers are also all focused on Opera UCT's next production of Gioachino Rossini's L'inganno felice, which takes place at the Suidoosterfees in April.
---
This work is licensed under a Creative Commons Attribution-NoDerivatives 4.0 International License.
Please view the republishing articles page for more information.
---