As rain clouds gather and soft showers fall onto the streets of Worcester, Chwayita Baxa quickly steps out of a branded South African Tuberculosis (TB) Vaccine Initiative (SATVI) vehicle. She's carrying precious cargo in her arms and hurriedly makes her way to the nearest entrance of the Brewelskloof TB Hospital to move out of the rain. Under a thick blue and white sailor-themed fleece blanket is little Ivakele Azibula – napping sweetly in his mother's arms.
Ivakele is just 15 days old. He's a tiny little man dressed cosily in a mint green onesie ready for the first winter-type day of his life. As we watch Ivakele nap soundly, it's hard to believe that any of us were once that tiny, that innocent, and that carefree. But his nap won't last much longer if the University of Cape Town's (UCT) Associate Professor Michèle Tameris has anything to do with it. At just two weeks old, Ivakele is part of a phase three clinical trial led by Associate Professor Tameris and a team of clinicians at SATVI's field site in Worcester. The study aims to explore and assess the safety, immunogenicity and efficacy of the novel MTBVAC vaccine as a potential TB vaccine alternative to the age-old bacille Calmette-Guerin (BCG), currently administered at birth to protect babies from TB. As Baxa hands Tameris her baby, she prepares to gently wake him from his slumber and get him ready for his second medical exam just two weeks after his TB inoculation.
On World TB Day, observed on 24 March annually, UCT News shines the spotlight on this latest clinical trial; what it took to get it off the ground, and the work carried out by a team of SATVI clinicians behind the scenes in anticipation of its success. SATVI is based in UCT's Institute of Infectious Disease and Molecular Medicine in the Faculty of Health Sciences, and is a world leader in TB vaccine clinical research.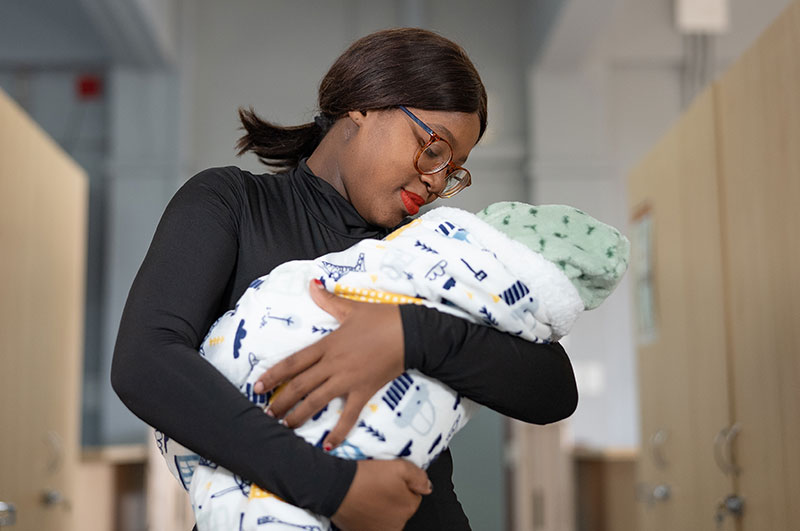 "Our vision at SATVI is to have a world free of TB. Very clever mathematical modelers have also been looking at how we can do that. The fact is, we'll never get rid of it with the use of new drugs, new diagnostics, or new ways of treating TB alone. We need a better vaccine if we want to eliminate TB completely," Tameris said.
TB in brief
According to the World Health Organization, TB is caused by a bacterium called Mycobacterium tuberculosis and it most commonly affects the lungs. The disease is spread from person to person through the air when infected people cough, sneeze or spit. TB is the nineth leading cause of death globally and more than 25% of deaths occur on the African continent. South Africa annually records one of the highest incidence rates of TB in the world, and the community of Worcester, a winelands town in the Western Cape, is particularly hard hit.
"If you are a person living with HIV and your HIV is not treated, then you are far more susceptible to TB."
"Our TB epidemic was driven by our HIV epidemic. If you are a person living with HIV and your HIV is not treated, then you are far more susceptible to TB. In the years before antiretroviral therapy, the TB epidemic exploded in the country because we had so many people susceptible to TB. But our TB problem precedes HIV," she says.
"Yes, it's due to poverty, overcrowding and malnutrition. But you find these things all around the world. So, why is it so bad in Worcester? Well, it's as a result of something we call force of infection. There's so much TB in the air; there's so many people out there with TB who can infect others that you really need something drastic to happen to counteract that."
Replacing BCG
As Tameris unwraps Ivakele and removes his clothing, she explains that the MTBVAC vaccine intends to make the inroads the country so desperately needs in the fight against eliminating TB. The vaccine trial was developed by scientists at the University of Zaragoza in Spain and is being sponsored for trial phase in South Africa, Madagascar and Senegal by biopharmaceutical giant, Biofabri – a Spanish pharmaceutical firm established in 2008 with one goal in mind: to research, develop and manufacture human vaccines.
And the clinical research development pathway follows three strict trail phases. The first phase, she explains, was conducted on healthy adults in Switzerland to test the safety and immunogenicity of the vaccine in a low TB incidence rate area. Thereafter, the two-part phase two trial moved to Worcester, to test and explore whether the vaccine was safe to use in both adults and newborns, and to evaluate which vaccine dose provided participants with the best immune response, respectively. Finally, the current phase three trail aims to test whether the vaccine protects babies like Ivakele from contracting TB. The vaccine itself is unique. It's derived directly from the bug that causes TB, compared to its BCG counterpart, which is derived from Mycobacterium bovis, the bug that causes TB in cattle.
"Scientists' theory is if we use the bug that causes TB to build an immune response to the actual germ, it's going to be a lot more effective than building an immune response to a germ that's like a close cousin, but is simply not close enough," Tameris says.
A lengthy trial
Even as Tameris places her stethoscope onto Ivakele's chest to listen to his lungs, as she chats to Baxa about his routine over the past two weeks, he continues to nap soundly. But he slowly opens his eyes as Tameris initiates the wake-up technique – moving his legs, rubbing his cheeks and tickling his feet.
"One of the highest rates of TB occur within the first two years of life and it's for this reason that we are vaccinating participating babies within a week of birth in this trial. We will conduct follow-ups like this one for at least two years after vaccination," she says.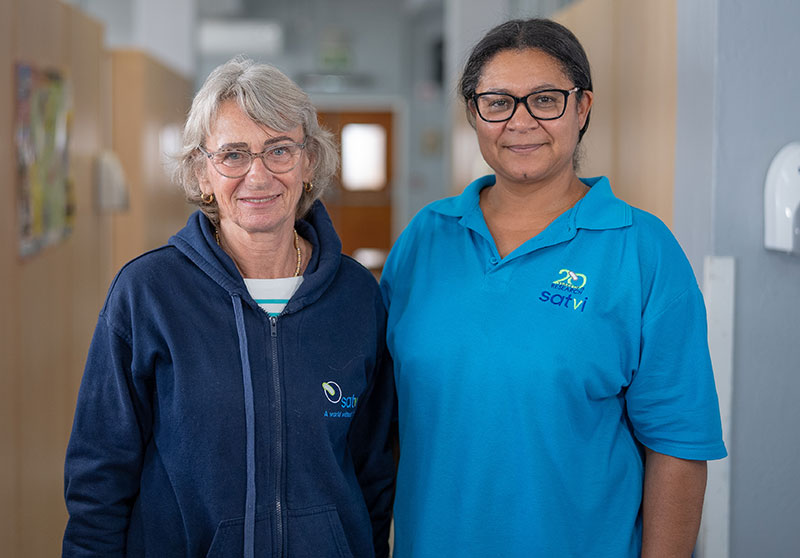 Tameris explains that because clinicians are unable to measure the effectiveness of the vaccine using biomarkers, monitoring participants regularly and waiting for them to contract TB or not, to examine their immune response is critical to determine the effectiveness of the vaccine. Biomarkers are biological molecules found in the blood, other body fluids or tissue that signals a normal or abnormal process, or that of a condition or a disease. It may also be used to see how the body responds to treatment for a disease or condition. But because biomarkers are not yet found in TB to measure vaccine efficacy, evaluating blood samples is impossible.
Like Ivakele, approximately 7 000 other babies will be enrolled for the trial across South Africa – at two sites in the Western Cape (Worcester and Tygerberg Hospital), one in Gauteng (Johannesburg) and one in KwaZulu-Natal (Durban). Sites in Senegal and Madgascar have been setup to monitor vaccine safety and immunogenicity, and to conduct capacity-building exercises. Tameris says a parallel study that involves trialling the same vaccine on both HIV-negative and HIV-positive adolescents and adults respectively will soon get under way.
"By the time all trials have been concluded, we want to be able to say that this vaccine is safe for infants, as well as adolescents and adults."
"By the time all trials have been concluded, we want to be able to say that this vaccine is safe for infants, as well as adolescents and adults. It should all take about seven years to wrap-up."
Getting involved
For Baxa, it was important to get involved in the MTBVAC vaccine trial to play an active role in helping clinicians locate a TB vaccine. She experienced the effects of TB first-hand almost two years ago and also knows people in her community who have been affected by the disease. Her experience, she says, was a real eyeopener. Now, as a mom, protecting Ivakele as far as possible from illness is her top priority and one of the reasons she agreed to participate in the trial. She says other mothers in her community are eager to get involved.
Glancing at Ivakele, who had just enjoyed a feed after his fruitful medical exam, Baxa says: "It's very important for him to be healthy. I don't want him to get TB … and that's why I got involved [in the trial]. I also want to understand TB more and I think that now I will."
Tameris says the community of Worcester are willingly giving up their time to participate in this trial without any hesitation – trusting the SATVI team implicitly because they understand the burden of the disease in their community.
"SATVI has been in the community for 22 years. So, when our recruiters drive into various areas people come to them to ask how they can help, and that's the beauty of it. We don't distribute flyers, we don't go knocking on doors, it's all word of mouth."
Running a tight ship
But no clinical trial can run smoothly without a study coordinator, and in this case, Danelle van As is the glue that holds everything together. Her job is multifaceted – from recruiting participants and ensuring that they understand the enrolment criteria, to training staff, and working in tandem with the laboratory, pharmacy and the clinical team to ensure that everything runs like a well-oiled machine. Van As says she is passionate about her work in the field of TB and has high hopes that this trial in particular will pay off in time to eradicate TB in the long-term.
"TB is a dreadful disease and affects many in our community. Many simply do not have the means to take their medication once they contract this disease and before you know it, [it] spreads all over, making everything worse. We urgently need a new vaccine in order to eradicate TB in the next 10 to 15 years," she says.
As Tameris reaches for the hand sanitiser after concluding Ivakele's exam and prepares to examine another little participant, she says that after more than 100 years, the BCG vaccination has done its job. The world is now ready for a new, highly impactful TB vaccine that targets infants, adolescents and adults despite their HIV status.
"I think that's what World TB Day is meant to do now – it's meant to bring our challenges with TB into the light, to highlight where we are now and to collectively work to eradicate this disease."
"If you think about how every other piece of technology has evolved in the last century, then we need to do the same with TB. We must develop a new vaccine and I think that's what World TB Day is meant to do now – it's meant to bring our challenges with TB into the light, to highlight where we are now and to collectively work to eradicate this disease," she says.
The SATVI field site is based on the Brewelskloof TB Hospital precinct.
---
This work is licensed under a Creative Commons Attribution-NoDerivatives 4.0 International License.
Please view the republishing articles page for more information.
---