Ziyanda Stuurman is a policy manager at the Abdul Latif Jameel Poverty Action Lab (J-PAL) at the University of Cape Town (UCT). She turns academic research into blueprints for actionable policies for the betterment of all stakeholders. She has obtained two master's degrees and her academic career has taken her to universities in the United Kingdom (UK) and the United States of America (USA).
In her book, Can we be safe? The Future of Policing in South Africa, published by Tafelberg in June 2021, Stuurman unpacks the complex and fraught history of policing, courts and prisons in the country.
Before joining J-PAL, she worked as a policy researcher at Parliament, as a programme and campaign manager for digital skills training organisation Digify Africa, and as a senior programme assistant at the United Nations Development Programme headquarters in New York City.
J-PAL is based at the Southern Africa Labour and Development Research Unit (SALDRU) at UCT. The policy team works with governments, researchers and NGOs to increase evidence use by bridging the gap between rigorous research and action in sub‑Saharan Africa to improve lives.
Book: Can we be Safe?
After matriculating in 2006, Stuurman completed her undergraduate studies at Stellenbosch University, where she obtained a BA (Honours) in Political Science. She was born in Gugulethu and moved with her family for a period to George. Both her parents are alumni of the University of the Western Cape.
Stuurman holds an MA in Conflict, Security and Development Studies from the University of Sussex in the UK and an MA in Sustainable International Development from Brandeis University in Massachusetts in the USA. Completing two master's degrees is the result of applying for two highly competitive scholarships at the same time: the Fulbright Scholarship (for study in the USA) and the Chevening Scholarship (for study in the UK).
"I decided to apply for both opportunities at the same time and, by some incredible stroke of luck, I was selected for both!" she said.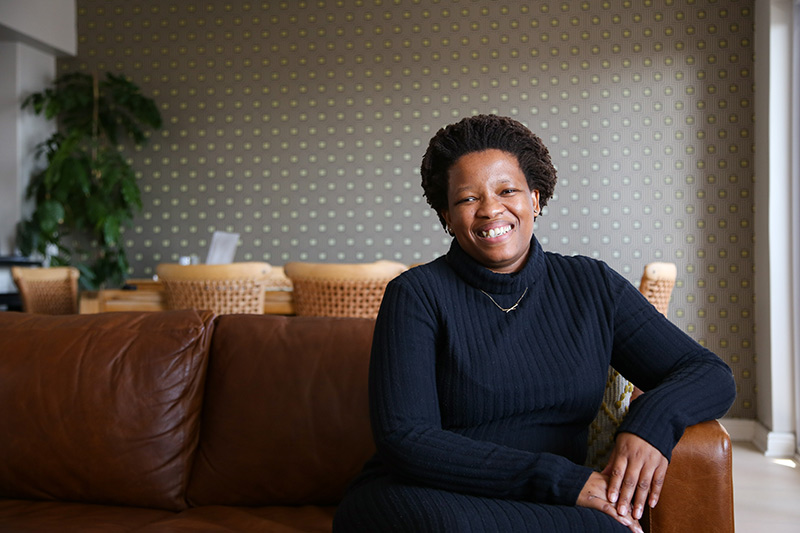 Can we be safe? is based on Stuurman's master's thesis at the University of Sussex. This was a critical analysis of the global processes driving the militarisation of policing and the pacification of communities in Brazil and South Africa. This topic was very relevant in South Africa with the deployment of the South African National Defence Force (SANDF) to the Cape Flats.
Her thesis grew out of her interest in violence prevention. Several public events inspired this interest, including the deployment of the SANDF to quell xenophobic attacks in 2015, the 2020 death of Collins Khosa and the killing of George Floyd by a police officer in the USA.
The idea of justice
Stuurman retains strong ties with Stellenbosch University, which dates from her undergraduate years. She was honoured for her strong leadership role at Stellenbosch University when she received the Rector's Award for Outstanding Achievement in Leadership in 2013.
"I served two terms on the SRC and a year on the university's Council as a student representative."
"Right now, we are lurching from one crisis to another."
She was appointed as a member of Stellenbosch University's Council by the Minister of Higher Education and Training in 2017, and she was re‑appointed in August 2021 for another four‑year term.
Stuurman draws inspiration from her parents. Both were nurturing of her interests in history and politics, and inculcated an idea of justice from an early age. This continues to drive all her research interests.
"I want to do a PhD," she said.
She is particularly intrigued by the possibility of reform of the South African Police Service since this process was abandoned at some stage.
Of this, Sturrman concluded: "This energy must be recaptured. Right now, we are lurching from one crisis to another."
---
This work is licensed under a Creative Commons Attribution-NoDerivatives 4.0 International License.
Please view the republishing articles page for more information.
---