Academics at the University of Cape Town's (UCT) Faculty of Health Sciences have developed a cutting-edge digital platform that enables medical students and clinicians to practise interpreting electrocardiograms (ECGs).
An ECG is an important clinical aid, which records the electrical signal of the heart and helps medical practitioners diagnose and manage cardiovascular disease.
Developed by UCT's Clinical Skills Centre in partnership with the Division of Cardiology, the new simulation and training system – ECG ONLINE – is an easy-to-use learning platform and information resource. It has been designed to train users in a systematic, educationally verified reasoning process, and allows users to develop a sound foundation before interpreting advanced and complex ECGs.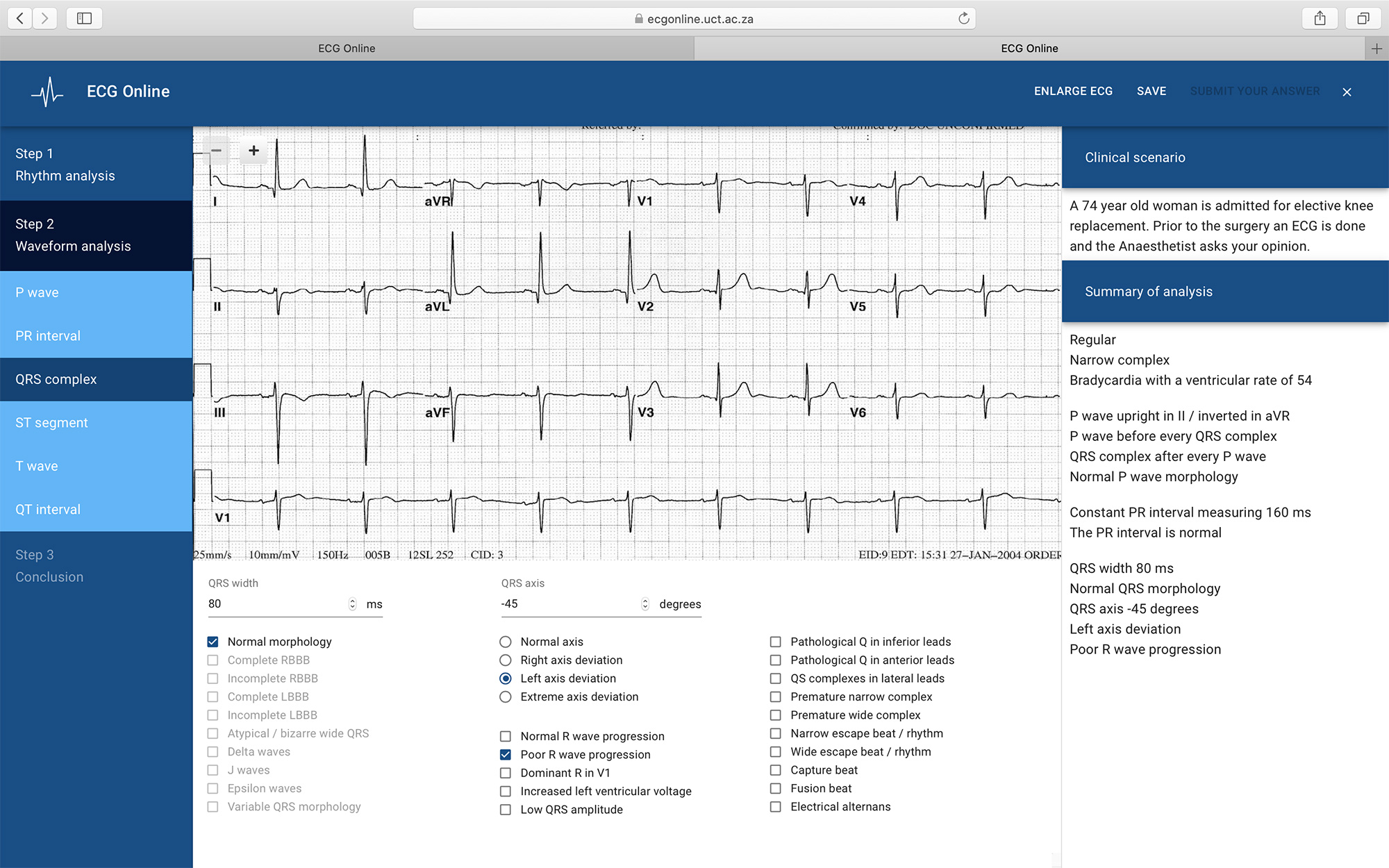 Funded by the Technology Innovation Agency and the UCT Research Contracts and Innovation office, the platform adopts a blended learning approach, which is significantly enhanced by the web application's online lectures, instant feedback and downloadable "take-home messages".
"It became clear that students needed longitudinal, structured, self-directed learning."
Teaching and learning online
According to Dr Rachel Weiss, who teaches a foundational course to medical students, interpreting an ECG is considered a "difficult competence" and requires regular practise. Even though her students achieve good grades during her course, Dr Weiss said that research indicated that students' knowledge retention and reasoning skills declined rapidly over time.
"It became clear that students needed longitudinal, structured, self-directed learning," she said.
"ECG ONLINE is a scaffold to help students build on their classroom knowledge by practising on typical ECGs they are likely to see in clinical practice while receiving targeted feedback."
The benefits
The web application is tailored towards a spectrum of learners – from undergraduate students to specialists in training. It extends classroom teaching by offering students the opportunity to learn anywhere, anytime.
"By studying multiple student cohorts over several years, we have been able to demonstrate that using ECG ONLINE provides significant benefit in acquiring and retaining ECG competence," said Cardiology fellow Dr Charle Viljoen.
Dr Viljoen created most of the online content.
To date, more than 1 500 students have made use of the programme, and thanks to the unique and interactive way the platform tackles a complex medical subject, feedback has been "overwhelmingly positive".
Experts' opinions
The Division of Cardiology's Professor Rob Scott Millar said that it is not surprising that students find it difficult to translate "squiggles" on a piece of paper.
"The ECG is infamously difficult to teach and to learn," he said.
The online system aims to change this.
He described the platform as a unique supplement to traditional ECG lectures and tutorials. Modules are built around the most important clinical diagnoses, with high-quality ECGs purposefully selected from his library of ECGs collected over more than 35 years.
"Deliberate practise with immediate feedback allows one to learn ECGs from scratch as if you had one-on-one teaching from a cardiologist."
Professor Mpiko Ntsekhe, UCT's head of Cardiology, said that ECG ONLINE is suited for beginner students, as well as those in advanced training who need to recognise more complicated ECG abnormalities.
"Deliberate practise with immediate feedback allows one to learn ECGs from scratch as if you had one-on-one teaching from a cardiologist," he said.
Developing the programme
Developing ECG ONLINE was a mighty task. Trying to find creative, innovative and cost-effective ways to get the project off the ground was tricky. Making time to focus on the project amid a demanding academic and clinical schedule was challenging too.
"It is fair to say that we mounted every challenge with equal measures of enthusiasm and naivety," Weiss said.
Despite the steep learning curve, academics gained "valuable insights" into alternative, modern-day learning methodologies. The experience has been particularly useful for teaching and learning during the COVID-19 pandemic.
"Acknowledging gaps and embracing new challenges can rejuvenate a programme. This often leads to further educational innovations."
Available to all
The team of academics agree that the COVID-19 pandemic has emphasised the need for well-designed, validated online learning opportunities, and the importance of sharing blended learning curricula across institutions.
ECG ONLINE is not limited to UCT students. Undergraduate students and postgraduates at other tertiary institutions can also make use of it and are guaranteed to benefit – regardless of the level of in-house training they receive.
"We hope that training programmes throughout the globe will encourage undergraduate and postgraduate students to make use of ECG ONLINE. We've made it freely available during this crisis."
Electrophysiologist Professor Ashley Chin agreed: "There is a huge need to improve ECG teaching globally. The plans to take ECG ONLINE to medical schools across South Africa and Africa will be a major contributor to the effective teaching of ECGs."
---
This work is licensed under a Creative Commons Attribution-NoDerivatives 4.0 International License.
Please view the republishing articles page for more information.
---