Dr Nomusa Makhubu's work encompasses academic research and the visual arts – photography and film, in particular – to explore ideas of gender, citizenship and what it means to be African.
Today, Makhubu is an award-winning artist and a senior lecturer in art history at the University of Cape Town (UCT). She is also a National Research Foundation-rated researcher, a recipient of a Mandela Mellon Fellowship and was a runner up in the 2017 South African Department of Science and Technology Women in Science Awards. Earlier this year, she co-curated South Africa's presentation at the Venice Biennale with Nkule Mabaso, who is also based at UCT.
But she could easily have ended up as an architect or medical doctor.
"I grew up in an industrial area south of Johannesburg in the Vaal triangle. When I finished high school, I had good grades, and I could have followed a career in the sciences. But I had an 'A' in art and a keen interest in what I could do with it.
"Upon finishing school, I didn't have funds for university fees, but I still applied for many different degrees around the country, from architecture to medicine. In the end, I chose to study fine art at Rhodes University."
The idea of African-ness
After completing her undergraduate studies, Makhubu's first body of work investigated colonial photography. "I questioned the way that such images are presented as documentary in nature while in fact they are highly subjective and were mostly shot in a studio setting."
Although the work was well received, when Makhubu was given the chance to complete her master's in art history, she jumped at it.
Even at that early stage, Makhubu was fascinated with the idea of what constitutes African-ness. "My master's thesis looked at the work of artists Zanele Muholi and Nicholas Hlobo and investigated the assumption that homosexual and transgender identities are unAfrican."
Both photographer Zanele Muholi and sculptor Nicholas Hlobo confront stereotypes of gender and sexuality in their work.
Makhubu then went on to complete a PhD in art history, again looking at questions of what is and is not African when it comes to art.
"The spatial politics of Wakanda as a place are very interesting. In the paper, I make an analogy between Wakandan and South African exceptionalism."
"I became interested in the medium of film and video, so I travelled to Lagos – home of the Nollywood film industry. There I explored the ways artists like Peter Hugo and Zina Saro-Wiwa, artists working in film and video, are responding to the Nollywood medium."
Makhubu also became fascinated with the many ways that citizenship is articulated in post-colonial Africa.
"For example, in the wake of the state broadcaster's decline in Nigeria in the late '90s, the film industry sprang up in part thanks to investment from evangelical mega-churches.
"These mega-churches act as proxies for the state in some ways. They offer many of the social services normally provided by the state – housing, healthcare, banking and childcare – while requiring members to pay tithes, analogous to state taxes."
On borders and belonging
During 2014, Makhubu joined the Michaelis School of Fine Art at UCT as a lecturer in art history. Her research interests have continued to include themes of citizenship and the artificiality of the nation state.
When Makhubu was recently asked to contribute to a roundtable about the film Black Panther, she chose the borders of Wakanda as her subject.
"The spatial politics of Wakanda as a place are very interesting," she says. "In the paper, I make an analogy between Wakandan and South African exceptionalism."
"Wakanda, as it is presented in the film, is a fictional kingdom populated by five tribes brought together by the mineral wealth of [the fictional] 'vibranium'. South Africa on the other hand is settled on gold, diamonds, platinum, chromium and uranium. And it is known for its arrogance about its minerals, judicial system, technologies and so on, and the assumption that it will never spiral into the civil war, poverty or political and socioeconomic demise that other African countries faced in the 1980s."
"By interventionism, I mean that by doing something unconventional you are messing with the norm and going against the grain in terms of what is considered decorous and what is thought of as obscene."
Makhubu also considered the film in relation to other black superhero stories. Black Panther is far from the first black superhero story, she says.
"Others came first: the genre of Nigerian comics that combine elements of African cosmologies and Afrotopian themes; the South African film Ikati Elimanyama (isiZulu for "Black Cat"); and the black township comic book superhero, Kwezi, created by Loyiso Mkize."
But Black Panther, she says, was the first such offering from a mainstream entertainment giant like Marvel to probe difficult questions pertinent to Africa and Africans, such as about pan-Africanism, black nationalism and the transatlantic trauma of displacement through slavery.
Art interventionism
Makhubu is currently working on a book about unconventional African art forms and the role of art interventionism in social engagement.
"By interventionism, I mean that by doing something unconventional you are messing with the norm and going against the grain in terms of what is considered decorous and what is thought of as obscene.
"These are works that are often informal, disruptive and temporary, and that focus on the strong symbolic codes often used in public and urban spaces. These are works that can't easily be categorised, sold or archived. Some examples include performance art and graffiti or the art collective that put a portable toilet into a Cape Town gallery space."
Makhubu founded the Creative Knowledge Resources project, an open-engagement project that explores the role of public artworks in mediating gender, race and class in African contexts.
Makhubu also plans to continue to explore ideas of belonging and displacement in her future research. "I am fascinated by ideas of 'uncitizening' in Africa and the question of what it feels like when you have been so profoundly displaced from a place and yet you identify with nothing else.
"What does the idea of 'nation state' mean at this point in time? And what does the signifier 'African' stand for?"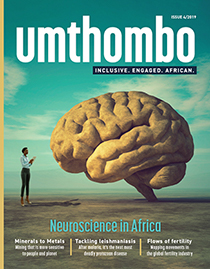 This story was published in the fourth issue of
Umthombo
, a magazine featuring research stories from across the University of Cape Town.
Umthombo
is the isiXhosa word for a natural spring of water or fountain. The most notable features of a fountain are its natural occurrence and limitlessness.
Umthombo
as a name positions the University of Cape Town, and this publication in particular, as a non-depletable well of knowledge.
Read the complete fourth issue
online
or
subscribe
and receive new issues in your inbox every few months.
---
This work is licensed under a Creative Commons Attribution-NoDerivatives 4.0 International License.
Please view the republishing articles page for more information.
---