Dr Ursula Rohlwink joined the University of Cape Town (UCT) Division of Neurosurgery in 2009. Since then, her work has focused on children with traumatic brain injury and the neuro-infection tuberculous (TB) meningitis, which comes about when the TB bacterium infects the central nervous system's membranes. In 2018, she was awarded one of the first fellowships of the Neuroscience Institute, and recently received a African Career Accelerator award from the Crick African Network.
"Among African children, both traumatic brain injury and TB meningitis are associated with high rates of death and illness," Rohlwink explains. "My work addresses these two major burdens of disease on our continent."
Although considerable research on traumatic brain injury is being done elsewhere, in Africa it remains a "silent disease", says Rohlwink. "And although TB meningitis is the most fatal form of TB, little research has concentrated on the organ of injury, the brain.
"My work focuses on understanding the mechanisms of brain injury which are relevant to both of these conditions – and other common brain diseases – with the aim of identifying new and improved treatment options."
"Ensuring the health of the developing brain is crucial to the future of individual children and society."
Rohlwink is based in the Paediatric Neurosurgery Unit at the Red Cross War Memorial Children's Hospital, headed by UCT Professor Anthony Figaji, the Department of Science and Technology/National Research Foundation South African Research Chair of Clinical Neuroscience. The unit embraces the strategic advantages of its South African context: high numbers of patients and sophisticated monitoring and laboratory techniques.
"This has enabled me to do research on these diseases that, on one hand, cannot easily be conducted elsewhere, and on the other, is driven by its relevance to patients," she continues.
"The brain is the most vital organ for a productive and full life. Ensuring the health of the developing brain is crucial to the future of individual children and society."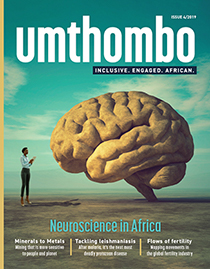 This story was published in the fourth issue of
Umthombo
, a magazine featuring research stories from across the University of Cape Town.
Umthombo
is the isiXhosa word for a natural spring of water or fountain. The most notable features of a fountain are its natural occurrence and limitlessness.
Umthombo
as a name positions the University of Cape Town, and this publication in particular, as a non-depletable well of knowledge.
Read the complete fourth issue
online
or
subscribe
and receive new issues in your inbox every few months.
---
This work is licensed under a Creative Commons Attribution-NoDerivatives 4.0 International License.
Please view the republishing articles page for more information.
---