Launched in July this year, the Desmond Tutu HIV Foundation's Amajita Tutu Truck gave 50 men in Philippi free HIV tests on International Men's Day on 19 November – and complimentary haircuts, thanks to a collaboration with Legends Barbershop.
"We already have the Tutu Tester, the Tutu Teen Truck, and the Tutu Kwik Testers that drive around Klipfontein and Mitchells Plain, but we noticed that mainly women were getting themselves tested," said Ndumiso Madubela, coordinator of the Men's Dialogue Project at the Desmond Tutu HIV Foundation.
Madubela approached Legends Barbershop after noticing that men were often more comfortable and willing to engage with each other about various issues when getting a haircut.
"The Amajita Tutu Truck … creates a safe space for men where they can just be themselves," he said.
After the success of their initial collaboration in July, the Desmond Tutu HIV Foundation and Legends Barbershop team saw a total of 50 men using the services of the mobile truck when they set up shop in Philippi Village on Tuesday. Legends barber, Kevin Gordon, said it was amazing to be part of the initiative.
"The amount of people who came today shows that it's worth it".
"When we asked men in our communities what would make them get tested, they said if it was fast, convenient and free."
Madubela said the priority of the Amajita Tutu Truck is to engage men, who tend to avoid health clinics where there is often a long wait for an HIV test.
"When we asked men in our communities what would make them get tested, they said if [the process] was fast, convenient and free."
Aphelele Mtengwana, 18, said he decided to visit the truck because of the branding: "I saw the haircuts and the sign saying it was for men, so I checked it out. Usually I wouldn't get tested, 'cause the clinics are far away and busy."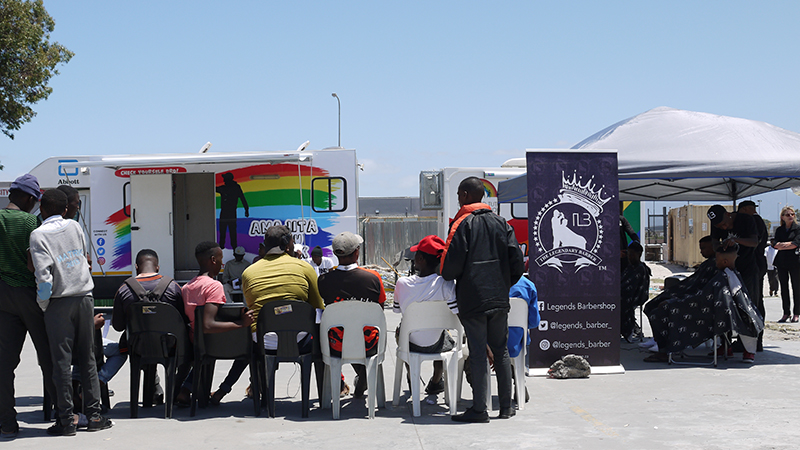 The attendance of the event is a great sign that men can be persuaded to take a more active role in their health, Madubela said.
"We saw a lot of young men today, between 15 and 35, which is exactly what we want. This group is at higher risk for HIV and they are reluctant to visit clinics and get tested. But men shouldn't be passive participants, only knowing their status through their partners. They should take action and know where they stand."
Legends Barbershop is proud to be working in South African communities, and the Desmond Tutu HIV Foundation expressed their deep gratitude for being given the opportunity to work with them again to reduce HIV infection.
---
This work is licensed under a Creative Commons Attribution-NoDerivatives 4.0 International License.
Please view the republishing articles page for more information.
---