Ask any high school learner for their opinion on the life sciences and you're bound to get a less than enthusiastic response. An innovative online platform and mobile app has, however, slowly but surely been changing this perspective by bringing an element of fun to these subjects.
The mGenAfrica platform – an initiative of the University of Cape Town (UCT) in partnership with the Western Cape Education Department (WCED) – was launched in August 2018 to promote interaction between high school learners and research staff working in genomics and other health research fields across Africa.
mGenAfrica and a parallel Moodle-based quiz platform, developed by the e-learning team of the WCED's Metro South Education District (MSED), offer learners the opportunity to gauge their knowledge and prepare for tests and exams through online quizzes that include questions from past final matric exam papers.
Learners are also able to connect with UCT researchers during live chat sessions and draw inspiration from a variety of career spotlight profiles. Ultimately, the platform seeks to pique learners' curiosity around careers in genomic sciences, technology, engineering and mathematical (STEM) fields, as well as big data analytics.
The aim is to make learning life sciences – especially genetics – fun, and to inspire learners to choose careers in life sciences, said Dr Vicky Nembaware, a bioinformatician and the project coordinator for mGenAfrica.
In addition to the quiz and live chat sessions, the platform also offers videos that explain complex life sciences concepts, a section for learners to translate or simplify scientific terms, a career portal where opportunities are posted regularly, and a section where learners can have their say on ethical issues pertinent to life sciences, particularly health sciences research.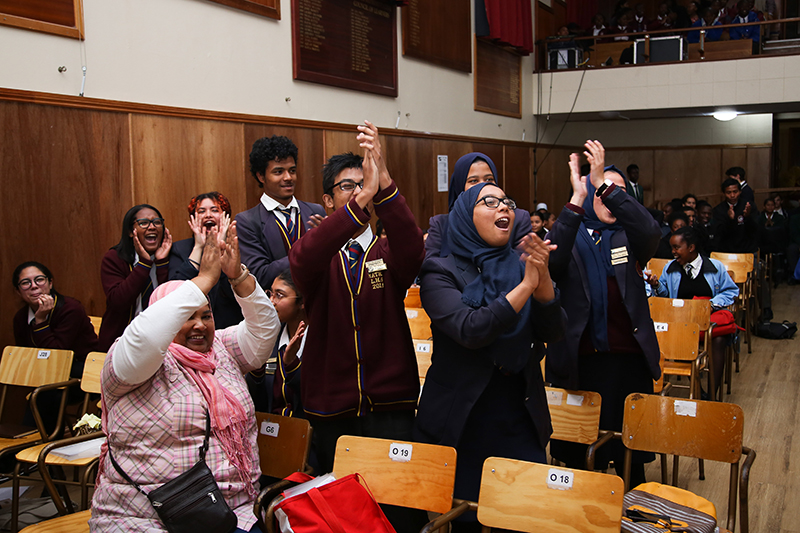 Technical support is provided by H3ABioNet – the Pan African Bioinformatics Network for Human Heredity and Health in Africa (H3Africa) – while the content and design of the platform are supported by various stakeholders and collaborators.
Nicky Mulder, the H3ABioNet principal investigator, said she was excited to see how the platform and quiz ignite interest in science, and particularly genomics, among high school learners, "as they offer such interesting and rewarding careers".
"These researchers are role models who can inspire learners to look beyond the more well-known or obvious career paths."
Gamifying learning
In slightly more than a year since it started, the mGenAfrica platform has managed to garner keen interest from learners and teachers alike, mainly due to the fact that it brings an element of gamification to learning – both in the classroom as well as at home. Add to this an opportunity to compete against your peers and win prizes...
On Saturday, 14 September, 366 grade 12 learners from about 40 schools across the Western Cape gathered at Wynberg Girls' High School to compete in the second mGenAfrica annual quiz competition. Having started last year with competitors drawn from just one education district, the 2019 event saw five districts included.
The learners competed either individually or as part of a team and went through several "heats" using the quiz Moodle platform, culminating in two finals at the end of the day.
In the individual category, the overall winner was Mbasakazi Songololo from Spine Road High School. In second place was Charles Martin from South Peninsula High School and Merel van den Brink from Parklands College came third.
In the group category, South Peninsula High School came first, followed by Sinethemba High School in second position and Fairmont High School third.
Songololo was rewarded with a trophy, a laptop and an opportunity to attend the 13th African Society of Human Genetics Conference in Tanzania in September 2020, accompanied by her life sciences teachers.
The other winners received scientific calculators, trophies, memory sticks and backpacks.
Broadening horizons
In between the heats, energy levels were kept high with life sciences-themed karaoke and dance-offs in the main hall, interspersed with inspiring career talks by UCT researchers. Dr Paul Steyn from the Department of Human Biology wowed the crowds with a demonstration of the cardiac system using a virtual reality system.
"When you go to university, you must know what your reasons are for being there. Otherwise it is too easy to get distracted."
Khanyisile Kgoadi, a researcher in the Division of Immunology at UCT's Institute of Infectious Disease and Molecular Medicine (IDM), shared how she had always wanted to be a doctor and find a cure for HIV. However, when her medical school applications were rejected, it felt as though her dreams were being dashed.
It was only after she had completed her honours in biochemistry that she realised pursuing a career in science was what could help her achieve her goals. As an immunology researcher, she is now working on generating new knowledge and increasing the depth of scientific insight around central nervous system tuberculosis (CNS-TB), the deadliest form of TB.
Her research has taken her all over the world and gained her a wealth of accolades, including a spot among the Mail & Guardian's 200 Young South Africans 2019.
Collet Dandara, professor in the Division of Human Genetics at UCT, shared some tips with the grade 12 learners about adjusting to the demands of university life.
"When you go to university, you must know what your reasons are for being there," he said.
"Otherwise it is too easy to get distracted."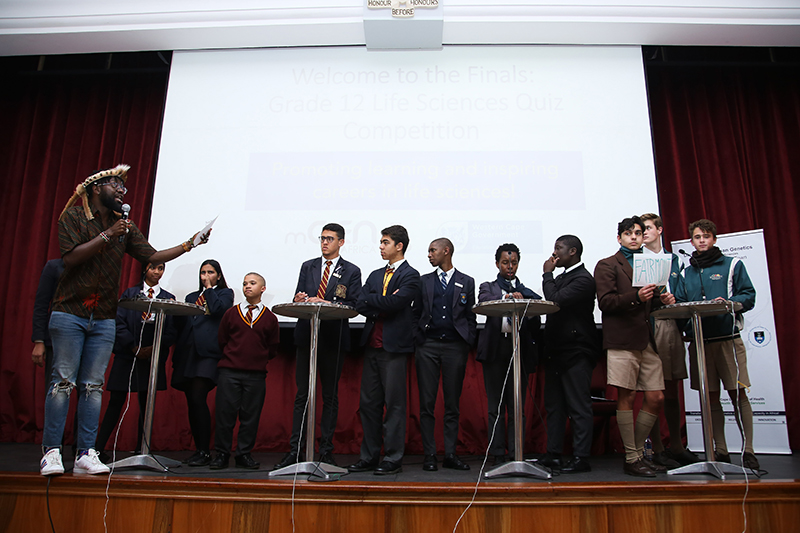 Forging partnerships
Planning an event of this nature is no mean feat and required extensive investment of energy and resources by all parties involved.
"I'm very pleased with the kind of effort made by UCT to expose the learners to a number of career opportunities," said Deon Khan, e-learning advisor for Metro South Education District.
"These researchers are role models who can inspire learners to look beyond the more well-known or obvious career paths," he added.
Jean Goliath, the WCED senior curriculum planner for life sciences, was "fearful for this day, because of the challenges that come with organising such a big event".
"These researchers are role models who can inspire learners to look beyond the more well-known or obvious career paths."
"But working with partners gives you that calmness that you know that things are in good hands. We really enjoyed working with UCT to make this happen."
The programme was funded and supported by H3ABioNet, the UCT Division of Human Genetics and the African Academy of Sciences (AAS), among others
Prizes were provided by the H3Africa Coordinating Centre, the Sickle Africa Data Coordinating Centre and the Pharmacogenomics and Drug Metabolism Group. The IDM helped with funding for food, the quiz technical systems and the film crew. The Wellcome Centre for Infectious Diseases Research in Africa (CIDRI-Africa) provided some filming equipment.
---
This work is licensed under a Creative Commons Attribution-NoDerivatives 4.0 International License.
Please view the republishing articles page for more information.
---