Meeting potential employers, receiving first-hand advice from industry leaders and having their curriculum vitae checked by the experts were just some of the things University of Cape Town (UCT) students took advantage of at the country's largest job expo.
The second annual Epic Job Expo, hosted by UCT's Careers Service, took place on Wednesday, 7 August, at the Sports Centre. The hundreds of students who attended the event had the chance to meet, talk to, learn from and apply to over 80 exhibiting companies.
There was an exhibitor for everyone: platinum sponsor Monocle Solutions, Nedbank, Amazon Web Services, The Small Enterprise Foundation, Huawei Technologies Africa, Accenture, Truworths, National Foods Ltd, Total and KPMG, to name just a few.
"This sells a good thing, something that we need: employability."
There were also seven TED-style talks where students, in an intimate setting, were offered insight and guidance into the world and the future of work.
Career advisor Jean Alfeld discussed tips for networking; Carla Watson, founder of the company foryouandyours and programme officer at UCT's Jakes Gerwel Fellowship, spoke about social entrepreneurship; Tamlyn Brink, the chief executive and founder of Meraki Advisory, delivered a talk on the power of branding; and Dr Mark Nasila, chief analytics officer of consumer retail and chief risk office segments at FNB, discussed technology and artificial intelligence.
Chief executive of Monocle Solutions David Buckham delivered two talks, titled "Power of the Hum Degree" and "The Future of Work", while software engineer Nhlanhla Lucky Nkosi spoke about surviving the Fourth Industrial Revolution.
Recordings of all the talks will be made available on the Careers Service website.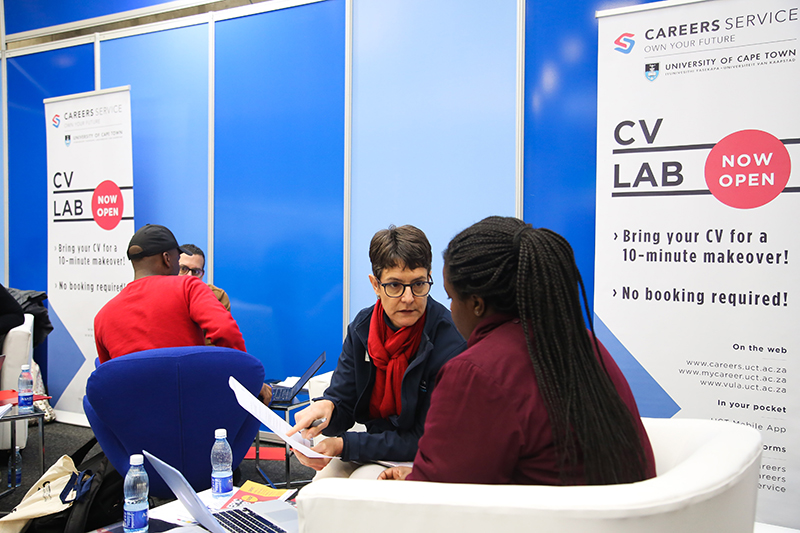 Students also perused the "Job Wall" and visualised their dream jobs on sticky notes, and then lined up at the Careers Service's all-day CV lab for an expert opinion on how to best present themselves on paper.
Opportunities
Vice-Chancellor Professor Mamokgethi Phakeng joined students at the expo, visiting all the exhibitor stalls, meeting with company representatives, encouraging students to take advantage of the opportunities the expo provided and, of course, indulging excited students with a few of her popular "Deputy Mother" selfies.
"This is absolutely fantastic! I'm excited," she said, after touring the expo.
"This sells a good thing, something that we need: employability."
Students got the chance to meet, talk to, learn from and apply to over 80 exhibiting companies at the expo.
While the discourse suggests there are no jobs, she said, opportunities are available and were within students' reach at the expo. She added that the event gave students the chance to hear from companies they may not have known existed, to apply for jobs and to gain a better understanding of each.
She was equally impressed with the TED-style talks, saying the speakers offered students lessons that complemented and expanded on what they learnt in their university courses.
She was thrilled to see the stalls manned by postgraduate students. Outpost, Trove, BYO Skin Co., Pigeon, Happy Hounds Hub, and Love Yoni were the six student-led stalls at the expo.
The Pigeon stand had her in stitches because they were selling cereal boxes called "Phakeng O's". The limited-edition boxes were the entrepreneurs' way of attracting attention to their student delivery service.
Fashion-savvy Phakeng was also drawn to Trove, a platform that facilitates the selling, buying and donation of second-hand clothes in a bid to reduce textile waste.
Incredibly proud of all the student-led start-ups, she said these pointed to the quality of education they were receiving at UCT.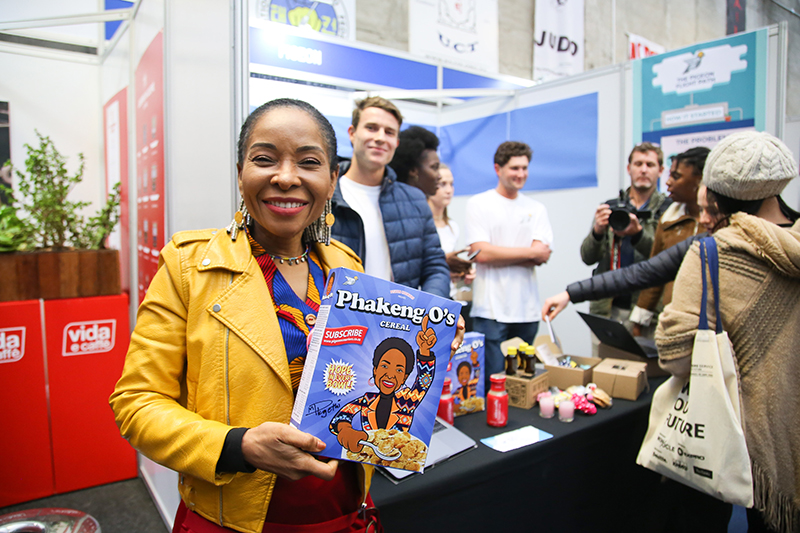 "When you study entrepreneurship at UCT, it's not just a theoretical programme; you do stuff … exciting stuff," she said.
But most importantly, it was the impact of the students' work that mattered most.
"It's not just about making money," said Phakeng.
"They are doing work that benefits society as well … it's really important work that our students are doing."
---
This work is licensed under a Creative Commons Attribution-NoDerivatives 4.0 International License.
Please view the republishing articles page for more information.
---