UCT's top student leaders were hailed at the annual Student Leadership Awards ceremony on 31 October 2017. Meet the champions of the student experience.
Vice-Chancellor's Student Leader Award: Amy Booth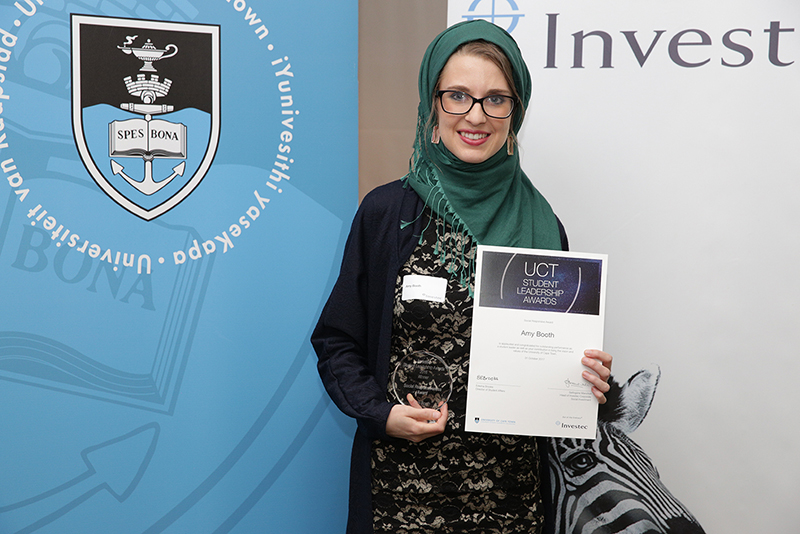 Amy Booth, medical student and outgoing president of the UCT Surgical Society, won the night's top prize: the Vice-Chancellor's Student Leader Award. Under her leadership, SurgSoc – as it's known to its 600-plus members – has strengthened an already outstanding record.
As head of its "underdeveloped" outreach portfolio in 2015, Booth founded the Health Aid for Refugees Project, which provides health education and screening to refugees in Cape Town. The project is still running.
As president, she was particularly keen to focus on transformation and racial and gender inequality in the surgical field, which she described as "traditionally a very exclusive career".
To this end, SurgSoc arranged a series of talks for its members, with a proviso that the speakers were from a range of racial and gender backgrounds. Their first talk of the year, about the first heart transplant, attracted a bigger audience than any in the history of the society.
Another talk was about decolonising surgery, which, she says, "took great steps towards addressing some of the inequalities in the surgical department", among not only students but the surgeons themselves, many of whom attended.
The list of SurgSoc's activities under Booth's leadership in 2017 is long. One notable project is the Kilimanjaro Kidney Climb campaign to raise funds for a renal dialysis machine, which costs around R180 000, for Groote Schuur Hospital. To date, SurgSoc has raised more than R250 000 and is still receiving donations from around the world.
Booth also oversaw SurgSoc hosting its first research symposium this year and initiated an outreach project called the Surgical Society Emergency Room Initiative in which students assist trauma units around Cape Town to reduce the patient burden on doctors.
She has also been the top student in the MBChB programme since her second year, and won the Asclepius Prize for the Best Medical Student Paper at a conference in late 2016. In demonstrating phenomenal leadership, through action and inspiring those around her, Booth is indeed a worthy winner of this year's top award.
---
Deputy Vice-Chancellor's Student Leader Award: Thembelihle Ncayiyana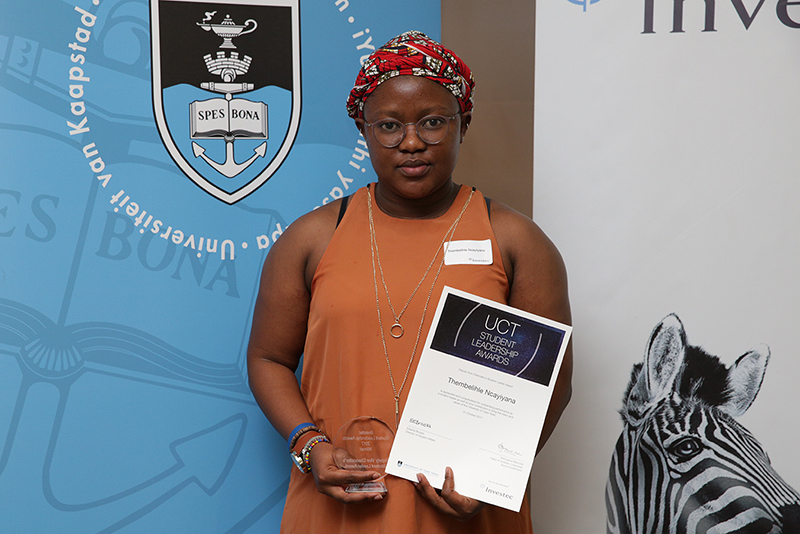 Thembelihle Ncayiyana, a master's student in social development, has throughout her years at UCT played a strong role in promoting intersectional equality with a particular focus on mental health.
Ncayiyana was instrumental in developing UCT's mental health policy, using her positions with S'akha Sonke (a support and advocacy group for all UCT students suffering from mental illness), the Students' Representative Council (SRC) in 2015, the Mental Health Task Team and the Institutional Reconciliation and Transformation Commission to good effect.
She has many years of experience in student governance, including the Student Parliament Management Committee in 2016, as vice-president of the Humanities Postgraduate Council in 2017 and as a representative on Senate and Council in 2017.
In her own words: "I stand for leadership that speaks up when the climate is unfriendly to one's impairment and difficulty. I stand for a leadership that is rooted in intersectionality and privileges the voice of the minority that have been excluded, and I stand for leadership that practises patience, tolerance and peace."
---
Executive Director: DSA Student Leader Award: Ryan Prithraj
Ryan Prithraj's leadership track record at UCT shows that he has sat on 30 university committees, representing various constituencies and influencing policy. This includes stints as chairperson of the Humanities Students' Council, chairperson of the UCT chapter of the United Nations Association of South Africa, vice-president external of the SRC and deputy speaker of Student Parliament.
In his capacity as deputy speaker, Prithraj presided over near-perfect attendance by members, and as a member of the SRC worked on drafting the new SRC Constitution, which was unanimously approved by Council.
He is known for his commitment to consulting students on matters of importance and, courtesy of the leadership positions he held in many sectors, is known as a versatile leader.
In addition to his leadership roles, Prithraj was on the Dean's Merit List and won a Klaus-Jürgen Bathe scholarship for his brilliant academic work. He is described as a "pillar of support", a "true asset to student governance" and an "incredibly unique student leader" by his colleagues.
---
Team of the Year: Surgical Society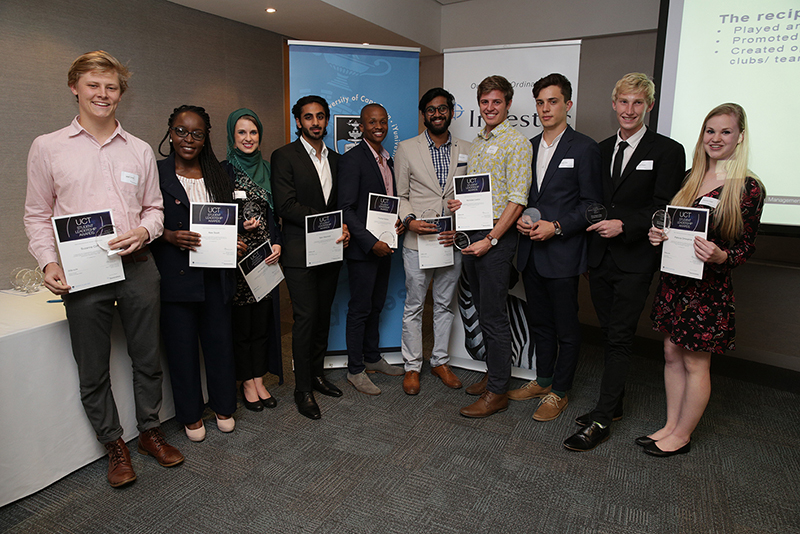 It's hard to identify one flagship project for the UCT Surgical Society.
Their Kilimanjaro Kidney Climb to raise funds for a new renal dialysis machine for Groote Schuur Hospital has been massively successful. They hosted Organ Donation Awareness Week on upper campus and a series of monthly talks designed to both share knowledge and advance transformation in surgery, including a talk titled "Decolonising Surgery: From theory to practice". The ongoing Friday Trauma Night sees students shadowing doctors at the Groote Schuur Hospital trauma unit. They hosted the first Surgical Society Research Symposium in October, and piloted major outreach programmes, including the Surgical Society Emergency Room Initiative.
SurgSoc has been tremendously active and successful in its endeavours.
---
Most Outstanding Postgraduate Student Faculty Council: Postgraduate Law Students' Council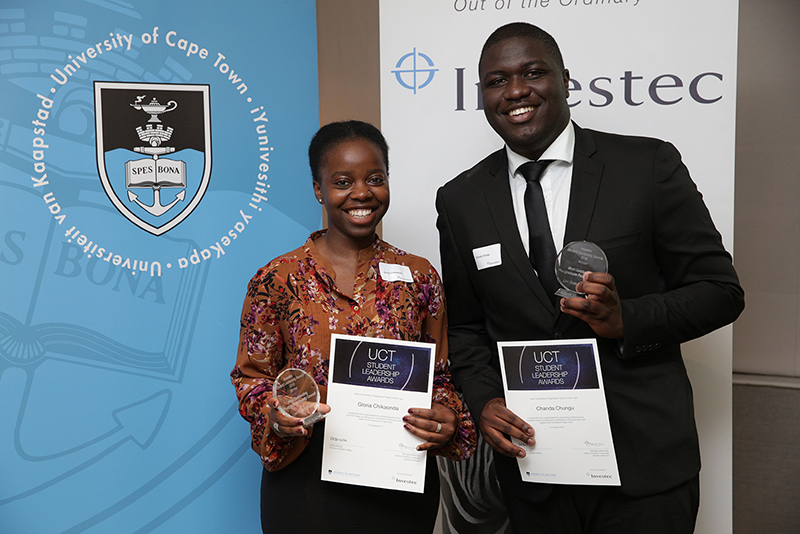 The Postgraduate Law Students' Council (PGLSC) in 2017 aimed to create an environment in which postgraduate students feel welcomed and involved in the faculty. To this end, they initiated and held monthly seminars for postgraduate students to present their research topics.
The PGLSC was vociferous in its engagements with the faculty and university and took unprecedented steps to ensure that its constituency was represented effectively in these forums. The PGLSC was, in fact, chosen to represent all other faculty councils on the university's Postgraduate Task Team, which was tasked with addressing institutional problems that postgrads face.
They also set up a postgraduate mentorship scheme, through which senior PhD students mentored master's and first-year PhD students. In addition, the PGLSC encouraged master's students to mentor undergraduate students, creating the environment they envisaged at the beginning of their term.
---
Most Outstanding Undergraduate Student Faculty Council: Health Sciences Students' Council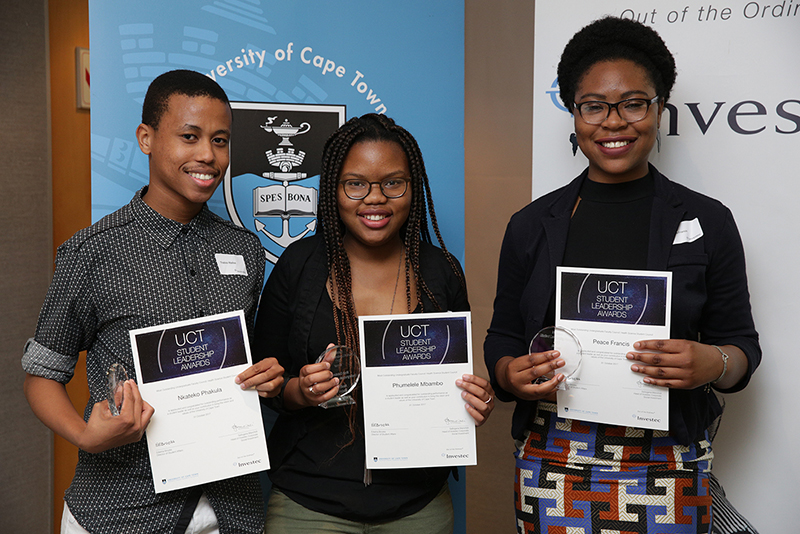 The 2016/17 Health Sciences Students' Council has been a vocal presence on campus. A key goal was to ensure genuine student representation in all important faculty matters, particularly regarding transformation.
The council members spent their year in office reimagining how best to represent student views, advocate for students' issues and restore transparency, democracy and accountability to a faculty council that had not had elections in some time. They also made important contributions to policy discussions, raised funds for students in need and organised many events that helped create a public sphere within the faculty.
---
Most Outstanding Team in Social Responsiveness: SHAWCO Health Steering Committee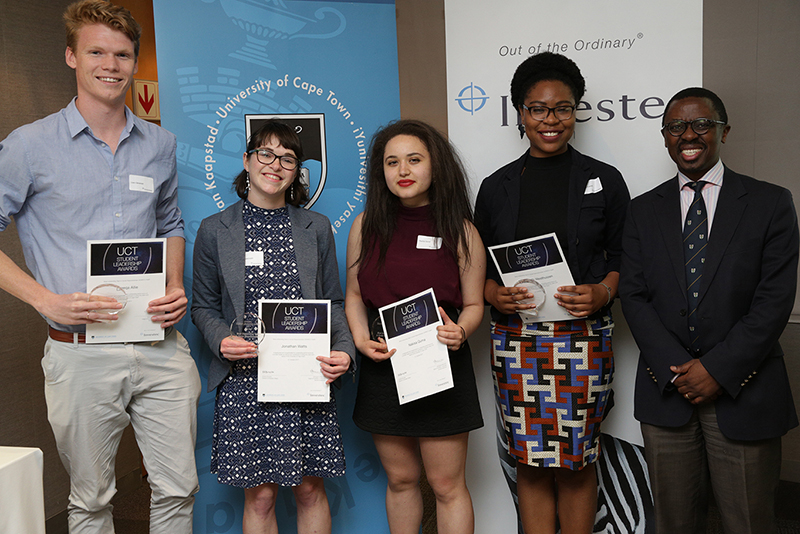 SHAWCO Health provides mobile clinic services to bring medical help to some 4 000 patients in impoverished communities who ordinarily have little access to healthcare. They ran two clinics every evening in Simthandile, Du Noon, Brown's Farm, Joe Slovo, Masiphumelele, Noordhoek and Bellville, as well as regular specialist clinics in more areas. All clinics were fully stocked with the relevant medicines.
SHAWCO Health also initiated two-week-long trips to rural areas to lend medical assistance. The clinics also featured screenings for mental health, a sorely under-resourced area of public health which has gained prominence in recent years.
---
Most Outstanding Team in Student Media: Altum Sonatur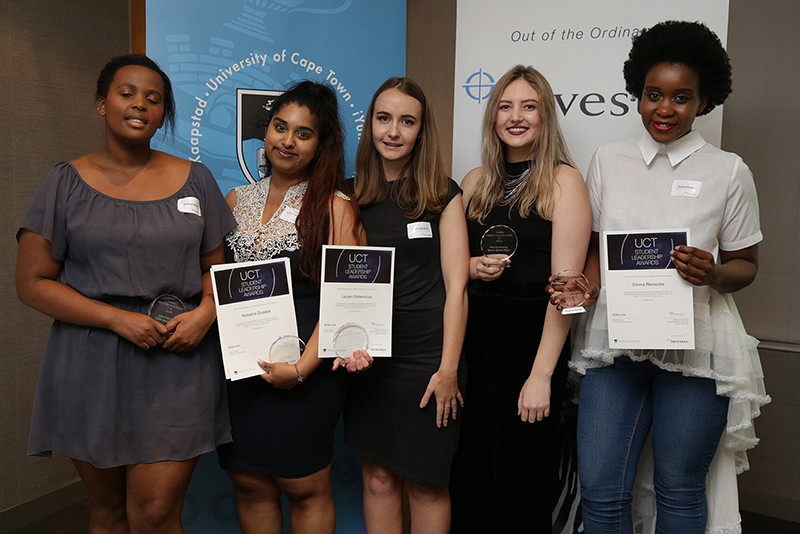 Altum Sonatur is the official student-run publication in the Faculty of Law. In the editorial team's own words, they aimed (successfully) to provide "critical, insightful and educational analysis of cutting-edge legal, social and political issues". Altum Sonatur has consistently been a publication that displays high standards both in editorial content and presentation.
Part of the editorial team's mission was to ensure that the magazine represented a greater diversity of voices and contributed to breaking down exclusionary barriers in the legal field, "from interrogating the exclusionary Latin origins of the magazine's name, to addressing the elitism of jargon and language within the legal profession, to featuring articles which focus on the experiences of black students, black women and queer students within Law School and the university generally".
---
Most Outstanding Team in Residence Life: Residence Tutors' Council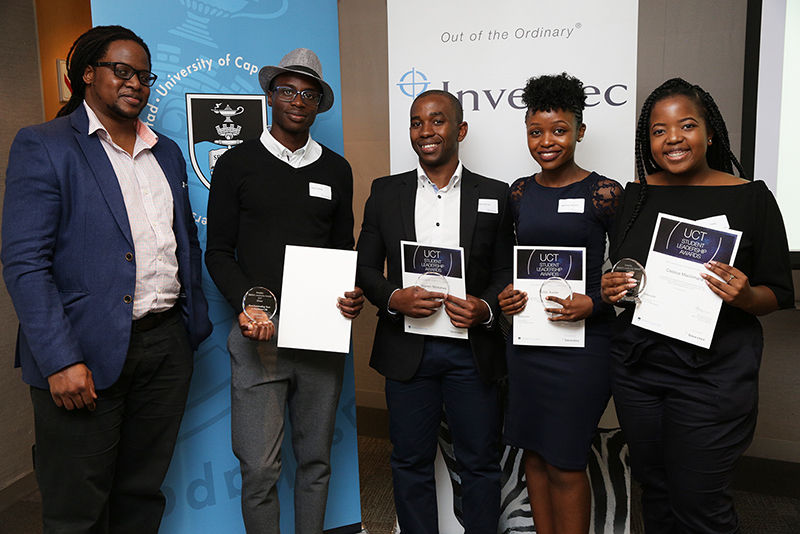 The 2017 the Residence Tutors' Council (RTC) aimed to create a more inclusive academic environment, promote leadership throughout the residence system, encourage holistic participation of students in events, create more accessible ways of accessing educational resources and improve the Residence Tutor system.
Some of their notable achievements towards these ends have included finding funding for the Baxter 24-hour computer labs, establishing inter-residence mass workshops, facilitating multilingual tutoring and incorporating UCT Plus in the tutoring system. The multilingual tutoring helps to break down complex terminology and concepts, enabling students to understand and assimilate information more easily.
---
Most Outstanding Sports Club Executive: Goalball Refereeing Team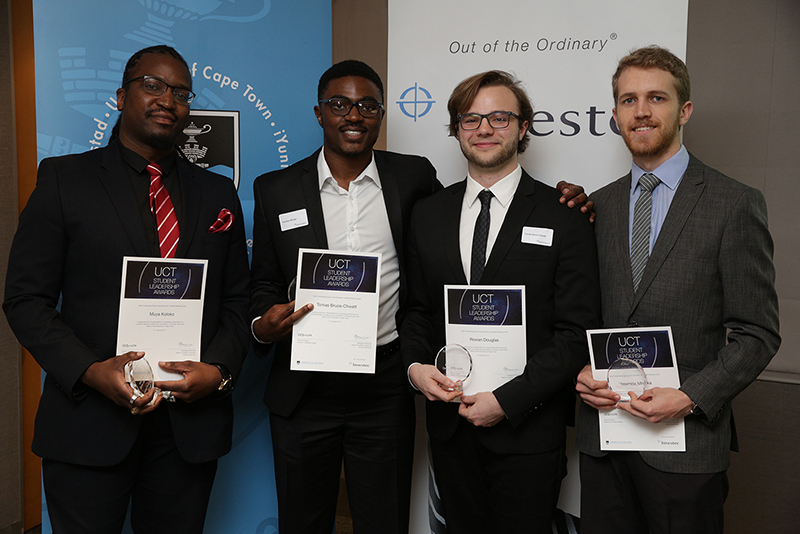 This team put UCT at the forefront of refereeing goalball in the Western Cape in 2017. Goalball is a sport specifically designed for blind athletes. UCT's goalball refereeing team officiated at all the Western Province league games in 2017, including the finals in October.
The team also introduced goalball to UNISA during their Casual Day sports festival and the sport is on track to being the first para-sport to form part of an intervarsity tournament.
All the team's members have served in leadership positions outside goalball, too, including serving on their sports club's committees. Through the goalball refereeing team, they have sought to increase UCT's inclusiveness, seeing goalball as an avenue for more students to be able to play, referee and coach.
---
Leadership Excellence Awards
Muya Koloko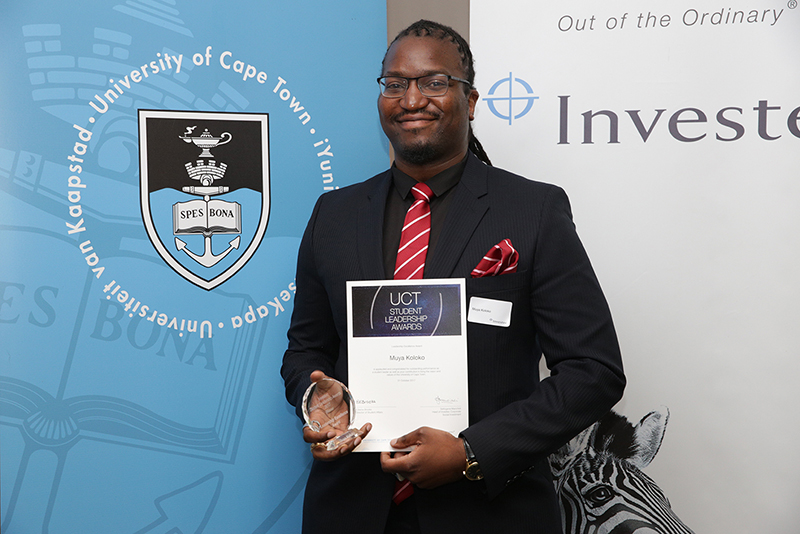 Muya Koloko is a well-known and long-serving leader at the university, particularly in sporting circles. From 13 years of unbroken service to the Ju-Jitsu Club, where he has served as certified instructor, chairperson, vice-chairperson and transformation officer, to the Student Sports Union, where he served as transformation officer in 2015 and 2016, Koloko has made significant contributions to sport at UCT.
He has made particularly acute transformations to removing barriers to disabled people competing in university sport, playing a key role in organising events for para-sports like goalball, wheelchair rugby, blind football and sitting volleyball. He also helped UCT establish links with external para-sports associations, and is a member of the aforementioned goalball refereeing team.
Gloria Chikaonda
Gloria Chikaonda served as the vice-chairperson of the International Students' Sub-Council and as secretary-general and chairperson of international students on the 2015/2016 SRC.
She also serves as secretary-general of the International Students' Association of South Africa and as events and marketing officer for the Postgraduate Law Students' Council.
Among her notable achievements has been reviving the effectiveness of the International Student Forums. Chikaonda was also part of a team that proposed creating a fund for financially needy international students, worth R1 million, which was agreed to by the University Undergraduate Studies Funding Committee.
Chikaonda's proposal also led to the creation of an International Students' Distress Fund totalling R100 000. In addition, she coordinated the first International Students' Conference at UCT.
Tahir Dawood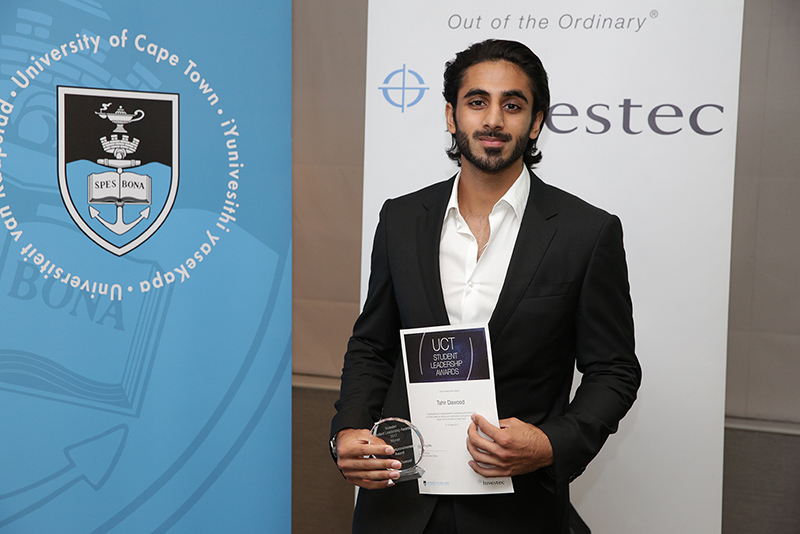 Tahir Dawood's list of leadership roles at UCT (and further afield) is extensive: head of outreach of the UCT Surgical Society in 2017; class representative for the MBChB class in 2013, 2014 and 2017; head of marketing for the Palestine Solidarity Forum Executive Committee in 2015; part of UCT's Muslim Students' Association in 2014 and 2015; and part of the Gatesville Mosque executive committee in 2015.
Dawood played a founding role in the Surgical Society's Emergency Room Initiative in 2017 and was an organiser of the SurgSoc's Organ Donation Week in the same year.
He has also helped organise a number of high-profile events on campus in recent years, including lectures by Dr Mads Gilbert (Norwegian physician, humanitarian and activist), Professor Ilan Pappe (Israeli historian and social activist), Muyiseni Ndlozi (national spokesperson of the Economic Freedom Fighters), Ronnie Kasrils (anti-apartheid activist and former government minister) and Zwelinzima Vavi (former secretary-general of Cosatu).
Peace Francis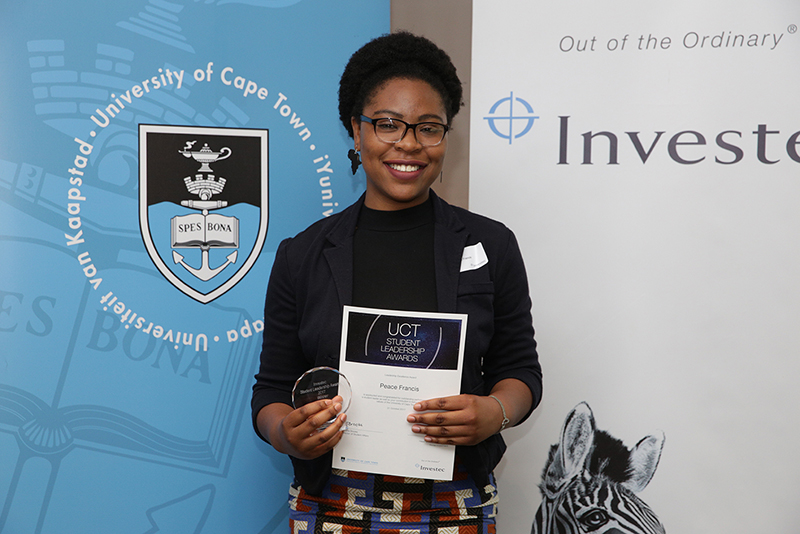 Peace Chiamaka Francis joined the Health Sciences Student Council (HSSC) at a time when the structure had lost the faith of the student body, as described by one of her nominees. Francis's efforts since 2015 have resulted in the Faculty of Health Sciences becoming known for their rigorous and regular consultation with students on all important matters relating to their experience.
As chair of the HSSC, Francis serves on a number of committees, such as the Faculty Education Board and the Assessment Committee. Her leadership has been described as "dedicated, passionate, self-sacrificing, dependable, trustworthy and innovative".
Francis's leadership roles have been underpinned by an overarching drive to advocate for transformation and inclusivity in whichever space she finds herself.
Ntebogang Segone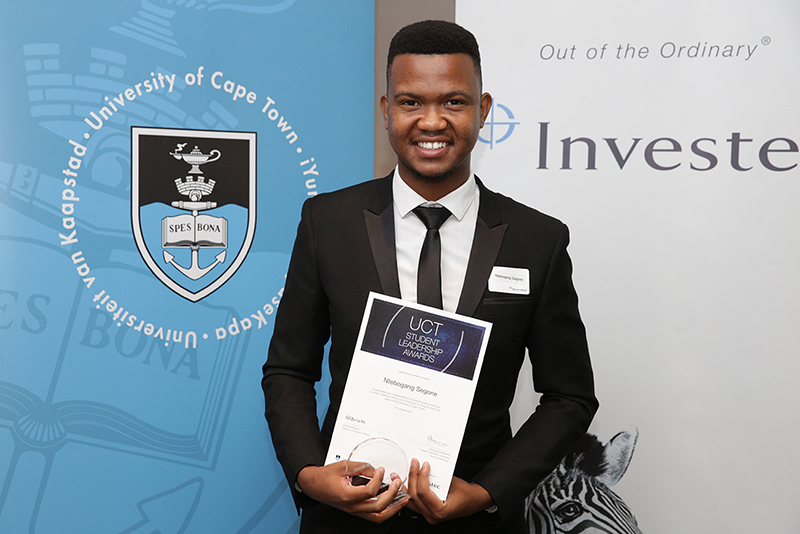 Ntebogang Segone's story is one of perseverance and excellence. He hails from a community in Kimberley with only three communal taps for 45 shacks and no flushing toilets. Raised by a single parent, Segone's UCT journey began with having no residence place for the first two weeks of term and being academically excluded after his first year. But he fought to be readmitted, gained an average of 71% a year later, and became the SRC's transformation and social responsiveness chair in 2016.
Driven by his own experience, Segone set up a sub-committee to look at the day-to-day transformation issues that students were facing. As chair of this portfolio, he broadened the focus to include gender, sexuality and disability issues, organising events and playing a facilitating role in conversations about these topics.
Co-chairing the university's Institutional Forum, he kept the plight of academically excluded students front of mind and campaigned for the reinstatement of local and international students.
---
Kerry Capstick Dale Student Leadership Award: Richard Burman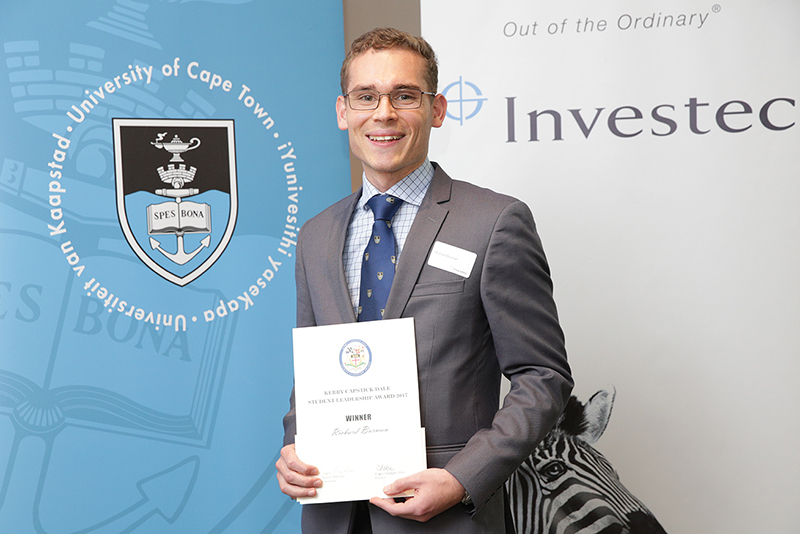 The Kerry Capstick Dale Student Leadership Award is given annually to a UCT student who, by virtue of the time they dedicate to the university community outside the confines of the lecture theatre, enriches the life of UCT. The awardee must display an "enlightened approach to life, generosity of spirit, humour and integrity" and must advance the ideals of the UCT mission statement.
This year's winner, Richard Burman, fulfils those criteria. He is a medical student who is studying for an MBChB and a master's of medical science in medical biochemistry. His master's research focuses on mechanisms underlying prolonged seizure states, with a hope of correlating both clinical and experimental perspectives.
Burman has already won myriad awards and scholarships, including a Mandela-Rhodes Scholarship in 2015 and a School of Child and Adolescent Health Continuing Medical Education research award in 2014.
---
This work is licensed under a Creative Commons Attribution-NoDerivatives 4.0 International License.
Please view the republishing articles page for more information.
---