On the second of this seven-day graduation season, 275 graduands from the Faculty of Humanities and 299 from the Faculty of Science received their UCT degrees.
The morning ceremony included two special additions: the 2017 Social Responsiveness Award, which was presented to the Schools Improvement Initiative (SII), and an honorary doctorate conferred on former rector and vice-chancellor of the University of the Western Cape (UWC), Professor Brian O'Connell.
"In response to the challenges in South African education, the Schools Improvement Initiative, one of the vice-chancellor's four strategic initiatives, was launched in 2012," said Deputy Vice-Chancellor Professor Loretta Feris when introducing the award.
"The intention of the initiative is to extend the University of Cape Town's engagement in schooling, with the explicit aim of making a positive impact on the quality of education in the classroom."
A key aspect of the initiative, explained Feris, is the 100UP programme, which has seen 963 matriculants from Khayelitsha and Mitchells Plain obtaining bachelor's degree passes since 2011.
The award was received by Dr Jon Clark, Dr Patti Silbert and Ferial Parker.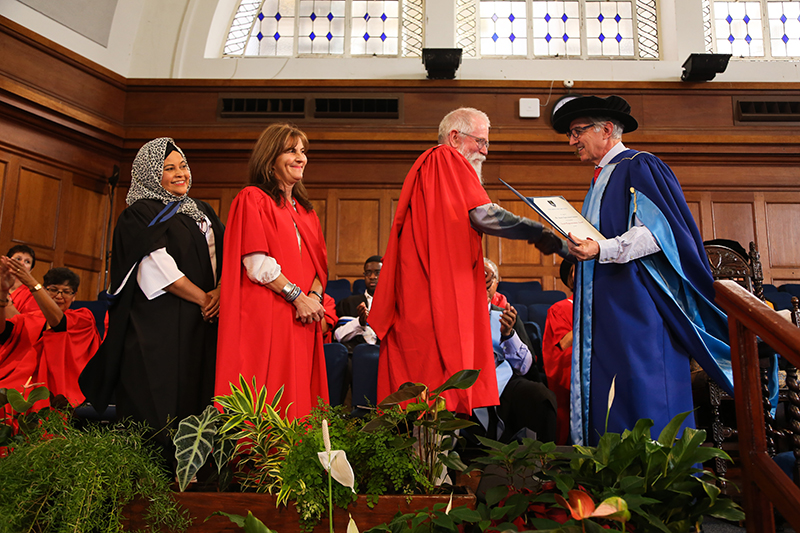 A leader in education
Before presenting O'Connell with his Doctor of Education (honoris causa), orator Professor Joan Hambidge praised him for his leadership and contribution to education both locally and abroad.
"The upliftment of our disadvantaged citizens and the restoration of their dignity was his quest as rector, vice-chancellor and teacher," she said.
In delivering his address to the second cohort of Humanities graduands, O'Connell reflected on his time at the helm of UWC, which became a source of world-class humanities research under his stewardship.
"Since humans have been able, we have used philosophy, literature, religion, art, music, history and language to understand and record our world.
"Knowledge of these records of human experience give us the opportunity to feel a sense of connection to those who have come before us, as well as those who are with us now," he said.
"It has been suggested that we may well be the last generation which can prevent a population crisis of runaway poverty, malnutrition, restricted economic growth, shortages of primary healthcare services, family planning services, housing and education," he continued.
In order to do so, this generation must bring back the concept of humanity, "a concept that speaks of love and care".
"Every generation has the burden of making sense of their social and natural environments. They must try to understand the past, and also to project into the future, if they are to survive.
"This is, by definition, the work of the university, because a university stands between the past and the future."
Work hard and keep an open mind
The afternoon's ceremony included the election of Professor Peter Dunsby to the UCT College of Fellows. In her introduction, Feris praised Dunsby for his original and significant contributions to knowledge.
This honour was followed by an address to graduands by Professor Valerie Mizrahi, director of the Institute of Infectious Disease and Molecular Medicine (IDM) and a tuberculosis researcher of great renown.
"The scientist has an experimental mind. This seemed to me more than a way of thinking. It was a way of being – a weird way of being," she quoted from American surgeon and public health researcher Atul Gawande.
"You are supposed to have scepticism and imagination, but not too much. You are supposed to suspend judgement, and yet exercise it. Ultimately, you hope to observe the world with an open mind, gathering facts and testing your predictions and expectations against them."
"Thinking back, I realise that science has taught me many lessons," reflected Mizrahi.
The first was the importance of community.
"Today, as you join the community of scientists, remember that you are becoming part of one of the most powerful collective enterprises in human history, and one that Gawande described, very aptly I believe, as beautifully self-correcting."
This self-correction is instrumental in today's world, she said, given the enormous pressures on scientific research to be immediately relevant and highly impactful. This can, and does, lead to hype and exaggerated claims.
"I would urge you not to ever take this collective enterprise, or your membership of it, for granted."
Always remember to acknowledge those that came before you, and those that are beside you now, Mizrahi urged. Acknowledge those whose ideas, thoughts and actions have influenced your own.
Work hard and persevere, she said.
"Sometimes I wonder why I chose to work on a problem as challenging, as stubborn and as seemingly intractable as tuberculosis.
"Our work has been slow, technically difficult and fraught with a degree of complexity that I could not possibly have foreseen when I chose to start working on this problem 25 years ago.
"But through sheer perseverance and hard work by the superb group of people that I've been privileged to work with … and by learning from failed studies, many of which in fact led to dead ends, there have emerged some breakthroughs and insights that may perhaps offer new ways of intervening in this terrible disease."
Watch the Faculty of Humanities graduation ceremony on 4 April...
Watch the Faculty of Science graduation ceremony on 4 April...
---
---
This work is licensed under a Creative Commons Attribution-NoDerivatives 4.0 International License.
Please view the republishing articles page for more information.
---