Siyabonga Mdlalose's road to graduation has been a long struggle. But when the mechanical engineer is capped on 3 April, he will remember the turning points: the people who believed in him and the baby daughter he named Summer.
It took nine years of hard graft, but Mdlalose is now a mechanical engineering intern graduate at the Chevron Cape Town Refinery in Milnerton. His advice to struggling students is empathetic but direct: "The journey you are travelling has been travelled before. Your journey may seem very hard and difficult to complete, but if you persist and focus on the end results you will make it."
He recounts the difficult early years.
"My journey began in 2009 at UCT. As a young man from KwaZulu-Natal, arriving in Cape Town was a huge achievement. I came from a family where three people shared one room and yet we smiled and had hope. Leaving my mother and my sister behind wasn't easy, but I had no choice. I was told to focus on the light and be ready for tribulations."
These were prescient words. Just before leaving for Cape Town, he began to experience seizures at night. His doctor advised him to rethink his course of study.
"Because I was driven by my goals, I couldn't take her advice. Through God's grace I managed to overcome that troubling condition and until this day I haven't experienced any seizures."
Counter culture
But the culture at UCT was a challenge for the young man from Umlazi township, who had no one and nothing to fall back on.
"Because I came from a disadvantaged background, I was always depressed. UCT couldn't offer me residence, so I had to hustle for off-campus accommodation in Athlone. I stayed there for a few months and then I moved to Observatory for the remaining first-semester months. This was one of the reasons why I couldn't attend any orientation activities."
Though he'd enrolled for the mainstream mechanical engineering degree, Mdlalose found the workload difficult to manage and transferred to the faculty's Academic Support Programme for Engineering (ASPECT). Founded in 1988, this bridging programme assists students who matriculate from school systems that have not adequately prepared them for tertiary study.
In the second semester he was given an opportunity to repeat the whole first semester, which he passed. He then progressed to second semester with "a positive energy".
"It's always better to register for few courses than a huge unmanageable load," he advises students. "Remember, you're not competing with anyone but yourself and your own future. Stay humble and focus on the light because things will be alright."
However, it was not all plain sailing. Feeling left behind and depressed, Mdlalose says he pretended things were alright.
"I watched all my friends and former classmates graduating, but I never let it go."
"I was academically excluded four times. I watched all my friends and former classmates graduating, but I never let it go.
"I preferred to temporarily suffer than to regret [my choice]. I managed to repeat some of the courses and form new friends so that I could move forward. Yes, I was being laughed at and called names behind my back, but I knew my destination."
2015 was life-changing.
A daughter called Summer
"My baby girl was born in KZN while I was still studying, and I named her Summer because I predicted that she would bring the light to my life."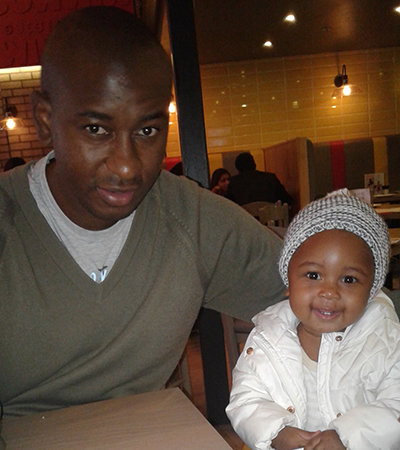 A year later, things at UCT took a turn for the better when he shared his struggles with mechanical engineering lecturer Ernesto Ismail. Ernesto introduced him to the faculty's marketing and communications manager, Mary Hilton.
"I left all my pride behind and humbled myself," he says. "I was staying in Steenberg, 30 to 35 minutes away from UCT by train. Meeting her [Mary] was a miracle from God, which I can't even describe. Everybody I knew was distancing themselves from me and I was only left with a few [supporters]. They'd even lost hope that I would complete my degree. Some even assumed that I was not going to get a job after taking so many years to complete my studies."
Hilton could alleviate Mdlalose's immediate needs by tapping into the faculty's Student in Distress Fund. This provided money for tuition fees, transport, food, clothes and even support for his baby daughter.
"I managed to work hard and pass all my courses in 2016. In 2017 I was a final-year student and worked part-time doing all my vacation work at Heat Pump International (HPI), thanks to Dr Bruce Kloot from mechanical engineering, who arranged vacation work for me. I gained a lot of experience at HPI and I used that experience to successfully pass the Chevron interview."
After graduation another journey will begin for Mdlalose.
---
This work is licensed under a Creative Commons Attribution-NoDerivatives 4.0 International License.
Please view the republishing articles page for more information.
---