Michael Hammond has photographed thousands of graduates. But during the four years he spent capturing these moments of celebration as UCT's photographer, he never imagined climbing the Memorial Hall steps himself.
However, after a decade of working as a photojournalist, Hammond decided that the opportunity to complete his master's degree at UCT was too good to pass up.
Between working full-time and having two children, he spent a year and a half photographing in the breadbasket of Cape Town: Philippi.
The experience proved challenging, but rewarding.
"I didn't foresee the knowledge that I would take in from my fellow students and lecturers. I was challenged a lot," he says, "which also made me aware of certain things and how to look at my own work, and myself as a photographer.
"I think you get stuck in your own perceptions of what you're doing and the flow of your career. And then you get challenged by young people and you realise that their views have value. If not everything, there is their own truth behind what they are arguing about, or for."
Photographing joy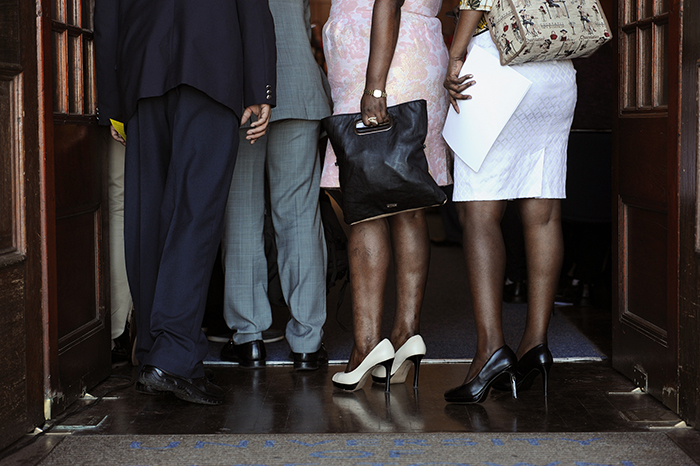 In preparing for his own trip up the Memorial Hall stairs, where he will receive his Master of Arts with distinction, Hammond reflected on what it takes to photograph a graduation.
First and foremost, he says, you have to tell a story with your photographs.
"But I always sort of turn sideways, or downwards, or upwards, and also try and find my own photograph in all of the excitement and emotions."
These photographs, the ones that Hammond finds most interesting, reflect the smaller details.
In/between Philippi
Hammond's own journey to graduation was born through the photobook In/between. The project can't be labelled as photojournalism, he reflects. Rather, it is about the narrative of the photobook, and the snippets of the lives and of the space it contains. The following gallery shows a selection of Hammond's images from the photobook.
---
This work is licensed under a Creative Commons Attribution-NoDerivatives 4.0 International License.
Please view the republishing articles page for more information.
---