An entirely South African production of the hit comedy Shakespeare in Love comes to the Fugard Theatre from 10 October.
Caught in the throes of writer's block and with his latest deadline looming ever nearer, the young Will Shakespeare is desperate for a source of inspiration.
He then meets the young and striking Viola de Lesseps. She is an ardent admirer of Will and will do anything to appear in his upcoming play, including breaking the law.
It is in this crucible of mistaken identity, devious scheming and backstage shenanigans that Will falls in love with Viola, and he is prompted to create the timeless tale of star-crossed lovers – Romeo and Juliet.
Written by Lee Hall and adapted from the Academy Award-winning film of the same title, the show ran for a sold-out and extended run on the West End in 2014.
South African premier
The South African premier features an illustrious cast of 21 actors (and one dog). Dylan Edy and Roxane Hayward top the bill, as Will Shakespeare and Viola de Lesseps respectively.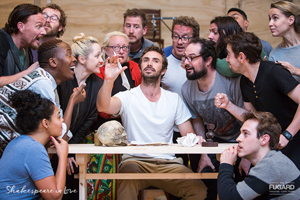 They are joined by numerous UCT alumni, including Robyn Scott as Queen Elizabeth, Jason Ralph as Lord Wessex, Bianca Flanders as Mistress Quickly, Mark Elderkin as Burbage, Nicholas Pauling as Ned Allen, Adrian Collins as Ralph and Nathan Lynn as John Webster.
The piece is directed by the Fugard's resident director, UCT alumnus Greg Karvellas.
"Shakespeare in Love is a charmingly funny romantic comedy that has captured the hearts and imaginations of audiences the world over," said Daniel Galloway, the executive director of the Fugard Theatre.
"We at the Fugard are delighted to showcase the best of South African talent in this wonderful piece of theatre, which is the Fugard Theatre's first engagement with the mighty Bard, albeit not in his own words."
Shakespeare in Love will run at the Fugard Theatre from 10 October, Tuesdays to Saturdays, at 20:00 nightly.
There will be matinee performances at 16:00 on Saturdays and Sundays (except Sunday, 15 October).
---
This work is licensed under a Creative Commons Attribution-NoDerivatives 4.0 International License.
Please view the republishing articles page for more information.
---