"It is said that what hides in the dark will be revealed in the light. So what if I told you that I want to use light to illuminate one of the most prominent issues in the darkest times of drought?" This was Nyasha Chimhandamba's opening to the winning presentation at the UCT Famelab finals. One of the major agricultural effects of drought is salt stress on plants. Chimhandamba, currently doing her honours in molecular and cell biology, is working on creating a luminescent biosensor that will let off a blue light to indicate when plants are salt-stressed.

Chimhandamba was one of 10 university finalists to compete in the final UCT heat of the international Famelab competition earlier this week, and the competition was stiff.

Runner up Kolisa Sinyanya is a PhD researcher in the Department of Oceanography and is working to better understand how the oceans absorb increased carbon dioxide in the atmosphere.

"The oceans have been saving our planet for millennia," says Sinyanya, "and continue to do so every single hour. "

But the oceans are not solely responsible for saving our planet from human-induced climate change, she warned. "We have to take responsibility by watching our very own carbon footprint."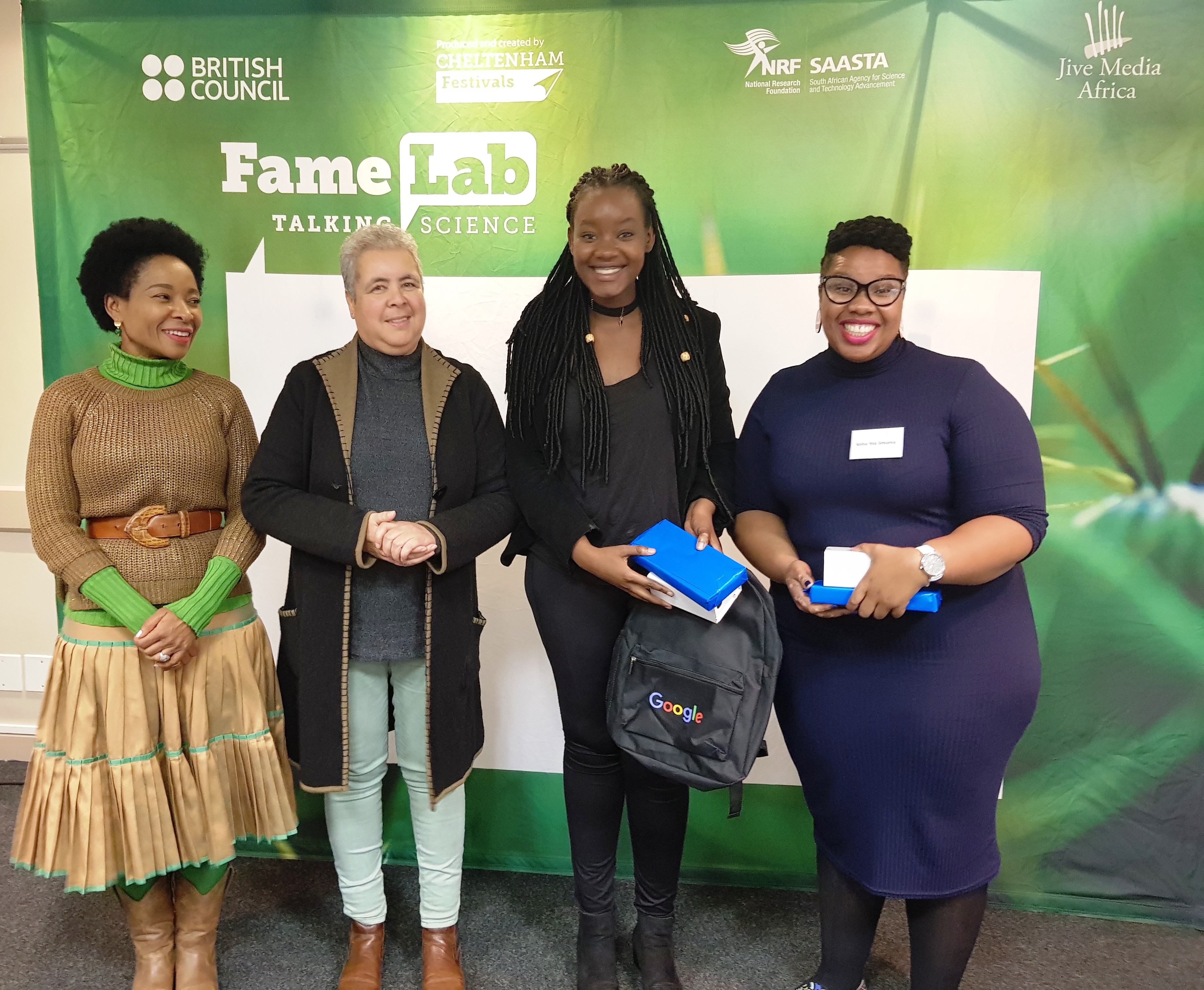 Other presentations included work on projects as diverse as studying the human genome to better understand bipolar disorder, how to identify tuberculosis-infected people who are not yet showing symptoms and how we can use clean energy to power our cars and homes.

Famelab is the world's biggest science communication competition. Chimhandamba will next compete in the national competition, and hopefully will go through to the finals taking place next year. The national winners meet for a final competition at the Cheltenham festival in the United Kingdom.

Famelab seeks to promote science communication among researchers to ensure the great work being done in universities is known to the general public.

"It is inspiring to hear about the work these young researchers are doing, and feel their passion coming through in their presentations," says Dr Dheshnie Keswell, co-ordinator for Researcher Development in the Research Office, responsible for hosting this event. "I hope that they continue with their enthusiasm for science communication while building their research careers and inspire our next generation to follow a research career path."
Famelab is a programme of Cheltenham Festivals UK and implemented globally by the British Council. It is implemented locally in partnership between the British Council, South African Agency for Science and Technology Advancement (SAASTA) and JiveMedia Africa.
---
This work is licensed under a Creative Commons Attribution-NoDerivatives 4.0 International License.
Please view the republishing articles page for more information.
---