The Venture Incubation Project at the MTN Solution Space at UCT's Graduate School of Business (GSB), is nurturing a new generation of young social entrepreneurs, which is part of their plan to build a national entrepreneurial framework.
Local start-up and edutech company GetSmarter's recent $103-million (R1.4 billion) deal with US listed company 2U represents a giant stride for local entrepreneurs. For the founders, UCT alumnus Sam Paddock and his brother, Rob, it was no flash in the pan. It's taken 10 years to build the company. For young start-ups it's mostly hard graft − and often early floundering without the right mentorship and support.
Universities should be doing more in this space, says Sarah-Anne Arnold, manager of the MTN Solution Space at the GSB, which she created in 2014 with a grant from the Vice-Chancellor's Strategic Fund and later a R15-million injection from MTN. The Solution Space provides the environment for entrepreneurs to bring their ideas to life, a 'third space' between education and business. They recently launched a Solution Space in Philippi Village.
The Solution Space is a platform for students, entrepreneurs, researchers, faculty and innovative partners to envision, build and scale new solutions. Their strategic programmes include an MPhil in Inclusive Innovation at the GSB.
The backdrop is the growing importance of developing entrepreneurship in higher education as part of a national entrepreneurial education framework. Arnold says it's the key principle behind the Solution Space strategy.
In March, she made a presentation to the Lekgotla on Entrepreneurship Development in Higher Education, hosted by the national Department of Higher Education and Training in Johannesburg. The Solution Space was presented as a model of how this could be achieved.
In her presentation, Arnold emphasised the connection between the needs of entrepreneurs with the resources they need to grow their enterprises: emotional support, a supportive network of peers, practical advice on financial management and strategic advice from mentors, investors and board members. And then the money: they need finance that can support their growth and survival, a space to work and meet with partners.
"It's not enough to empower individuals starting out on their entrepreneurial journey. Many businesses fail at the first hurdle because they lack a broader base of both strategic and operational support. We need to support entrepreneurs as they transition from the security of a university or any other classroom to entering their first investment round of participating in an accelerator."
Not business as usual
One of their programmes does just this.
The Venture Incubation Project offers a space where early start-ups can validate new business models, access co-working space, mentors, professional and advisory services, a peer network, a calendar of community events and introductions to investors.
The programme is now in its second year. Last week saw the final pitches of 10 groups of young social entrepreneurs after an intensive three-month Summer School at the Solution Space.
The Venture Incubation Project isn't the "business as usual" model, says Arnold.
"These are entrepreneurs with a focus on social change, ordinary people with extraordinary ambitions and radical vision for change. These are people committed to action and seeing their ideas implemented."
But the social thrust of these start-ups is key to producing a new generation of leaders, innovators and entrepreneurs who find value in people rather than profit and prestige.
"We're looking for founders who are driven by making a difference in society," she says. The start-ups have been very varied, across the sectors of recreation and leisure, employment and enterprise, education and skills, financial services, and mobility and communication.
Applicants to the programme should be early stage businesses with "something to run with".
"We look at what the founders already have: an existing prototype or demonstration of running a pilot, a minimum viable product, that they're testing with customers already," says Arnold. "We do a holistic assessment of the business; we prefer teams of at least two, the premise being that you've already managed to persuade at least one other person of your idea.
"One of our founders has a PhD in artificial intelligence, another works at grassroots level in the community. But the entrepreneurial journey is the same for both," she says.
Graduate intern (marketing) on the Solutions Space team Tsepo Ngwenyama says it's a two-way process. They learn as much as their students do.
"We focus on developing business owners as well as businesses. The business might change but the brain behind it is the constant."
Broadening access to Cape Flats communities such as Khayelitsha is a vital development.
"That's what we're now doing with the Solutions Space in Philippi – bringing what we have here and putting it at the centre of that community, where people need it most, and saying, 'Here's space to think and develop yourselves as entrepreneurs and as young South Africans as well.' "
Breaking and building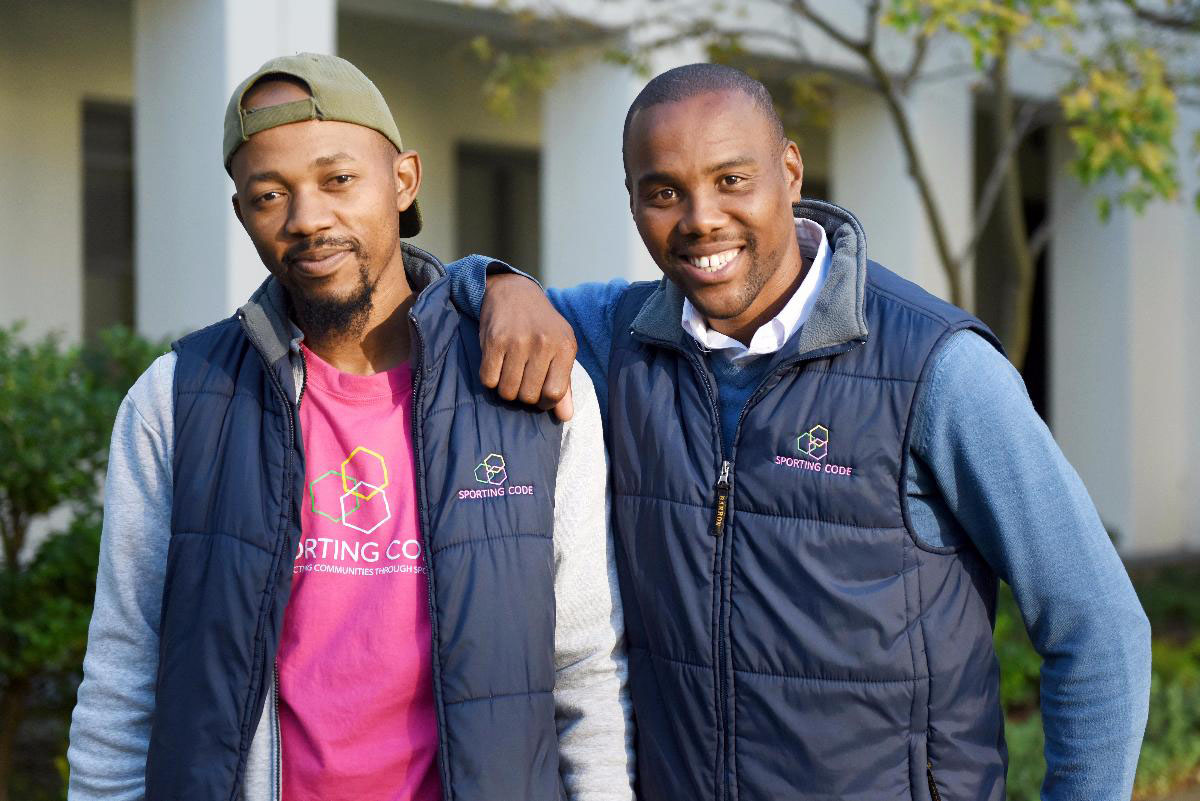 One of the 2017 Summer School start-ups, ABCD Concepts, is "a lifestyle company that seeks to better understand how people live and how communities interact". Co-founders Buntu Matole and Ayanda Cuba are from Khayelitsha and met in 2014 when they enrolled for the Raymond Ackerman Academy for Entrepreneurial Development at the GSB. Both are accredited tourist guides who show "a different side of life in Khayelitsha", promoting the lifestyle of township's communities.
They were impressed by the quality of mentorship. Mentors (who come from a range of sectors and who also go through a rigorous application process before they're matched with the start-up founders) play an invaluable role.
"They helped us to broaden our vision of what we're doing in Khayelitsha, and how we can grow what we're doing – not just tours, but giving people real experiences of the places we're from," says Matole.
There are other operators in the same field, "but we've learnt how to position ourselves", adds Cuba.
That positioning meant looking carefully at their offering. One of the company's projects is Sporting Code, which connects young people through sport, a response to the growth of juvenile gangs in Khayelitsha.
When they started the Venture Incubation Project at the Solution Space, Sporting Code was still part of ABCD Concepts. But through engaging with mentors and "rigorously looking" at their business, they decided Sporting Code needed to be an NPO, independent of the company, "so that we wouldn't limit it".
These were important insights.
Matole says, "We're the first generation of entrepreneurs in our families, the first embarking on this journey. It's been a learning process, but the Solution Space and the Venture Incubation Project have played a vital role in bringing out the best of what we want to achieve.
"We've built sustainable modules for our business, because the business isn't just for today, it's for four, five years down the line."
Peer learning is equally important. Participants share each other's journeys and learning and become part of an ever-expanding network of young entrepreneurs.
After the intensive three months, the duo feels confident to explore.
"We know what we have now; we can break it and start fresh, because every day we have that opportunity," added Cuba. "So, for us, the process has been building and breaking.
"Sometimes you are your own gatekeeper; you become too attached to an idea and you become the one limiting the business from working. Important advice? In one workshop, a mentor said, 'You should just say, f*** it, it's not working.' There's freedom in realising that."
The Venture Incubation Project programme runs two schools each year, including the Winter School between September and November.
Applications for the Winter School
close on 11 June 2017.
---
This work is licensed under a Creative Commons Attribution-NoDerivatives 4.0 International License.
Please view the republishing articles page for more information.
---