Over 800 delighted first-year students on financial aid have received free laptops and backpacks thanks to a campus-wide initiative, spearheaded by UCT's Information and Communication Technology Services (ICTS). The project was first piloted in 2013.
The Lenovo computers were handed to the students over two Saturdays this month; first at the health sciences campus on 11 March and at the main campus on 18 March.
Each laptop came with a suite of essential software programmes already installed. After the distribution, the students were trained in basics such as how to log on, creating and safeguarding passwords, and safety measures.
Perhaps the most delighted of all is ICTS director of customer services, Kira Chernotsky, who has nurtured the project through an incubation of five years after Vice-Chancellor Dr Max Price first championed it.
Building graduate attributes
UCT's Information and Communication Technology Services (ICTS) were at the heart of the laptop distribution. Here they take students through the rudimentals of operation and ownership.
A pilot project was initiated in 2013 and funded largely from the Vice-Chancellor's Strategic Fund. The initiative has been underpinned by rigorous academic research on the benefits to teaching and learning at the university, this conducted by the Centre for Innovation in Learning and Teaching in CHED.
"I can't tell you how pleased I am it was finally approved for rollout!" said Chernotsky.
Laptops are essential to building graduate attributes, she added.
"This is not just being able to use technology but to engage with it in the students' disciplinary contexts; to find relevant information, produce digital content, solve problems and undertake projects," the development team wrote in an earlier report to Senate while seeking final thumbs up for the project.
Co-ordinating the mammoth operation of distributing the laptops was Megan Abrahams (ICTS Helpdesk), assisted by student lab assistants, staff from the Financial Aid Office and a team from Campus Protection Services and RTT security (the company is linked to the laptop couriers).
'Included and comfortable'
The students' joy was perhaps best summarised by one who wrote to Chernotsky. "I would just like to say a huge thank you for giving me a laptop to assist me in my studies. Before I came to UCT, I was extremely excited to work on my dreams and to experience the incredible and rewarding journey that UCT offers me. In addition to that, I was also worried about keeping up with the modern technologies of studying and the discomfort of feeling financially out of place among my peers.
"However, UCT along with Financial Aid and ICTS has settled all my anxieties. Thank you so very much for making me feel included and comfortable in every aspect that the university has to offer, and especially for giving me the opportunity to achieve my goals."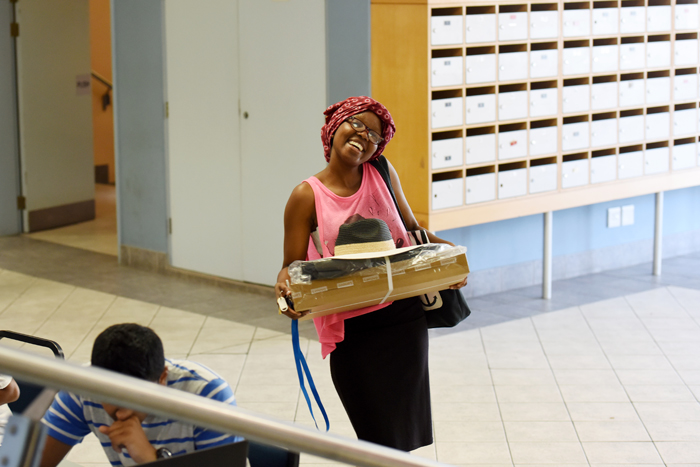 This student's delight was multiplied many times as more than 800 first-year students received free laptops.
---
This work is licensed under a Creative Commons Attribution-NoDerivatives 4.0 International License.
Please view the republishing articles page for more information.
---