Among the June graduates is architectural master's student Ashleigh Killa, who has teamed up with fellow UCT alumni in order to use their skills in a way that will benefit South African society as a whole.
Ashleigh's colleagues are Georgina Campbell, a mechanical engineer who also has a master's in sustainable environmental design, and Max Melvill, a fellow architecture master's student. The design studio they've formed is called MAAK, and it focuses on "architecture with a social conscience".
As a start-up, they are working out of a home in Tamboerskloof and have only a handful of clients, but theirs is a very clear vision of the kind of work they wish to do.
"Freed from the confines of the drawing board and the limits of a computer screen, the projects we are involved in not only require an intention and a vision, but similarly demand an active and critical engagement with all of the tangible and sensory qualities of what makes things real," they say in their company profile.
"In this light, working with individuals and communities, MAAK sees architecture not only as a means to positive urban development and community upliftment, but similarly as a mode for education, design research and progressive thinking."
As Georgina puts it: "One of our big rationales for setting this up was that we realise that we are among the most privileged in this country in terms of our education and backing. We are saying, if we aren't doing this – creating jobs and making a better future – who is going to be doing it? We have got all the tools. We've really been equipped. Our risk is probably the least out of everyone."
Real-world projects
For Ashleigh, who matriculated at Westerford High School, her path was not entirely preordained, but there was a strong family inclination towards the built environment. Her father is a contractor and her brother an architect.
After a gap year, Ashleigh enrolled for architecture at UCT and was pleasantly surprised to discover that rather than being confronted with loads of technical details, the course was "wildly creative".
After completing an undergraduate degree, she worked for a year with an architectural firm where she worked on projects located in Gugulethu and District Six. She then enrolled for an honour's degree, which was both tough and rewarding. Her master's looked more closely at the Mowbray public transport interchange and how the "gold" in the form of the passing foot traffic could translate into more value for the area.
But the primary frustration throughout, explains Ashleigh, was that although she was working on real issues, there were no built interventions actually happening. Which is how MAAK came into being.
Towards the end of their master's year, Max and Ashleigh got into a conversation about the kind of work they really wanted to do – and then he pulled Georgina into the discussion and their start-up was born.
Masiphumelelo project
Ashleigh's graduation was delayed by six months because her mother, Nicky Killa, who was the pharmacy lead for all activities at the Desmond Tutu HIV Foundation, passed away suddenly in September 2015.
Asheigh's supervisor, Melinda Silverman, told her to take some time out and gave her leave to hand in her final dissertation in January.
"From the staff point of view, I had huge support. Everyone understood. Everyone gave me time. That was extremely useful because, knowing myself, if I hadn't been told that, I would probably have tried to push through and that would have ended in disaster," she reflects.
Then, Professor Robin Wood, CEO of the Desmond Tutu HIV Foundation and her mother's former boss, approached Ashleigh to design an extension of their facilities where they carry out TB research in Masiphumelelo near Noordhoek. Because she had already been in conversation with Georgina and Max, they tackled it as a team.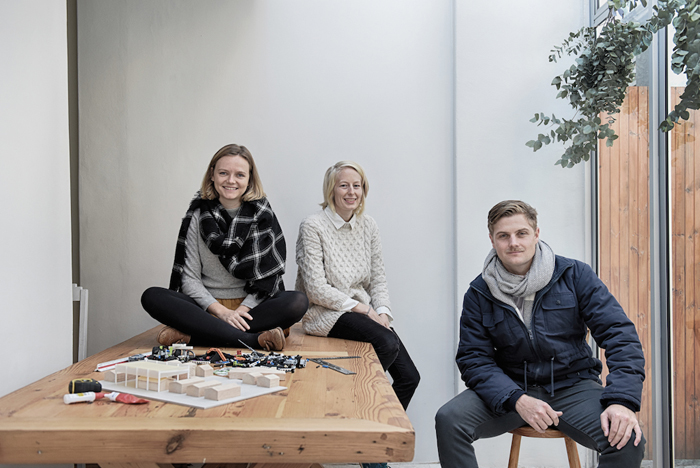 From left, the MAAK team are Georgina Campbell, Ashleigh Killa and Max Melvill.
For their first consultation, they took along an anthropologist to help them understand the human requirements, so that they could create a space that was both welcoming and exciting. The new design is taking shape and they are mindful of the need to keep costs down and yet ensure that the people who use this space feel comfortable.
Rolling up the sleeves
And in June, they're off to the Free State to the historic Prynnsberg Estate near Clocolan. Here, they have an open brief to create a timber structure, and they can't wait to roll up their sleeves.
Says Max: "The further we go down this road the more we realise that it is so valuable for people our age to be doing this. … It's really the only time in your life that you are afforded the time and the energy to tackle projects like this."
Story Andrea Weiss. Photos Michael Hammond.
---
This work is licensed under a Creative Commons Attribution-NoDerivatives 4.0 International License.
Please view the republishing articles page for more information.
---