After the success of last year's Barney Simon Season, the UCT Drama Department will once again curate a season of local plays. New Works provides everyone with an opportunity to experience new plays and allows young actors to take on the challenge of interpreting new writing for contemporary audiences. The initiative also aims to respond to an ongoing need for new plays that reflect the current state of South Africa and to use indigenous lenses to interpret and represent our world.
Audiences can look forward to seeing Langalibalele – the scorching sun by Neil McCarthy and Portret by Philip Rademeyer.
Langalibalele – the scorching sun
Written in English and Nguni by Neil McCarthy, Langalibalele – the scorching sun is directed by Clare Stopford. The multilingual play tells the story of the AmaHlubi king Langalibalele, who had powers over the weather and was renowned as a rainmaker. He commanded a large group from the AmaHlubi clan, kept sovereignty by avoiding domination by the colonial powers as well as the Zulu nation, and was finally imprisoned on Robben Island for defying British authorities in Natal.
Not many know that the Cape Town township KwaLanga was named after Langalibalele, who was put under house arrest in the Cape and finally died back in his homeland near Estcourt.
Stopford believes that working on the play has been a beneficial exercise for her students as many know very little about their own history. The play has forced students to research and dig deeper.
"The history is very raw, and it's hard for the students to deal with. The question is, 'Do we avoid these topics?' We thought it was in the interest of decolonisation to do something that was absolutely 100% South African history in terms of [the fact that] all our ancestors can be traced back in one way or another," explains Stopford. "The assumptions about colonisation are almost being demythologised, assumptions about how it worked."
Langalibalele – the scorching sun runs from 17 to 21 May 2016 at 20:00 in the Old Workshop, Hiddingh Campus.
Bookings can be made via email or by calling Nabeelah Khan on 021 650 7129.
---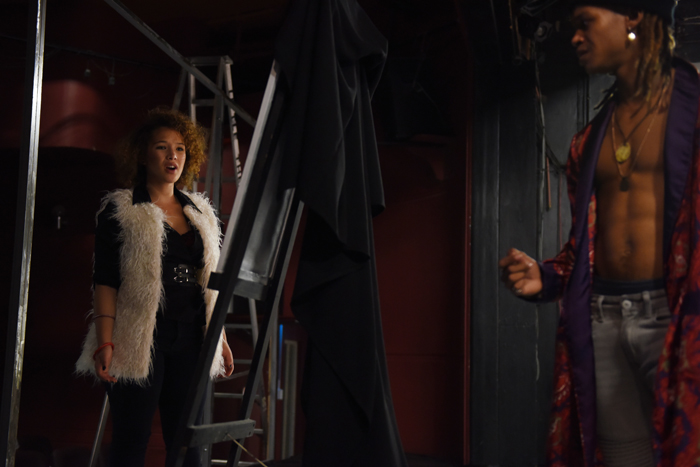 Gretchen Ramsden and Luke Buys from Portret.
Portret
Drama student Wynand Ferreira, who plays the character of AJ in Portret, says: "It's a collaboration of industry experts, and for us as students it's a great time to learn from them. It's exciting to be able to breathe life in to this new play."
Portret, an Afrikaans play directed by Amy Jephta, is based on Oscar Wilde's The Portrait of Dorian Grey. Dorian sells his soul for eternal youth and beauty, but the cost of being immortal ripples far beyond himself. Rademeyer's play studies a group of friends whose lives become increasingly detached and manipulated by an outside force.
Jephta says, "Phillip has sustained his relationship with the department even after he established a name for himself in the theatre world. When I approached him to write this play, he said yes immediately. It's a great example of how the alumni of the department plough back into the department."
Portret runs from 18 to 21 May 2016 at 19:30 in the Little Theatre, Hiddingh Campus.
Bookings can be made via email or by calling Nabeelah Khan on 021 650 7129.
Story Chido Mbambe. Photo Je'nine May.
---
This work is licensed under a Creative Commons Attribution-NoDerivatives 4.0 International License.
Please view the republishing articles page for more information.
---