UCT was the setting for extraordinary scenes as some 2 000 students and staff gathered to march against the excessive use of force in a week marked by clashes between the police and students demanding no increase in university fees.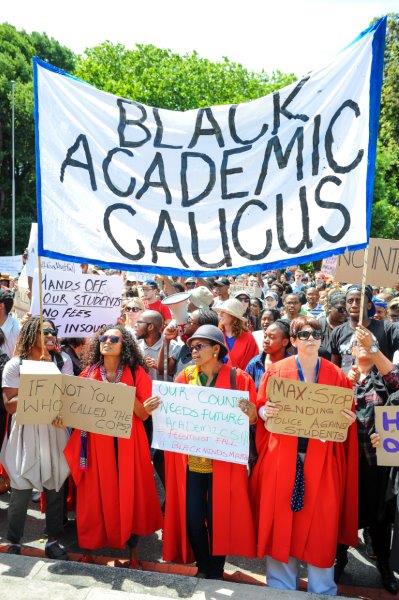 Academic staff led the march organised by the Academic Union and the Black Academic Caucus. Photo by Roger Sedres.
On the same day of this protest organised jointly by the Academic Union and Black Academic Caucus, President Jacob Zuma announced there will be no fee increase for 2016.
Academic staff, some in their academic gowns, led the march from upper campus to Bremner, where a list of six demands was handed to Deputy Vice-Chancellor Professor Francis Petersen.
Referring to violent police action on Monday, 19 October a number of staff members related their experience of the night that saw students breaking into Bremner and together with staff members being arrested. Marchers chanted "Who called the cops?" and "Drop the interdict!" as they made their way from upper to lower campus. They were referring to the interdict UCT obtained from the Cape High Court on Monday to prevent students from disrupting university activities in the course of their protest action.
On Thursday, 22 October, Vice-Chancellor Dr Max Price committed to requesting that the interdict be lifted and that police charges brought against students in the preceding days be dropped.
Edwina Brooks, director of Student Development in the Department of Student Affairs, was arrested with students on Monday and addressed protesters outside Bremner.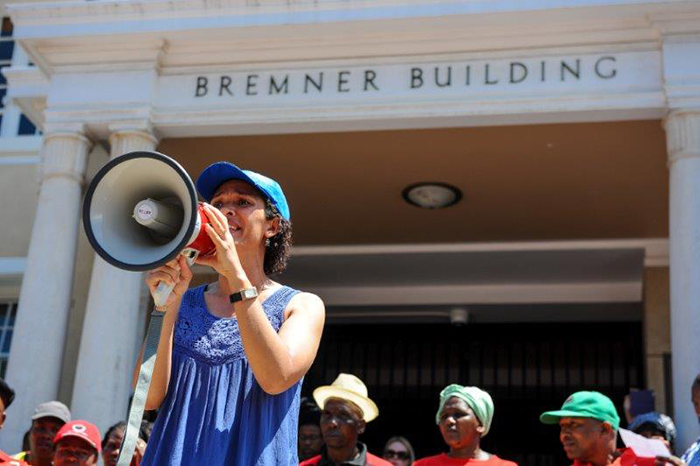 Edwina Brooks, director of Student Development in the Department of Student Affairs, related her experience of being arrested with students on Monday night. Photo by Roger Sedres.
"I've witnessed the trauma many students have faced in the last few days because the violence against students has escalated to a point that has not been seen before even by those of us who were part of the struggle. Back then we knew the police would be brutal because of the country's illegitimate laws. We live in a democracy and it is unthinkable that the scenes we have witnessed since Monday are happening," she reported.
Brooks asserted that students were subjected to a double dose of trauma by government's denial that there is a crisis. "Students are a national treasure and they are being robbed of a future through police brutality. I believe the debate about fees should be placed within the context of the decolonisation of the university."
Associate Professor Xolela Mangcu told the crowd that although he was in agreement with their demands he believes this time of protest is an opportunity to think what a "democratic and inclusive" university might look like. "This will require that all of us look beyond our self-interest and start thinking, 'What would it mean to have a democratic university?" he said.
Story by Abigail Calata.
---
This work is licensed under a Creative Commons Attribution-NoDerivatives 4.0 International License.
Please view the republishing articles page for more information.
---