Given UCT's recent entry into the world of massive open online courses (MOOCs), Monday Monthly spoke to Sukaina Walji of the Centre for Innovation in Learning and Teaching (CILT)'s MOOC team for an inside look into what making a MOOC takes.
What does MOOC stand for?
Massive
A few hundred to several thousand participants engage in a course simultaneously
To date, 16 to 18 million students have registered for MOOCs worldwide
Course participants are distributed all over the world
Open
Registration is open to anyone – there are no prerequisites
Most MOOCs are free, but there may be a fee if you want a certificate of participation or completion
While accessible to anyone with an internet connection, some courses are also open-licenced – which means you're able to freely distribute and share the course content
Online
The course material is presented online, and you are encouraged to participate in and through discussion forums, comments sections, personal blogs, portfolios, websites and social networking sites (such as Twitter, Google+ and Hangouts)
The course can be accessed on a variety of devices, such as personal computers or mobile devices (tablets and phones)
Course
MOOCs are not just a collection of video lectures – each one has a learning pathway designed to lead to a variety of learning outcomes
You're required to enrol for the course, as are other students – even though they may not all be online at the same time as you
There are usually specified course requirements or a number of optional pathways which provide participants with a rough schedule for learning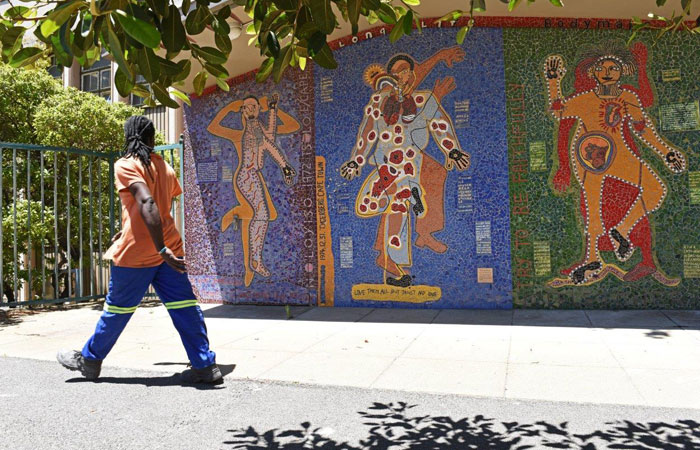 How is the topic of a MOOC decided?
Deputy Vice-Chancellor Prof Sandra Klopper issues a call for expressions of interest to UCT's academic community to find out who wants to offer a MOOC. Proposals are reviewed by the university's MOOC advisory committee, chaired by Klopper, and those with potential are shortlisted. CILT's MOOC team works with the shortlisted candidates to develop their proposals, including a budget. The proposals are presented to the advisory committee, which then choses the MOOCs that will be supported and funded by the university.
What happens next?
Following the acceptance of a proposal, the MOOC implementation team in CILT works with the academics and faculties to design the MOOC. The CILT team provides learning design expertise, which helps the academic to adapt a course to an online setting and adhere to the MOOC platform requirements.
Following the design phase, the MOOC goes into production. A key production phase is the scripting and shooting of the lecture videos.
This involves a team of videographers and post-production staff, the booking of studios or locations, and video editing. Another key phase is developing and creating resources such as instructional texts and assignments, as well as sourcing images.The academics and their assistants are heavily involved in this process as they are the discipline experts, but the CILT team provides support, and they also get help from copyright experts when required.
Once the videos and other resources are in place, the course is built onto the MOOC platform, where it goes through quality assurance processes and is reviewed by the team and by the platform provider. Of course, the process is not linear but iterative; so in some cases we have to re-shoot videos, or rework the order of course elements.
Another task that goes alongside developing a MOOC is ensuring people know about it. This has meant bringing in UCT's Communication and Marketing Department and working with the academics, CILT team and the platform provider to develop a marketing strategy for each MOOC.
Does the work stop when the course starts running? What further support do students get?
While the course is running, the academics and their assistants may interact a little with students through course discussions, social media and email announcements. They are not teaching the course in a traditional sense, and are not expected to interact with students directly; but it helps to have a level of presence, especially if it is the first time a MOOC is running.
Sometimes the academics may hold a live online session during the MOOC or give feedback in general terms on the types of themes that are coming out. Every week an email from the lead academics goes out to students, commenting on how the MOOC is going and what's in store the week after. So a level of virtual engagement is expected. Students can't expect to get direct support in MOOCs due to the numbers and diversity of students, but they will get peer feedback.
What are the challenges involved in developing a MOOC?
Developing an online course requires different skills and processes from developing a faceto- face or a classroom-based course, so one challenge is building the right team with the requisite skills to work on the course.
It's time-consuming and resource-intensive, so scheduling time for a MOOC – especially for the lead academics (whose schedules are already filled with teaching and research commitments) – can be difficult. Other challenges include developing a quality product for very diverse participants, and sourcing materials and readings that can be open-licenced, as the participants aren't necessarily registered UCT students and therefore do not have access to our library resources.
What satisfaction do you get from developing MOOCs?
As the design team in CILT, we enjoy the opportunity to work with academics on creating a course that can be accessed by huge numbers of students all over the world. It's thrilling to know that the really interesting academic work being done here will be seen by thousands of people who aren't able to actually attend classes in Cape Town.
As people passionate about educational technology and learning, it is satisfying to be able to work with the new affordances being developed by the platforms – like exploring improved ways of facilitating peer review and social learning tools. From working with MOOCs we can learn to bring innovation to our campus teaching, whether it is online or in the form of blended learning.
What UCT MOOCs are available?
Medicine & the Arts: Humanising healthcare
Explore the intersections of medicine, medical anthropology and the creative arts. Through each of its six weeks, students will visit a new aspect of human life and consider it from the perspectives of people working in health sciences, social sciences and the arts.
Starts: 16 March 2015
Enrolment: Open
Duration: 6 weeks
Hours per week: 3
Conveners: Assoc Prof Susan Levine and Prof Steve Reid
www.futurelearn.com/courses/medicine-and-the-arts
What is a mind?
'What is a mind?' is a question that has perplexed philosophers, scientists, historians and ordinary people across time and cultures. Using short video lectures, readings, discussions as well as quizzes to build and test understanding, Prof Mark Solms will bring in perspectives from a range of disciplines to explore four specific aspects of the mind – subjectivity, intentionality, consciousness and agency – helping you to come to a fuller understanding of what a mind is.
Starts: 11 May
Registration opens: 23 February 2015
Duration: 6 weeks
Hours per week:
Conveners: Prof Mark Solms
www.futurelearn.com/courses/what-is-a-mind
How to register
Signing up for a MOOC is very simple. You need to find the course you are interested in. Then create a profile on that platform. The profile requires basic information about you, such as a username, password and valid email address where you can receive course communications.
Most MOOCs ask you to complete a pre-course questionnaire, but those are mostly to establish why you?re taking the class. MOOCs can have a start and an end date and offer a schedule of learning for the course (usually specifying the number of hours an average person is likely to spend going through the material). That said, some MOOCs are self-paced ('on demand'), which means you can start them whenever you like.
To see other courses offered by FutureLearn, UCT's MOOC partner, go to www.futurelearn.com. To browse what is available across platforms all over the world, visit class-central.com.
Compiled by Abigail Calata
---
This work is licensed under a Creative Commons Attribution-NoDerivatives 4.0 International License.
Please view the republishing articles page for more information.
---