In 2011, Stanford University launched three of them. Two years, later Beijing's Tsinghua University hosted over 50 of them; and today, tens of millions of students from around the world access free, tertiary-level courses on MOOC platforms such as Coursera and FutureLearn. So what exactly is a MOOC?
A MOOC defined
According to UCT's Centre for Innovation in Learning and Teaching website, a MOOC (massive open online course) is a form of self-directed distance learning that offers free online courses with no entry requirements: "They are designed for mass participation and assume that learners will drive their own education, studying alongside diverse fellow students who may come from anywhere in the world. They allow for features such as interactive online forums that can involve hundreds of students in peer-to-peer discussions, as well as access to video and audio lectures and course materials in online format."
In other words, imagine a virtual classroom in which thousands of students can all watch or listen to a lecture at a time of their own choosing and at their own pace, after which they can join in a group discussion with hundreds of students who may hail from opposite sides of the globe.
What is UCT's first MOOC about?
In the case of Medicine and the Arts: Humanising healthcare, the course will run for six weeks, starting on 16 March 2015, on the UK-based MOOC platform FutureLearn. Each week, students will be able to download and watch a recorded video lecture that is then followed by online discussion and assignments. Students will receive feedback on their assignments from their peers. At the time of writing, over 2 000 students had already registered.
The content of the MOOC is as innovative as the technology used to disseminate it. The idea behind the course is to examine the intersection of medicine, medical anthropology and the creative arts. This emerging field of medical humanities brings together vastly different disciplines to explore the similarities and differences that exist between the way art and medicine approach their subjects. The course's six lectures have titles such as 'The heart of the matter', 'Art and the brain', and 'Children's voices and healing'. They will feature the expertise of poets, patients, oncologists, visual artists, surgeons and psychologists.
It is this multidisciplinary approach that Prof Steve Reid, one of the two academic leads on the course (the other is UCT social anthropologist Dr Susan Levine), finds so exciting. "This course offers the universal appeal of being not just medical or about art, but about larger questions of identity and humanity. The content will be captivating, since the six teams – each of which handles a separate lecture – are comprised of experts from such different fields. For example, in the lecture about the heart, we will be hearing from a heart surgeon, a poet and someone who has received a heart transplant. I think this provides a very exciting opportunity to break down the barriers between highly specialised disciplines and a general audience, as well as providing us with more pedagogical insights."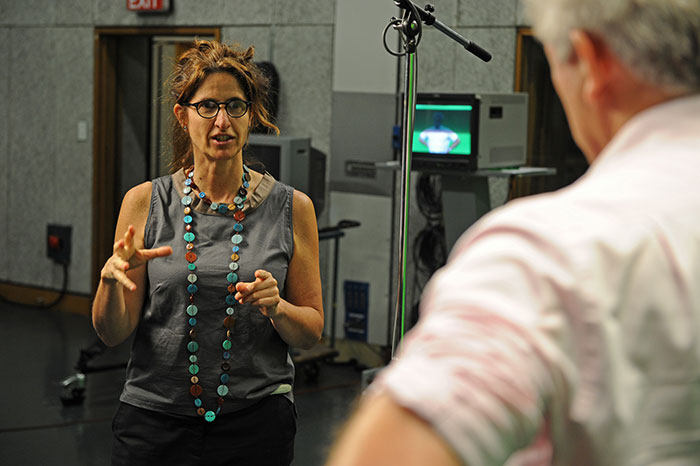 Assoc Prof Susan Levine recording videos for UCT's first MOOC, Medicine and the Arts: Humanising healthcare.
By the end of the course, students will have been encouraged to examine how bodies, health, society, culture and the imagination intersect and apply to their own local contexts. Certificates of participation will also be available from FutureLearn.
Why does a local MOOC matter?
The New York Times proclaimed 2012 to be the "Year of the MOOC". In many quarters MOOCs were seen as a panacea for the ills of tertiary education and a means to democratise knowledge on a global (and affordable) scale. Some of this hype surrounding the advent of MOOCs has now given way to criticism. MOOCs, it turns out, are being made and accessed by the very groups that – it could be argued – need it least: wealthy and predominantly male students from the northern hemisphere who already have a university degree.
In light of this new wariness, and given the fact that South Africa's digital divide hampers the ability of such a platform to offer universally accessible education, why is it important that UCT has now joined the ranks of those universities offering this kind of learning?
For Laura Czerniewicz, director of the Centre for Innovation in Learning and Teaching (CILT), MOOCs are a Trojan horse into online engagement in a variety of forms, and a means of addressing the imbalance in how knowledge is produced and disseminated around the world. "The vast majority of MOOCs being produced in the world are being offered by universities in the global north; while their students are from every corner of the world, including some that are very remote. This has the effect of rendering local knowledge and curricula invisible. It is really important for universities in Africa and other countries in the global south to produce MOOCs based on local knowledge, experiences and curricula to counter this dominance and to ensure heterogonous participation and contribution to knowledge creation and education."
Story by Ambre Nicolson. Photos by Michael Hammond.
---
This work is licensed under a Creative Commons Attribution-NoDerivatives 4.0 International License.
Please view the republishing articles page for more information.
---