This issue of Monday Monthly profiles the Faculty of Commerce at a moment when we're consolidating the outcomes of a few years of new strategic initiatives and restructuring. Four major units in the Faculty – the College of Accounting, the Department of Finance and Tax, the Graduate School of Development Policy and Practice (GSDPP), and the African Institute for Financial Markets and Risk Management (AIFMRM) – are less than three years old. Since 2010 the number of research units in the faculty has doubled. Finally, the faculty's most ambitious strategic thrust – the commercial joint venture with GetSmarter to market online postgraduate qualifications 'Across Africa' – has just launched, and is accepting its first cohorts of applicants.
All of this change has been driven by two complementary pressures. Firstly, the faculty needed to substantially increase its research output and postgraduate enrolments. The vision of 'wall-to-wall' research units, according to which the natural default for an academic's research (and a postgraduate student's thesis work) is to be integrated into wider projects conducted by research groups, equips faculty staff with the institutional basis for attracting large external grants. In this model, postgraduate students enjoy structured apprenticeship-style support from unit-based supervision committees that global experience shows to be instrumental in promoting thesis completion. Research units are better able to attract and sustain postdoctoral fellows than are isolated academics. Finally, a diverse suite of research units facilitates international recognition of the faculty's research capabilities and areas of emphasis, and thereby enhances the building of global collaborations.
Since 2010, the faculty's postgraduate enrolments have risen by a third.
The second major pressure driving strategic change in the faculty has been the need to strengthen ties with the local and regional business community, particularly so as to be able to offer our postgraduate students access to research problems drawn from real problems encountered in the private sector, and to be able to provide them with opportunities for professional network-building during their studies. A few years ago we identified the strong public sector bias in the faculty's main research tradition as creating an unintended barrier to transformation; many of our best black undergraduate students were declining to consider postgraduate work because they sought careers in the private sector, and saw few opportunities to immerse themselves in that environment while working on research master's or doctoral degrees. In this context, the full funding of AIFMRM as a graduate school by a consortium of banks and insurance companies, whose representatives will closely oversee curricular development to ensure its continuing relevance, directly serves the faculty's efforts at transformation.
The fact that AIFMRM is fully externally funded symbolises another major change in the faculty's current circumstances. As the state subsidy steadily shrinks, it is imperative for the faculty to identify major and sustainable new sources of revenue. This is why Across Africa is the faculty's highest strategic priority. We are fortunate to have – on our very doorstep – GetSmarter, who have designed the most pedagogically sophisticated and student-supportive online course delivery platform in the world. Combining this with the Faculty of Commerce's academic expertise and reputation provides the basis for a product that competitors will chase, and that they will fail to catch – provided we never lose our commitment to continuous improvement. Across Africa operates as a commercial joint venture, governed according to corporate rather than bureaucratic management norms. It constitutes the first and most important of a suite of profit centres the faculty aims to establish going forward. As business academics, there is nothing we should find to be more fun and motivating than launching and growing businesses!
In this brief introduction, it is not possible to mention all of the diverse range of contributions to research, teaching and learning, and social development that characterise the faculty's activity set. As perusal of this special edition will show, commerce academics make leading contributions to tracking and modelling the causes of poverty and inequality; to performing fully professional monitoring and evaluation for public- and private-sector projects; to training municipal, provincial and national public servants in implementing policies through the shoals of politics and unanticipated obstacles; to maintaining SA's proudly-won distinction as the global pace-setter in accounting standards and rigour; to diversifying and transforming the national profile of chartered accountants and actuaries; to generating information technology innovations for businesses and consumers operating in the special contexts of Africa; to ensuring that African statistics are accessible, reliable and useful; to understanding African demographics, especially as shaped by epidemiological influences; and to ensuring that the evolution of South African tax policy is coherent with developments in the global environment.
It is endlessly fascinating to me to work, as a dean, amid such a wide-ranging and important cascade of learning. I hope that from the profiles in this edition of the Monday Monthly, the reader will gather some sense of that breadth and depth. If you are not yet a commerce student, consider becoming one. If you are a commerce alumnus who hasn't been in touch with your alma mater lately, I urge you to follow the faculty's social media presence, Commerce Families. Go to www.commerce.uct.ac.za and scroll to the bottom of the landing page – you'll see the Commerce Families portal in the bottom left corner. Once you are following the site, I suggest that you be not just a consumer, but also a producer: post and tweet your ideas and views.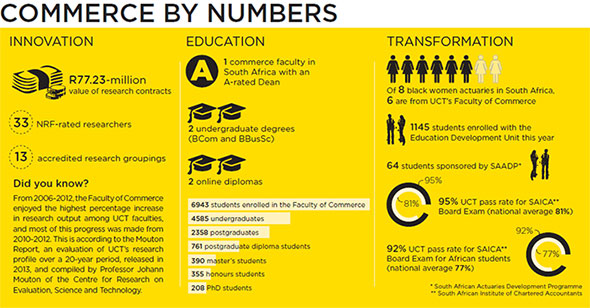 ---
This work is licensed under a Creative Commons Attribution-NoDerivatives 4.0 International License.
Please view the republishing articles page for more information.
---