What should economies do for people? Is growth a question of profit über alles? Where do wages fit in? And where should the state get involved? Monday Monthly went back to basics with some of UCT's top economics thinkers to find out where they stand in the great debate.
That South Africa is the most unequal society in the world is the "most stinging indictment" of our democracy's deferred dream, says Professor Haroon Bhorat, of UCT's Development Policy Research Unit.
While some may argue that South Africa and her people, like those of many of its developing counterparts, are at the mercy of the globalised economic system, a number of UCT scholars agree there is much the country can do to improve the livelihoods of its citizens – even in an imperfect world.
The 'big' picture
With the disintegration of the Soviet Union and the fall of the Berlin Wall, economists wrote about 'the end of ideology' and 'the end of history' – at least as far as debate about the best economic system goes, says Professor Murray Leibbrandt.
"The ascent of capitalism was clear. But you must counter-pose that with the meltdown, the financial crisis [of 2008]," adds Leibbrandt, the pro vice-chancellor for poverty and inequality and director of UCT's Poverty and Inequality Initiative.
"So the mainstream of economics got quite arrogant, in a sense, about how the market would solve all of the problems, and obviously came down to earth with a bit of a bang [with] the world financial crisis."
That crash happened just as South Africa was beginning to make progress, says Leibbrandt, and the country could do little to prevent it. But the country's relatively good financial policies were a "classic case in point" that society had a massive say in its own fortunes.
"Our regulatory policies towards finance protected us from meltdown. Certainly we've suffered hugely because of the downturn of the international economy, but we didn't ever become Spain, Greece or Portugal," says Leibbrandt.
"[Just] because America was liberalising and doing stupid things with their financial regulation, we didn't follow suit. We had the strength to believe, 'no, we've got some really good regulatory policies in place'. They're very market-friendly, but they're not ridiculously market-friendly. There's the protection of the citizenry here, and it was just incredibly important."
Growth – and how
South Africa has been locked in a three- to -three-and-a-half percent annual growth morass for the past two decades – compare that to China and India, with recent growth of as high as 12 percent. For Bhorat, a key challenge is to find out what is constraining South Africa's growth, and how those shackles can be broken.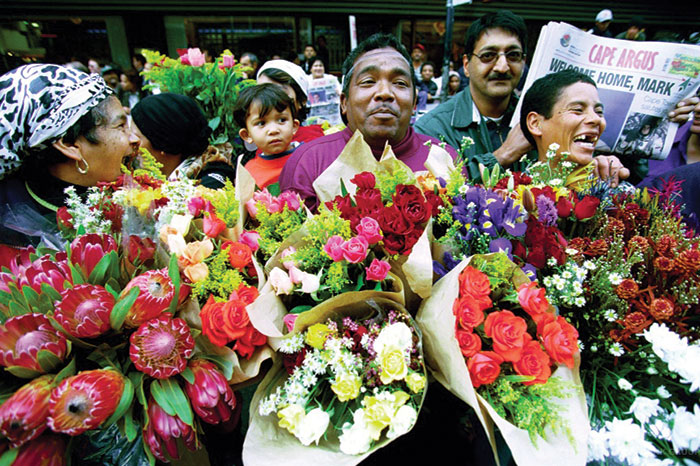 Adderley Street flower sellers on the day UCT commerce graduate Mark Shuttleworth returned from space. (Photo by Trevor Samson for the World Bank.)
"We're not the only country that's there, but we certainly stand out as an emerging market that's in this low-level equilibrium growth trap," he says.
Many of these constraints are at the micro-policy level: the cost of doing business, labour regulation, industrial policy and so on.
"To give you one example: telecommunications."
Businesses and households spend a "huge amount" on telecoms – unusually high when compared with the rest of the world.
"Given our pricing of telecoms, it is a significant restraint on business," says Bhorat.
Pressingly, the top end of South Africa's income distribution has benefited more from what growth there has been than those nearer the bottom who needed it most. Bhorat and Leibbrandt say this sparks a vicious cycle for the national economy, with poor, uneven growth worsening inequality, and inequality hampering growth.
"High returns to growth at the top end of the distribution act as a brake or constraint on long-run growth, because the gains are only going to the rich, the networked, the highly educated; and very few to those at the bottom end," Bhorat explains.
What's peculiar in a South African context, Leibbrandt explains, is the persistence of the view that inequality is not actually undesirable, and the related meritocracy lens that holds that people will succeed if they have talent and work hard, and fail if they don't.
"Elsewhere in the world, nobody believes that anymore. Only free-market think-tanks argue that still. Even in the American context, nobody agrees that it's a level playing field, that it's a meritocracy ... and if you've got 'the go' in you, you can be the president. That isn't how the world works."
People-centred growth
While Bhorat and Leibbrandt agree that the social grant system has successfully relieved some people of particularly dire circumstances, they add that there needs to be a more sustainable solution to levelling distribution of wealth.
Brazil could be an act to follow, says Leibbrandt.
Despite lower education levels than South Africa, Brazil grew "quite well"; but crucially, grew in a way that created many jobs for unskilled workers.
When the financial crisis hit, the bottom didn't fall out of Brazil's growth rate, although it has since slowed.
"In the South African context, some of the agro-industries, such as agro-processing industries like in the Eastern Cape, are our Brazilian equivalent. They've really boomed. So suddenly, you're really creating jobs somewhere between East London and Port Elizabeth. That's fantastic. That's a huge one for inequality, because you're bringing people in, they're getting a wage, they're better educated. It's a very inclusive type of growth, but they've earned it," says Leibbrandt.
The growth of unskilled and semi-skilled employment is crucial, he adds. There was little social conflict around the minimum wage Brazilian workers received, showing that they were productive enough to maintain it, and even increase their wages.
"A way to think about it is it was like a more productive workforce, so the workers who were employed got better earnings. No one was complaining. It wasn't undermining profits for reinvestment or further growth. That seemed to be okay. There was a lot of employment creation taking place, and that made the growth very, very inclusive.
"You've got to earn [productivity and growth], and you earn it by the same processes with which you put the inclusivity in place. It's all about investing in your people and productivity, and the foundations for growth, really."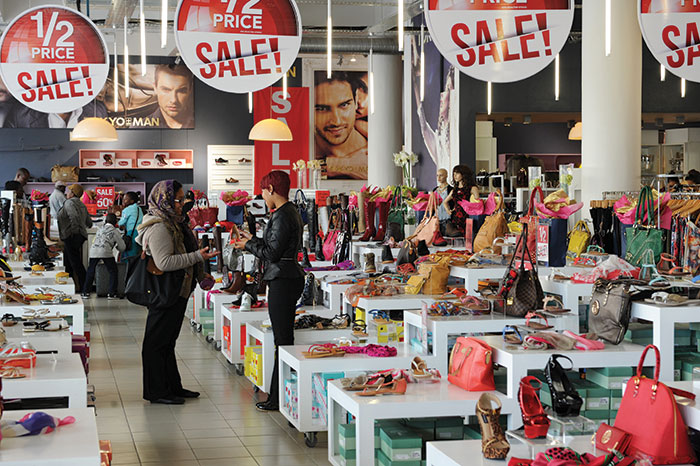 Half-price sale at Tokyo shoe store in Salt River. (Photo by Michael Hammond.)
We're in it together
Perhaps one way to foster sustainable growth is to embrace the idea that 'we're all in this together'.
Asked what ground each of the triumvirate – of government, business and labour – could reasonably be asked to concede around the negotiating table, Professor Ingrid Woolard responds:
"I think your language is interesting there because you talk about conceding ground, and I think the biggest problem we're facing in labour relations now is the lack of trust. You don't have unions and business feeling that they are part of the same issues.
"There's this adversarialism between business and labour, when actually, ultimately, we all want the same thing. Businesses want their businesses to grow, labour wants a fair share of the profit.
"Despite the tensions between government, business and organised labour, in reality the goal is the same – to have a thriving economy where you don't have wasted resources in terms of unemployed people; to have a more equitable income distribution. This will have a positive impact on social stability as well.
"If we think about reducing income inequality in a way that grows the middle class and makes people feel like they are really contributing to society, obviously that's always going to be first prize."
Leibbrandt shares similar thoughts: "Everybody's thinking quite defensively and short-term. When companies make profits, for example, they can use them to take a chance on further growth. If those profits have been because workers have been more productive, we really, really do need a society that then rewards those workers fully and richly."
Work or decent work?
"As a country we've committed to the 'decent work' agenda," says Woolard. "So we're saying that actually we accept that there will be some unemployment, at least in the short run, and we don't want to see exploitation. Government is consciously saying that we don't want to see everybody employed but earning pitiful amounts of money.
"Are we the sort of country where people should be selling oranges at the side of the road and earning a dollar a day? Probably not! We're a middle-income country. We should be able to do better than that," says Woolard. "That's one of the toughest debates we have in this department: does one erode minimum wages and get more people into employment? It's complicated."
Woolard chairs the Employment Conditions Commission, which sets minimum wages in sectors with little or no collective bargaining structure, from farm work and private security to retail and the taxi industry ("where it's unclear that anyone takes any notice").
"In farm work, what happened was you did have workers getting fairly organised. They went on strike, government tried to break that deadlock, and as part of that, promised that there would be a new wage; without proper consultation of the parties," says Woolard.
Woolard doesn't think the wage that was set was necessarily bad, but farmers felt excluded from the process, which strained their relationship with the government.
"They lost trust in government. You already had massive distrust between famers, organised labour and government.
"We've seen 50 000 jobs lost in agriculture since the new wage came in. That's not necessarily a pure wage effect. A lot of that is just about the farmers saying, 'well, if the government can do that, who knows what they are going to do next year?'"
What works?
Laura Poswell heads the African office of the Abdul Latif Jameel Poverty Action Lab (J-PAL), based in the Faculty of Commerce. J-PAL works closely with governments and NGOs to improve the effectiveness of social policy by evaluating 'real life' programmes, training others to do the same, and partnering with governments and NGOs to help them integrate knowledge of what does, or does not, work into their development strategies.
One project was to test if firms would change their hiring and firing practices if they knew more about SA's labour regulations.
"Would it make them respond with less fear of the labour force? Obviously with the hope that if you understand and it's not as difficult as you think, you would hire more," Poswell says. "The reason they wanted to test is that if you look at our labour laws, on a scale with other countries, they're not so terribly more restrictive. But we think they are extremely restrictive. So can we narrow the gap between the reality and the perception, and would that make a change?"
Socialism, capitalism and the state
When asked if he's ever been accused of being a socialist, Leibbrandt says, "I'm not interested in [labels], actually. I'm interested in society succeeding. I mean, it's not a badge of honour for me, but it's not an insult, either. If a socialist is being interested in your society and social outcomes and a strong preference for equity, then I'm very comfortable being a socialist.
"And business has a role to play; a very, very important role to play. Businesses are crucial – and employment-creation is the foundation of it all, really."
For Bhorat, South Africa needs a "benevolent state", at least for the moment. "We need the benevolent state in terms of social grants, because those work."
For other social services like education, health and housing, Bhorat sees potential in private-public partnerships: "We've got a large, dynamic corporate sector and they can assist, whether it's school delivery and so on. I think a more innovative combination of private-public partnerships is exactly what we need."
The four researchers agree that fixing South Africa's education system is essential to securing its future, but so far, money has not managed to make much difference.
"One area where there's massive failure is in education," says Woolard. "We spend a huge amount on education, we have high enrolment rates, but we don't seem to be getting it right in terms of quality education and quality input into the labour market. That's a real travesty."
That said, a few "good stories" would reassure South Africans that their tax was actually being used for the right thing, says Leibbrandt.
"If you think about the Minister of Health, Aaron Motsoaledi, and you think about what he's doing; it's turning out to be very, very hard to make improvements in our health system, but everybody's very comforted that there's somebody there 24 hours a day giving it a go and trying to get that same culture down through the system. I think we need a few stories like that."
Story by Yusuf Omar.
---
This work is licensed under a Creative Commons Attribution-NoDerivatives 4.0 International License.
Please view the republishing articles page for more information.
---