The winners of this year's Stella Clark Teachers' Award were not only hailed for their innovative teaching methods, but for the compassion they show their students and the influence they had on students' lives beyond the classroom.
Charlene Little is an English teacher from Maitland High, and Amina Nordien the drama teacher at Alexander Sinton High School. Normally only one winner is chosen, but this year the committee could not decide who was more deserving, and so two winners were selected. They were nominated by UCT students Vuyisani Bisholo and Lia Jacobs, who both spoke passionately about how these two great teachers impacted their lives.
"I nominated Charlene Little because I wanted her diligence, her work ethic and her contribution to society to be recognised and celebrated ... (she is) an awe-inspiring woman, the definition of competence, the paragon of humanitarianism, and my hero," declared Bisholo, a first-year construction economics student, who in Matric attained 76% for English home language.
A first-year humanities student, Jacobs spoke about how drama classes with Nordien allowed her to value herself more. "I will never forget how Ms Nordien helped me naturally, spiritually, emotionally and academically to overcome obstacles and rise above my circumstances. She is more than just a teacher, she is a mother, a friend, mentor and a ray of hope that has purposefully, powerfully and unconditionally propelled us towards our goals," a tearful Jacobs said.
Nordien explained that she impressed upon her learners that there is more to life than drama: "I not only want perfection and excellence in the dramatic arts. I make it clear to learners that life is your business and you shine and you give your best in order to show others the way. There's nothing great about playing small in life."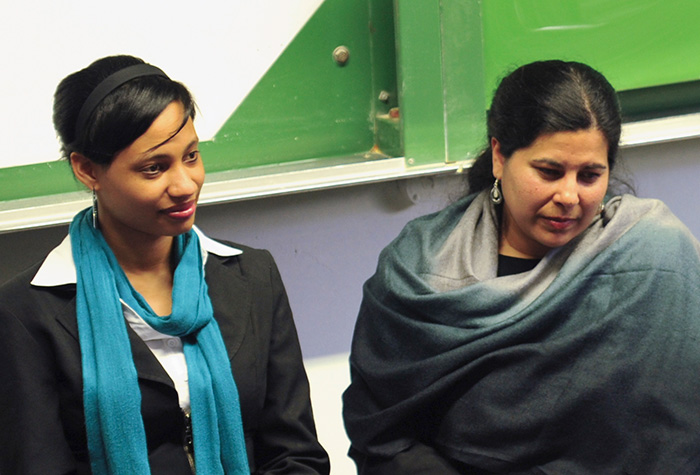 Stella Clark Teachers' Award winner Amina Nordien (right), a drama teacher at Alexander Sinton High School in Athlone, and first-year BA student Lia Jacobs who nominated her.
She founded a theatre at her school to give learners the opportunity to practise their craft. She also organises drama camps where students prepare for live performances because it is her belief "that nothing in life beats experience".
It is clear that Little from Maitland High shares this belief. She encourages her students, many of whom do not have English as a home language, to read everything and anything they lay their hands on. When speaking to them, she addresses them in English only.
"It's all about just being there for the child. What works is for me is to get into their world by using the music they listen to and the things they speak about. You need to come down to their level," added Little, who expressed a real love for her learners. She believes it is this love, reciprocated by her students, that keeps them interested and motivated to aspire to greatness.
Story by Abigail Calata. Images by Je'nine May.
---
This work is licensed under a Creative Commons Attribution-NoDerivatives 4.0 International License.
Please view the republishing articles page for more information.
---