Developing business acumen among students from all disciplines '" this is the aim of FLUX, a student business challenge imported from the UK and presented by UCT's Careers Service. The pilot FLUX challenge took place recently at the Graduate School of Business, and saw 144 students squaring up against each other for the honour of coming up with one of two winning business ideas and being awarded the prize money of R6 000.
"With the success of this year's competition, we plan to have the competition earlier next year and will consider sending the winning team to participate in the UK's FLUX competition, where they will come up against winners from various British universities," explained David Casey, director of Careers Services, which is located within the Centre for Higher Education Development (CHED).
Marc Lintern, Careers Services director of Newcastle University, is an expert in presenting the competition in the UK and came to SA to train UCT Careers Service to take the competition forward. In 2006 he organised the first competition at his then-employer, Plymouth University. Since then the competition has grown. Outside of the UK it is not only presented at UCT, but also at two universities in Sri Lanka.
Finding business solutions to everyday problems
As part of the FLUX competition, students are presented with a local business challenge. UCT students grappled with a challenge connected to Cape Town's status as 2014 World Design Capital on their first day, and on the second, their challenge revolved around South Africa's energy crisis. On each of the two competition days, 12 teams consisting of six participants each had to find a solution to the challenge of that day.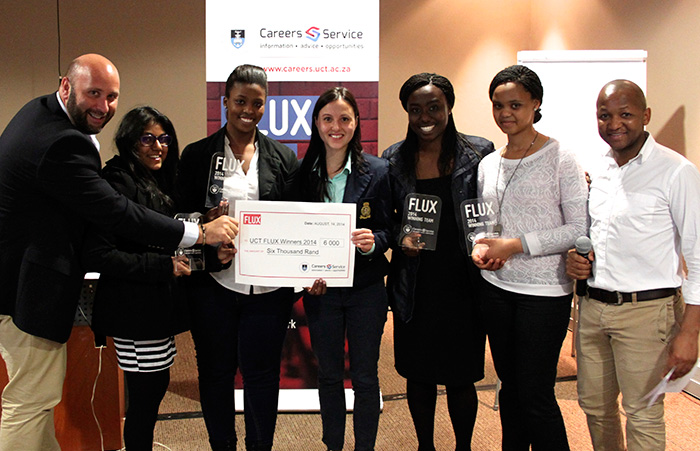 On day two the winners were from team Powerhouse, posing here with David Casey, director of UCT's Careers Service: (from left) Stefanie Jugthaw, Thembeka Getyengana, Sarah Jay Kinnear, Matilda Foli and Ndinani Majali.
A business expert meets with the teams to help them refine their business plan before it is assessed and the winner for that day is determined. Careers Service employer partners included Investec, KPMG, Unilever, The Foschini Group, Pricewaterhouse Coopers, SAB, Standard Bank and Accenture.
"FLUX helps students be enterprising. It helps students to identify a promising business opportunity. It's a great tool to use for recruiters because it acts like an assessment centre, where employers come to spot talent as well as to promote their brand," said Lintern. "Like their UK counterparts, the South African students are very competitive."
Commerce students made up more than half of FLUX participants, followed by Engineering and Humanities students.
Student comments
Students gave their feedback anonymously after the competition. These are some of the things they had to say about FLUX:
"The best aspect wasn't within the event itself, but rather what it can do to stimulate ideas to improve society in the future."
"I have something to contribute to the community and the world at large."
"Going into business encompasses so much more than I had originally thought."
Story by Abigail Calata. Images supplied.
---
This work is licensed under a Creative Commons Attribution-NoDerivatives 4.0 International License.
Please view the republishing articles page for more information.
---