Inexpensive heart valves and uniquely simple ways of putting them into patients, designed by a University of Cape Town (UCT) start-up company, have the potential to save the lives of millions of children with rheumatic heart disease (RHD) in sub-Saharan Africa and elsewhere in the developing world.
Still under development, the plastic heart valves will cost a fraction of traditionally used, tissue-based valves and are designed specifically to address the needs of the approximately 75 million sufferers of childhood RHD worldwide. It is believed the valves could be ready for clinical use within the next three years.
Strait Access Technologies (SAT), a UCT-based innovation company, is offering hope to those in the developing world who are living with RHD. SAT's patented heart valve technologies cost significantly less to produce than imported traditional valves, and would be affordable by even the most resource-strapped hospitals both here and elsewhere in Africa, says SAT chief executive Professor Peter Zilla, who is also head of cardiothoracic surgery at UCT.
"It is SAT's mission to provide cost-effective cardiac devices and their deployment systems to address the needs of predominantly young patients in developing countries. Since access to cardiac surgery is limited in these countries, it is crucial that our treatments for heart valve diseases are not reliant on the specialised infrastructure needed to perform open-heart surgery, and the valve eliminates the need for continuous anti-coagulation medication," Zilla explains.
UCT and its teaching hospital, Groote Schuur, gained international recognition as the site of the world's first heart transplant performed by a team lead by Christiaan Barnard. Five decades on, his successors '" including Zilla '" in UCT's Chris Barnard Division of Cardiothoracic Surgery, have extended Barnard's legacy into the area of heart valve research.
It is estimated that 24 in every 1 000 South Africans live with RHD. Caused by untreated streptococcal throat infection, RHD primarily affects children over five years. Without prompt treatment it can permanently damage heart valves and a high percentage of sufferers in the developing world die.
A lack of resources in state heart centres in the Western Cape, for example, sees only 350 out of approximately 1 600 RHD patients a year receive life-saving surgery. Zilla maintains that in order to address the current problem, surgeons would need to perform four times the number of rheumatic heart disease operations annually.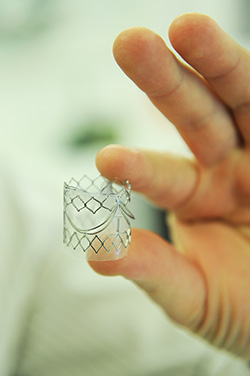 An inexpensive heart valve, designed by a University of Cape Town (UCT) start-up company, Strait Access Technologies (SAT) has the potential to save the lives of millions of children with rheumatic heart disease.
Zilla says that SAT enjoys a huge advantage as the company operates at the interface between academia and product development, which has benefits for not only the production of the heart valves, but in the creation of innovative, less invasive, delivery techniques.
UCT-based surgeons are using cutting-edge technology to devise a device which could see heart valves implanted without open-heart surgery and can help meet the demand for implants by simplifying its deployment. Zilla believes that ultimately the procedure will be so simple and safe that any medium-sized hospital in Africa would be able to implant the SAT valve.
"This device is designed to insert a crimped heart valve without occluding the flow of blood in a beating heart. It eliminates the need to rapid pace the heart during deployment of the valve and eliminates the need for a heart-lung machine.
"This interface between research and development also enables our students to be part of an innovation process that gives them invaluable experience and an understanding of the innovation chain," he says.
Researchers at UCT's Chris Barnard Division of Cardiothoracic Surgery who are conducting tests with the devices are hopeful that they could be used to insert the heart valves in humans as early as 2017.
Established in 2009 with funding from South Africa's Technology Innovation Agency (R12 million) and a local investment company Bidvest (R18 million), SAT has developed its valves over the past five years and has successful implanted valves in large animals. A further Bidvest capital investment of R32 million has enabled SAT to significantly upgrade its facilities and obtain capital equipment that will allow much faster turn-over in R&D developments.
"As a result, SAT has not only a significant number of patents in all of its core areas, but is also ahead of schedule in its product developments," says Zilla.
Text by Chris Mitchell. Photos by Hetty Zantman and Michael Hammond.
---
This work is licensed under a Creative Commons Attribution-NoDerivatives 4.0 International License.
Please view the republishing articles page for more information.
---