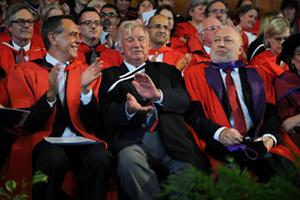 Examples to follow: Professor Pierre De Vos (left foreground), Benjamin Rabinowitz and Professor Derek Yellon were honoured at a UCT graduation ceremony on 16 December.
The university's responsibility to society beyond the lecture theatre was a theme of the joint graduation ceremony for the Faculties of Health Sciences and Law on 16 December.
Leading the way was legal expert Professor Pierre De Vos, who received the university's Social Responsiveness Award for 2013. The Deputy-Dean of the Faculty of Law and Claude Leon Foundation Chair in Constitutional Governance, De Vos was honoured for his work in three key areas.
Deputy-Vice Chancellor, Professor Sandra Klopper, commended De Vos for consistently providing both printed and electronic media (as diverse as the New York Times; Daily Voice; Al Jazeera, CNN; SAFM; SABC, ETV and Radio Sonder Grense) with analysis, insight and explanation on both narrowly focused constitutional law questions, as well as on broader socio-political questions. She said these included questions related to colonialism and to various oppressive views and practices relating to race, sex, gender and sexual orientation, and said that De Vos played a role in informing debate and enhancing democratic deliberation in South Africa.
Through his blog, Constitutionally Speaking, De Vos serves as a popular commentator on social and political issues '" regularly tackling these issues from a constitutional law perspective. Klopper said the blog aimed to inform the public about the constitutional project in order to deepen debate and to assist in the development of theoretically nuanced, but practically relevant, insights about the way in which power operates in a constitutional democracy. She added that it helped frame debates and legal arguments in the media, as well as in court processes and Parliament.
"Thirdly, he uses his skill as a constitutional lawyer to work with and assist non-governmental organisations working in the human rights and constitutional law field with their projects," said Klopper.
The Social Responsiveness Award symbolises the university's commitment to realise equity and social justice in post-apartheid South Africa and the African continent as a whole.
"South Africa, Africa and the world face a multitude of challenges and against this backdrop UCT has decided to take a more strategic approach to the ways in which it mobilises its resources. To this end UCT's Strategic Plan 2010-2014 committed the university to four institution-wide initiatives: climate change and development, safety and violence, public schooling and poverty and inequality," said Dr Max Price in a recent Social Responsiveness Report.
Honorary doctorate for '˜heart detective'
The ceremony saw a Doctor of Science, honoris causa, awarded to eminent cardiologist Professor Derek Yellon, a UCT alumnus and Professor of Molecular and Cellular cardiology at University College London.
Yellon, said university orator Professor Alison Lewis, was an "innovator, a pioneer and a highly respected cardiovascular scientist" who describes himself as a kind of a '˜heart detective'.
"His detection work," Lewis explained, "has focused on solving the puzzle of what happens when the blood and oxygen supply to the heart is abruptly reduced in a heart attack. What distinguishes his work is how it translates from very fundamental scientific laboratory studies (like explaining the mechanisms of protein kinase C signalling) to clinical studies that have benefits for patients undergoing coronary bypasses. In other words: really from the '˜bench to the bedside'."
Highlighting the challenges and doubts that peppered his career during its fledgling years, the modest Yellon had a message for the graduands: "If I can make it to the great heights of academia, then it is possible for anyone to do the same. All you need is determination, passion, enthusiasm and a willingness never to give up and then, as they say, world is your oyster."
Rabinowitz awarded President of Convocation Medal
On hand to receive the President of Convocation Medal at the same ceremony was Benjamin Philip Rabinowitz. The medal is awarded annually awarded annually to an alumnus or alumna that has made a contribution to the common good.
Noting that it is not always the same thing, as Aristotle put it, to be "a good man and a good citizen", Mary Burton, the president of Convocation, described Rabinowitz as a "true citizen of Cape Town". The UCT alumnus and Rhodes Scholar, Burton said, has made a "distinguished contribution to the common good that makes him a worthy recipient of the medal". Rabinowitz demonstrated a long-standing commitment to preserving and extending communal public spaces and gave time, energy and resources to defending them and to defending other human rights, Burton continued. Having used his knowledge and resources for the benefit of the common good made Rabinowitz a role model for members of UCT's Convocation, she said.
New Fellows admitted
The highlights of Monday's graduation ceremony included Professors Edwards Sturrock (Division of Medical Biochemistry) and Carolyn Williams (Division of Medical Virology) being admitted to UCT's College of Fellows in recognition of their outstanding contributions to their fields.
The internationally-renowned Sturrock is an accomplished scientist who works in the areas of protein structure and function, and drug design and development. He completed his PhD at UCT in 1994 for work on the synthesis and metabolism of bilirubin. As a postdoctoral scientist at Harvard Medical School, he worked on the structure and function of angiotensin-converting enzyme (ACE), a metal-containing protease that plays a pivotal role in human blood pressure regulation.
The impact of Sturrock's research is reflected by his outstanding publication output: he has published numerous scientific articles in accredited peer-reviewed journals, as well as book chapters. Four of his patents have gone to grant. His articles are cited frequently by his peers in the field, and he is currently rated by the National Research Foundation as an internationally acclaimed researcher with a '˜B1' rating. A sought-after speaker at major international conferences, Sturrock is also a fellow and vice-president of the Royal Society of South Africa and has served as a member of council for the International Proteolysis Society.
Williamson, in turn, is at the forefront of human immunodeficiency virus (HIV) research in South Africa, and is world-renowned in the field of HIV diversity, pathogenesis and vaccine development. She is currently Head of the Division of Medical Virology, located in the Department of Clinical Laboratory Sciences. She is a founder member of the UCT Institute of Infectious Disease and Molecular Medicine, a member of the Academy of Sciences of South Africa, and a Fellow of the Royal Society of South Africa.
Beginning her HIV-research in 1992, the celebrated virologist has more than 100 peer-reviewed publications in the field of HIV research, many of which are published in high impact journals. Notably, her work has also had considerable recent impact in a very competitive international research field.
In the early 1990s she was principal investigator and patent co-inventor of clade C HIV vaccine immunogens, a study co-led with UCT Fellow, Anna-Lise Williamson. This led to the development of the first HIV vaccines developed in Africa to go to clinical trial in the USA and South Africa. More recently, her laboratory has performed seminal studies on understanding HIV transmission, replication and pathogenesis.
Text: Yusuf Omar. Image: Michael Hammond.
---
This work is licensed under a Creative Commons Attribution-NoDerivatives 4.0 International License.
Please view the republishing articles page for more information.
---