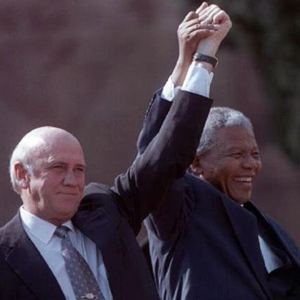 For a life that symbolises the triumph of the human spirit, Nelson Mandela accepted the 1993 Nobel Peace Prize (along with FW de Klerk) on behalf of all South Africans who suffered and sacrificed so much to bring peace to our land. The era of apartheid formally came to an end on 27 April 1994, when Nelson Mandela voted for the first time in his life - along with the rest of the nation. However, long before that date it had become clear, even before the start of negotiations at the World Trade Centre in Kempton Park, that the ANC was increasingly charting the future of South Africa.
Rolihlahla Nelson Dalibunga Mandela was inaugurated as President of a democratic South Africa on 10 May 1994. In his inauguration speech he said: "We dedicate this day to all the heroes and heroines in this country and the rest of the world who sacrificed in many ways, and surrendered their lives so that we could be free. Their dreams have become reality. Freedom is their reward. We are both humbled and elevated by the honour and privilege that you, the people of South Africa, have bestowed on us, as the first President of a united, democratic, non-racial and non-sexist government.
"We understand it still that there is no easy road to freedom. We know it well that none of us acting alone can achieve success. We must therefore act together as a united people, for national reconciliation, for nation building, for the birth of a new world. Let there be justice for all. Let there be peace for all. Let there be work, bread, water and salt for all. Let each know that for each, the body, the mind and the soul have been freed to fulfil themselves. Never, never and never again shall it be that this beautiful land will again experience the oppression of one by another and suffer the indignity of being the skunk of the world. Let freedom reign."
---
This work is licensed under a Creative Commons Attribution-NoDerivatives 4.0 International License.
Please view the republishing articles page for more information.
---