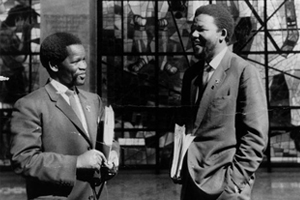 At the 1949 Annual Conference the Programme of Action - inspired by the Youth League, which advocated the weapons of boycott, strike, civil disobedience and non-co-operation - was accepted as official ANC policy. Spurred on by National Party winning the 1948 all-white elections on the platform of apartheid,
The Programme of Action had been drawn up by a sub-committee of the ANCYL composed of David Bopape, Mda, Mr Mandela, James Njongwe, Sisulu and Tambo. To ensure its implementation, the membership replaced older leaders with a number of younger men. Sisulu, a founding member of the Youth League, was elected secretary-general. The conservative Dr AB Xuma lost the presidency to Dr JS Moroka, a man with a reputation for greater militancy. In December, Mandela himself was elected to the NEC at the National Conference.
When the ANC launched its Campaign for the Defiance of Unjust Laws in 1952, Mandela, by then President of the Youth League, was elected National Volunteer-in-Chief. The Defiance Campaign was conceived as a mass civil disobedience campaign that would snowball from a core of selected volunteers to involve more and more ordinary people, culminating in mass defiance. Fulfilling his responsibility as Volunteer-in-Chief, Mandela travelled the country organising resistance to discriminatory legislation. Charged, with Moroka, Sisulu and 17 others, and brought to trial for his role in the campaign, the court found that Mandela and his co-accused had consistently advised their followers to adopt a peaceful course of action and to avoid all violence.
For his part in the Defiance Campaign, Mandela was convicted of contravening the Suppression of Communism Act and given a suspended prison sentence. Shortly after the campaign ended, he was also prohibited from attending gatherings and confined to Johannesburg for six months.
During this period of restrictions, Mandela wrote the attorney admissions examination and was admitted to the profession. He opened a practice in Johannesburg in August 1952, and in December, in partnership with Tambo, opened South Africa's first black law firm in central Johannesburg. He says of himself during that time: "As an attorney, I could be rather flamboyant in court. I did not act as though I were a black man in a white man's court, but as if everyone else - white and black - was a guest in my court. When presenting a case, I often made sweeping gestures and used high-flown language– (and) used unorthodox tactics with witnesses."
Their professional status didn't earn Mandela and Tambo any personal immunity from the brutal apartheid laws. They fell foul of the land segregation legislation, and the authorities demanded that they move their practice from the city to the back of beyond, as Mandela later put it, "miles away from where clients could reach us during working hours. This was tantamount to asking us to abandon our legal practice, to give up the legal service of our people – No attorney worth his salt would easily agree to do that". The partnership resolved to defy the law. In 1953 Mandela was given the responsibility to prepare a plan that would enable the leadership of the movement to maintain dynamic contact with its membership without recourse to public meetings. The objective was to prepare for the possibility that the ANC, like the Communist Party, would be declared illegal, and to ensure that the organisation would be able to operate from underground. This was the M-Plan, named after him. "The plan was conceived with the best of intentions but it was instituted with only modest success, and its adoption was never widespread."
During the early fifties Mandela played an important part in leading the resistance to the Western Areas removals, and to the introduction of Bantu Education. He also played a significant role in popularising the Freedom Charter, adopted by the Congress of the People in 1955. Having been banned again for two years in 1953, neither Mandela nor Sisulu were able to attend but "we found a place at the edge of the crowd where we could observe without mixing in or being seen".
During the whole of the '50s, Mandela was the victim of various forms of repression. He was banned, arrested and imprisoned. A five-year banning order was enforced against him in March 1956. "[But] this time my attitude towards my bans had changed radically. When I was first banned, I abided by the rules and regulations of my persecutors. I had now developed contempt for these restrictions – To allow my activities to be circumscribed by my opponent was a form of defeat, and I resolved not to become my own jailer."
Although Mandela and Mase had effectively separated in 1955, it wasn't until 1958 that they formally divorced - and shortly afterwards, in June, he was married to Nomzamo Winnie Mandela. Their first date was at an Indian restaurant near Mandela's office and he recalls that she was "dazzling, and even the fact that she had never before tasted curry and drank glass after glass of water to cool her palate only added to her charm – Winnie has laughingly told people that I never proposed to her, but I always told her that I asked her on our very first date and that I simply took it for granted from that day forward".
Unlike in his first marriage, the couple observed most of the traditional requirements, including payment of lobola, and were married in a local church in Bizana on 14 June. There was no time (or money) for a honeymoon - Mandela had to appear in court for the continuing Treason Trial, and anyway his banning order had only been relaxed for six days.
---
This work is licensed under a Creative Commons Attribution-NoDerivatives 4.0 International License.
Please view the republishing articles page for more information.
---