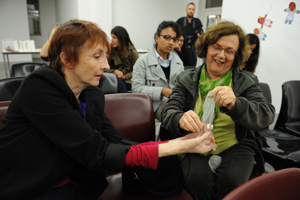 Global Female Condom Day: Assoc Prof Jane Bennett (left) and Emer Assoc Prof Margaret Hoffman examine a new brand of female condom, manufactured using nano technology.
Female condoms may have been around for 20 years, providing "one more option" for women to safeguard themselves against pregnancy, sexually transmitted infections, and HIV, but they're hard to find at pharmacies, let alone clinics.
And they're not yet a cheap option, or widely accepted by women as a means of protecting and empowering themselves.
These were concerns expressed by reproductive health practitioners at last night's (16 September) Global Female Condom Day event at UCT '" part of a worldwide campaign to market the Cinderella of female contraception.
To this end, UCT's School of African and Gender Studies, Anthropology and Linguistics and the HIV/AIDS and Inclusivity Co-ordination Unit (HAICU) teamed up with Women in Sexual and Reproductive Health (WISH) and PATH, an NPO that addresses global health issues.
"We're raising awareness of a huge, unmet need for contraception that also deals with HIV/AIDS," said Female Condom Ambassador Kgomotso Matsunyane of O.M.A.H.D. Films.
"We have the technology available right now that gives women the power to save and enhance their own lives. But it's not available."
With this in mind, PATH and its partners started a global conversation about female condoms and giving power back to women. And film is playing a large role.
The UCT event saw the screening of five video clips in the '˜Female Condoms are ___' international film competition, which drew 30 entries from 12 countries.
These were judged by an international panel that included Beth Barrett of the Seattle International Film Festival and Aaron Bramley of Lights. Camera. Help.
The winning entries, adjudicated at the Women Deliver Conference in Malaysia in May, were shown at similar events around the world to mark Global Female Condom Day.
The screenings were followed by a question-and-answer session with South African video director and former UCT videographer, Nawaal Deane.
Deane teamed up with Sara Chitambo to make the video Female Condoms Are About Self Love, which won an honourable mention in the competition.
Their entry profiled three young women who use female condoms and highlighted out their personal messages on sexuality and empowerment.
"A challenge was how to speak to the demographics in South Africa where there's powerlessness among women," said Deane. "We don't talk about self-protection [in the film], we talk about women celebrating themselves. This is key."
Marion Stevens of Women in Sexual and Reproductive Health and a research associate at UCT, demonstrated three female condoms, including a new brand manufactured using nano technology, to provide a product with thinner walls.
---
This work is licensed under a Creative Commons Attribution-NoDerivatives 4.0 International License.
Please view the republishing articles page for more information.
---