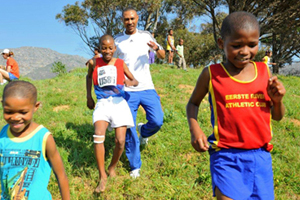 Running for the win: UCT CPS officer and competitive distance runner Riaan Witbooi encourages young athletes at his alma mater.
Twelve minutes after Stephen Mokoka crossed the line to win the 2013 Old Mutual Two Oceans Half Marathon, Riaan Witbooi followed suit.
Witbooi, a Campus Protection Services (CPS) officer and a passionate distance runner 24/7, was competing in his first Two Oceans Half Marathon. And his training paid off.
By placing 40th, Witbooi was the only runner to start in the EH block - for social runners - and place in the top 50 (including both male and female runners). The rest all kicked off in blocks A-D, designated for competitive runners. His starting spot meant Witbooi crossed the starting line ten minutes after the leading pack.
"I'm happy with my time, which was one hour and 15 minutes," reported Witbooi, but the energetic 31-year-old believes he could have done better. "[If I had started with the professional runners] I might have got 1 hour and 12 minutes. My friend that trains with me [and started near the front] got 1 hour and 12."
Witbooi patrols the area around Welgelegen, where UCT's newsroom is based. Having entered the security industry when he was around 20, Witbooi admits his passion lies elsewhere.
"What I actually want to do is coach children, including those that are homeless, disabled or have parents that don't work - especially children that have potential in a sport like running," he says. Witbooi has already been coaching young athletes at his Eersterivier Athletics Club for the better part of a year.
Witbooi began his athletics career with the 800m in primary school, but excelled in the longer distance and cross-country events. Although he won his South Western Districts colours as a pupil, he didn't qualify for the national championships. "The competition was tough!" he exclaims.
He returns to his alma mater, Teske Primêr, whenever he visits Beaufort West, and assists with cross-country and long-distance running. "For two years running the school won the inter-school trophy," he reports happily.
Witbooi is aiming to boost his coaching repertoire and plough his skills into developing young athletes at the club. "For me, it's first about being able to go on high-level coaching courses to get more insight into the deeper technical aspects of coaching," he adds.
"At the moment, I help to coach the young athletes to keep them interested, and when they get a bit older I introduce them to the club coach, Johannes Kamfer, who trained me. I teach them the basics and teach them about the fun of sports so that they don't get bored with it." While determined to share his knowledge with junior runners, Witbooi also has designs on his own long-distance career.
Although he is under no illusions that striking a professional deal will be easy, he has not given up yet. "If I can run full-time it would be better. It would be better for me just to run, and focus on training children." Running, he says, is his therapy and inspiration.
"Every time I run a race, I see my circumstances, and as I run, I feel like I'm moving forward in life and pushing forward through all the things that are maybe holding me back in my life."
Story by Yusuf Omar
---
This work is licensed under a Creative Commons Attribution-NoDerivatives 4.0 International License.
Please view the republishing articles page for more information.
---