Experienced Musikanth aims to make a subtle but significant difference.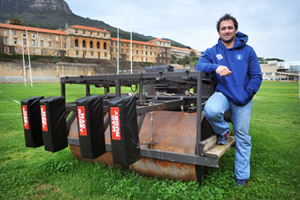 No bull in a china shop: 'You can only implement a whole lot of change once you understand the place', says UCT's new director of Rugby, Kevin Musikanth.
UCT's new director of rugby, Kevin Musikanth, is not about to go about dismantling the university's rugby structures "like a bull in a china shop".
"Change is a very, very difficult thing," says Musikanth, who will take over the Varsity Cup side from 2014. "There are a few things that I can't discount. For one, I'm new to UCT, so you can only implement a whole lot of change, or any change, once you understand the place.
"Also, I understand that I'm coming to a very traditional institution that has history that goes way back to before I arrived. My first port of call is to elicit very little change, respect what's there and then see where possibly there are gaps or areas where I, and other people, could make a difference."
Musikanth is currently juggling head-coach duties at False Bay Rugby Football Club with assisting JJ Gagiano in coaching UCT's WP SuperLeague A side. His role as director of rugby will include coaching UCT's Varsity Cup side, appointing coaches for the league team, and overseeing the entire rugby system.
He takes over from 2011 Varsity Cup-winning coach Kevin Foote, and will see out his contract with False Bay until the end of 2013 before dedicating his days to the Ikey Tigers. Foote left UCT to take up a position as defensive coach with Super Rugby team the Western Force. "For the moment, it's really a learning curve, as well as making a difference in a subtle way," says the new boss.
That will come as good news to supporters, who are used to seeing UCT teams bringing crowds to their feet with swashbuckling, attacking play. While insisting that there are certain principles that rugby teams "can't get away from", he is keen to continue letting the players express themselves.
"Every team, no matter how good they are or where they are on the log, will always have opportunities to score, and the team that is able to stop those opportunities has an advantage. Having said that, you still need to be able to score. "I would love to say that teams that I coach put their bodies on the line and defend for a cause. If teams are going to score against us, they must have really worked to deserve that.
"Defence is something that I've definitely seen UCT get better at over the years, but something that I really would want to push." Muskinath have no doubt about where he wants to take UCT -"you want to win every competition you enter" -but is under no illusions about the task facing him.
"Maties has always had this reputation of being the top rugby university in the country. Tukkies are now also staking their claim to that mantle, and the reality is that maybe UCT could be doing a bit better. Perhaps through the directorship I can make a positive difference. "We've got all the skills we need to get to the top."
He is also keen for UCT rugby to keep up with the times, given the greater focus on conditioning and physicality in the past two decades. With 16 years of coaching experience -injuries cut short his playing career at age 20 -Musikanth is well placed to note how the game has evolved. "There are statistics showing that a forward is sprinting between 17 and 20% of the game and wrestling the rest of the time," he says. "In the '80s and even the early '90s, you would rarely see backline players that were well versed at getting into rucks. It's different now. You need to respect and acknowledge stats and condition your players accordingly."
Hardcore Ikey fans will be pleased that their new head honcho is no stranger to beating the big teams, having slayed both then-defending champions Hamiltons Rugby Club and UCT's arch-rivals Stellenbosch University during his time in charge of False Bay.
Musikanth's team was an underdog before each of those massive victories, so the Cape Town man is not one to shrink from a challenge. The way Musikanth's face lights up when talking about those games -"I get goosebumps!" he admits -suggests that Ikey fans can look forward to a director who is as passionate about the game as they are.
Story by Yusuf Omar
---
This work is licensed under a Creative Commons Attribution-NoDerivatives 4.0 International License.
Please view the republishing articles page for more information.
---