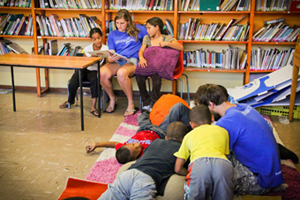 Up and running: SHAWCO volunteers were back in Manenberg this week after the STAR project at Manenberg Primary was cancelled in solidarity with community members who were opposing the recent increase in gang violence in the area.
SHAWCO's STAR project in Manenberg resumed on Tuesday after it was cancelled last week due to an upsurge of gang violence in the area.
According to Jonathan Hoffenberg, SHAWCO Education Co-ordinator, the cancellation of the project was in solidarity with the Manenberg community. It came after "a dramatic increase in gang-related shootings. How many more fathers and mothers, sons and daughters need to die before we all realise that we all need to say no and ask that the violence in Manenberg and all other communities stops," added Hoffenberg.
The STAR project provides an academic supplement to the national curriculum with the aid of computers and educational software from SHAWCO's IT and safe space aftercare facility at Manenberg Primary.
Last week Cyril Pelston, SHAWCO's Manenberg centre manager, painted a bleak picture of conditions in Manenberg. "The situation is of such a nature that it requires constant monitoring. We are talking about 13/14 year old kids running around with guns. Most of the schools are experiencing low attendance at present and people are too scared to move around in the hotspot areas."
"We have been lucky that most of our STAR project leaners live in the quieter part of Manenberg, but there are those who have been unable to attend sessions because they live in the areas ravaged by this conflict. This serious situation has negatively impacted our computer training project, with almost a nil attendance rate from those living in the hotspot areas," Pelston added.
Community members protested outside the Department of Education offices in Maitland, which led to the MEC for Education, Donald Grant, announcing the closure of fourteen schools in Manenberg. The schools were closed for the latter half of the week and re-opened on Monday.
---
This work is licensed under a Creative Commons Attribution-NoDerivatives 4.0 International License.
Please view the republishing articles page for more information.
---