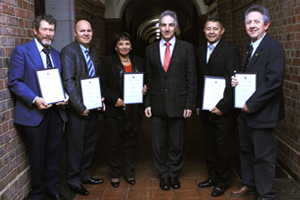 Fêted: (From left): Bruce Cairns, Kevin Willis, Cecilia de Villiers, VC Dr Max Price, Charles Hendrickse, Julian Mayer at the annual Long Service Dinner. De Villiers has clocked up 45 years' service and her four colleagues in picture each have 35 years.
When Cecilia de Villiers started work at UCT in 1968 The Beatles topped the charts with Hey Jude, the Vietnam War dominated world news and at UCT a senior lecturer appointment in social anthropology, awarded to scholar Archie Mafeje, was rescinded by government because he was black.
The world was a very different place and De Villiers, who was fêted for 45 years' service at UCT on 13 August, remembers the year well (and she has a treasured double CD of the Beatles' best songs!).
The senior co-ordinator in catering (student housing) was among the 45 long-servers honoured by host Vice-Chancellor Dr Max Price at the annual long service dinner in the stately Smuts Hall.
While De Villiers was the only who'd clocked up 45 years, four colleagues celebrated their 35-year milestones at the dinner: Kevin Willis (chemical store/procurement manager, chemistry department), Charles Hendrickse (teaching assistant, molecular and cell biology), Julian Mayer (principal technical officer, mechanical engineering), and Bruce Cairns (principal technical officer, geological sciences).
Twenty-seven guests celebrated 15 years' service and 13 marked 25 years.
Among De Villiers' rich store of anecdotes are stories of elephants in the Smuts Hall quad, Fuller residents scaling the walls using the laundry rope to gain access after '˜curfew' in the 1960s and 1970s, student strikes in the mid-1970s and contractor strikes in the 1990s.
It was at Fuller Hall that De Villiers began her career as a waitress. She had qualified as a secondary school teacher after graduating from teachers training college at only 16-and-a-half. But adolescents proved to be an unruly group (and she wasn't much older '" or taller - than her charges) and she moved into teaching pre-schoolers. Recruited to UCT by a friend, she found her niche among the lively students.
With a head for figures, De Villiers became the first woman of colour to be appointed bookkeeper to the caterer. With a burgeoning campus, De Villiers was seconded to the launch team when Tugwell residence was opened in 1975 and became supervisor and bookkeeper at Tugwell, and subsequently at Leo Marquard.
Later, she took charge of the food ordering and books at seven residences, monitoring consumption against budget. And when Student Affairs was restructured in 2006, De Villiers was appointed senior co-ordinator of catering. Today she shares the load with a catering manager and another senior co-ordinator.
Text Helen Swingler. Picture Morgan Morris.
---
This work is licensed under a Creative Commons Attribution-NoDerivatives 4.0 International License.
Please view the republishing articles page for more information.
---