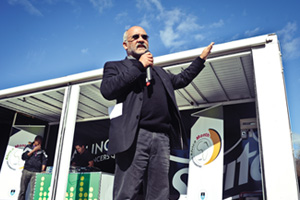 Though AIDS is now a disease one can live with thanks to medical advances, it's still imperative to be tested for HIV, not just once but regularly, Vice-Chancellor Dr Max Price said at the annual Candlelight Memorial Concert on 9 May, organised by UCT's HIV/AIDS Institutional Co-ordination Unit (HAICU). Though the event was curtailed, the theme, Stop Stigma: Connect - Include - Embrace, challenged the campus community to finding new ways of addressing stigma. Deputy Vice-Chancellor Professor Crain Soudien (in picture) said that much progress made on the HIV/AIDS front reflected in what the university taught and researched. But there was another realm of engagement that was equally important in addressing HIV/AIDS and here he applauded the efforts of students who "are out there" and had trained as counsellors. They had opened the way for important discussions on sexuality and the creation of informal spaces from which UCT had been able to learn.
While visiting speaker and former UCT Vice-Chancellor, Dr Mamphela Ramphele, urged UCT students in the Molly Blackburn Hall on May 2 to "become obsessive about finding the opportunity in the problem", a group of UCT students outside the venue were protesting Ramphele's allegedly 'exploitative' economic policies by staging a placard demonstration. In the main, the placards referred to the fact that during Ramphele's tenure, certain services at the university, including cleaning and estate maintenance, were outsourced. Raphele, the leader of the recently-launched Agang political platform, had been invited by a cohort of business-oriented student societies to talk about the role of youth in entrepreneurship. She advised students to resist "settling for stable jobs" and to consider forging entrepreneurial careers instead. That evening, Ramphele delivered the annual Smuts Hall lecture, telling her audience that while young women in South Africa had role models, young men did not. She said South Africans needed to pay attention to the love and care that should be given towards its young sons and grandsons. "I believe that this sense of powerlessness by men, and young men in particular, is what lies behind the brutal violence against women and children," she said. She asked how South Africans could make sure that hope was restored, and said Agang wanted to build a new political culture, "a culture that is derived from the values of our constitution". That, she said, included participatory democracy, "not just the ticking of ballot papers, but actual democracy".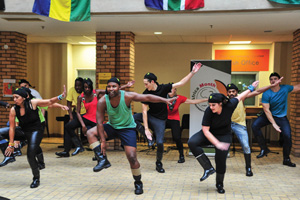 Music - and its ability to unite cultures - forms a significant focus of celebrating Africa Month. Last week UCT's Faculty of Law held a "Youth in Africa" programme at the Kramer Law Building featuring music and dance performed by students and staff. A competition called Kramer's Got Talent included Sotho dance, gumboot and township jive by UCT School of Dance students, while musical interludes were provided by the UCT Faculty of Law Choir. Various foods from many African countries were also on offer, accompanied by short scholarly presentations on trends in youth culture. This past weekend saw the African Music Student Showcase "Zambezi" at the Baxter Concert Hall. The concert focused on music and dance from countries that the Zambezi River winds through, namely Angola, Botswana, Zambia, Zimbabwe, Malawi and Mozambique.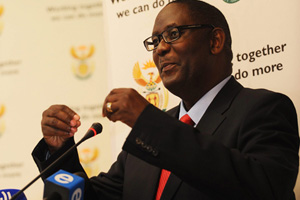 Speaking at a Worker's Day commemoration at UCT on 3 May, Zwelinzima Vavi, the general-secretary of Cosatu, said the only way for the South African economy to create sustainable jobs, eradicate poverty and build a "more prosperous and equal society" was by means of a "radical restructuring" away from its current reliance on exporting raw materials to one based on "modern manufacturing industry". The leader of South Africa's largest trade-union federation added that a failure to do so would be "disastrous", not only for unemployed young people but for all South Africans, who would be missing out on the potential contributions these young people could make to the country. Vavi and other prominent trade unionists were invited by UCT's Students' Representative Council to share their insights into the conditions of workers in South Africa.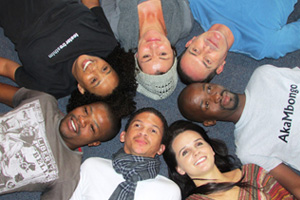 A new production at the Baxter Theatre, Long Street Nights, celebrates and remembers the rich legacy of South African theatre, in particular the work of playwright and director Barney Simon. Nicky Rebelo directs a cast of six, three of whom are UCT graduates, weaving stories captured by the cast themselves of life on Long Street after midnight. The company includes (clockwise with scarf) Antonio Fisher, Thando Doni, Riana Alfreds, Daneel van der Walt, Nicky Rebelo, Thami Mbongo and Natasha Dryden. In a style made famous by Simon, they spent two weeks exploring Long Street in order to workshop and create the characters,. Long Street Nights premiers at the Baxter Golden Arrow Studio on 8 May and runs to 1 June. Until 18 May, the Baxter is also running a student special for Long Street Nights and another production, The Miser. For R45, students get entry to either of the productions, and a free drink and samoosa. (Only on presentation of a valid student card.)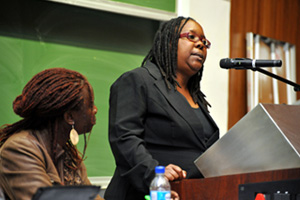 While high-profile Zimbabwean politicians debated the procedural concerns around Zimbabwe's readiness for general elections scheduled for 29 June - Virginia Muwanigwa (right) approached the debate from a different angle. Speaking at the second instalment of the 'To whom does Africa belong?' series, Muwanigwa, of the Women's Coalition of Zimbabwe, noted with concern that the voice of the people, "who are the victims in all of this", remained suppressed. The debate took place at UCT on 26 April and Muwanigwa shared a platform with Professor Brian Raftopoulus of the Crisis in Zimbabwe Coalition and high-profile representatives of Zimbabwe's major political parties. Selina Mudavanhu, a doctoral student at UCT's Centre for Film and Media Studies, chaired the debate which was jointly organised by UCT's Zimbabwe Students' Society, the university's Students' Representative Council, civil-society movement PASSOP and the Crisis in Zimbabwe Coalition.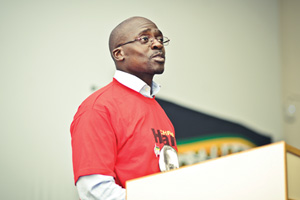 As the country commemorates the 20th anniversary of Chris Hani's assassination, the struggle to emancipate South Africa's people from their socio-economic troubles must intensify, said Malusi Gigaba, national Minister of Public Enterprises. Gigaba was speaking at the first of what is to be an annual Chris Hani Memorial Lecture in memory of the slain anti-apartheid leader, held at UCT on 25 April. Gigaba said Hani had espoused the most radical solutions to these challenges, and set an example for the next generation of leaders by immersing himself in "the thick of every element of the struggle". The memorial was organised by UCT's Progressive Youth Alliance, a coalition of student political party organisations.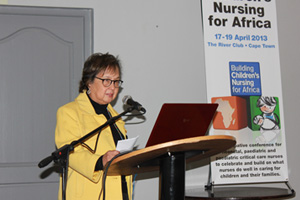 The Building Children's Nursing for Africa conference was hosted by the Child Nurse Practice Development Initiative, in the UCT School of Child and Adolescent Health, last month. This landmark event, held in collaboration with the Red Cross War Memorial Children's Hospital, drew over 140 nurses and other health care practitioners from across Africa, as well as representatives from the United Kingdom and Madagascar. Conference presentations, delivered over the course of three full days, focussed on acknowledging and sustaining both existing and future nurse-led research initiatives in Africa to expand the data base on best available evidence for child nursing practice on the continent. Here, Emeritus Professor Marian Jacobs, former Dean of the Faculty of Health Sciences at UCT, is pictured delivering the opening plenary in which she encouraged nurses' increased involvement in the development of South Africa's National Health Insurance policy in order to advocate for children's health care needs.
---
This work is licensed under a Creative Commons Attribution-NoDerivatives 4.0 International License.
Please view the republishing articles page for more information.
---