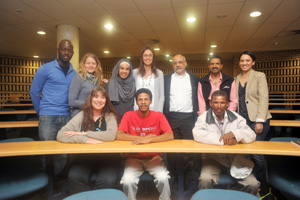 Winners all: Celebrating the 2012 Social Responsiveness Awards were (from left, back) Chimango Hara (EEU), Jaci van Niekerk (EEU), Fahdelah Hartley (EEU), Assoc Prof Merle Sowman (EEU), DVC Prof Crain Soudien, winner Prof Mohamed Adhikari, and Samantha Williams (EEU). (Front) Assoc Prof Rachel Wynberg, and Salvester Don and Petrus Koordom, both fishermen from Ebenhaeser working with the EEU on a project.
In many ways, the Social Responsiveness Colloquium in November was a celebration of how initiatives involving engagement with external, non-academic constituencies enrich research and teaching.
So Guy Lamb gave a progress report on the university's Safety and Violence Initiative, Dr Jonathan Clark gave an update of the Schools Improvement Initiative, and Dr Katherine Hall reported back on September's very successful Towards Carnegie 3 conference of the Poverty and Inequality Initiative. These three projects are major initiatives established by the university - at the prompting of Vice-Chancellor Dr Max Price - over the past two years.
In addition, the winners of the 2012 Social Responsiveness Awards were announced at the colloquium. These awards will be handed over at the December graduation ceremonies this month, and go to Professor Mohamed Adhikari of the Department of Historical Studies and the team at the Environmental Evaluation Unit (EEU).
In a self-described "modest, one-man, self-funded" project, Adhikari penned a biography of famed educator Harold Cressy, titled Against the Current: A biography of Harold Cressy, 1889-1916, as a means to raise bursary funds - targeting an initial R100,000 - for indigent but deserving learners at Harold Cressy High School. In turn, the EEU was hailed for its work with struggling local communities in which it attempts to balance the socio-economic needs of those communities with environmental sustainability. (Fishermen from one such project, in Ebenhaeser, attended the colloquium.)
The colloquium also allowed the Institutional Planning Unit to launch the 2011 Social Responsiveness Report. The report contains a high-level summary of institution-wide and individual/unit activities related to the Vice-Chancellor's strategic themes.
Progress reports are provided on two initiatives funded by the Vice-Chancellor's Strategic Fund: the UCT Knowledge Co-op and the UCT Global Citizenship: Leading for Social Justice Programme. The report also includes a section on the provision of non-formal courses for adult learners, as continuing education is an example of teaching-oriented forms of social responsiveness. As such, the 2011 SR Report is the beginning of a process for providing an overview of the range and depth of social responsiveness activity across the university.
---
This work is licensed under a Creative Commons Attribution-NoDerivatives 4.0 International License.
Please view the republishing articles page for more information.
---