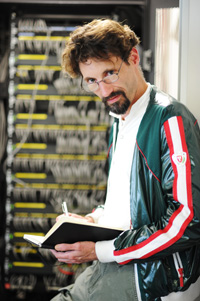 Reflection: UCT ICTS project manager and poet Richard Higgs obtains his MA in Creative Writing with distinction, a rare feat.
When Richard Higgs - said by his supervisor, renowned poet Professor Joan Hambidge, to be a writer of "smashing poems" - receives his Master of Arts in Creative Writing degree this month, he will be achieving something rare: a distinction for his degree.
In his dissertation, Higgs - a project manager with UCT's information and communications technology services department - studied the translation of poetry, using the constructs of detective fiction to illustrate the point that translating poetry can be construed as homicide.
The coursework was a volume of some of the poems he wrote in English and Afrikaans during the two years of the course. Titled The Art of Dying/Binnedeur, it deals mainly with the circular relationships that we have with mortality and art. It also blends in concepts from mathematics, science and philosophy, and relates them to our perceptions of death and of art.
Higgs has been penning poetry since he could first write, at about age six.
The MA in Creative Writing was all about refining his skills as a poet and the quality of his prose.
"I needed a deeply critical, impartial eye from an experienced poet, someone who could identify my strengths and weaknesses, and help me to focus intensively on the work I needed to do. Also, having worked in the professional/corporate world for so long, I decided that my creative side needed some structure."
Higgs, who has a BA from Wits and an MA in Language Sciences from the University of Montpellier in France, says poetry does not exist in isolation.
"What makes my poetic voice unique is a deep engagement with a very broad range of poetic and artistic traditions, as well as with the more linear sciences: mathematics, physics and medicine."
Those poets who have had an enduring impact on him include e e cummings, Uys Krige, Lucille Clifton, Federico Garcia Lorca, William Blake, and Edith Sitwell. The two contemporary poets he admires most are UCT's 'own' Ingrid de Kok and the Irish poet Paul Muldoon (both of whom make cameo appearances in his volume).
Higgs believes there is a slow renewal of interest in poetry, partly thanks to social media, which make poetry much easier and cheaper to publish and access. This is not always a good thing, though, he adds.
"There's a lot of really bad poetry that now has an outlet."
---
This work is licensed under a Creative Commons Attribution-NoDerivatives 4.0 International License.
Please view the republishing articles page for more information.
---