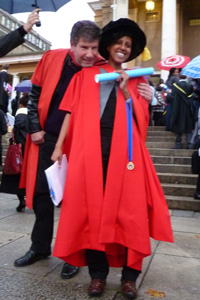 Stand out: Dr Judith Fessehaie won a best PhD paper award at the Global Network for the Economics of Learning, Innovation, and Competence Building Systems International Conference,China. (In picture is Prof Mike Morris.)
Dr Judith Fessehaie, a researcher in the Policy Research in International Services and Manufacturing unit in the Faculty of Commerce, has won a best PhD paper award in China for her work on the dynamics of Zambia's copper value chain.
Fessehaie's PhD was supervised by Professor Mike Morris.
Her thesis examined the impact of Chinese and Indian investments on Africa's local industrialisation processes. She collected her data in Zambia where she drove up through the copper belt to interview mining companies.
In her abstract Fesshaie says that the past two decades have seen the emergence of China and India as major investors in African extractive industries. This, together with the commodity price boom, has placed the commodity sectors back on the policy agendas of resource-rich African countries.
Her aim was to examine how lead commodity firms ownership, in terms of country of origin, shapes value chain governance in an extractive industry, and how this, in turn, affects the opportunities for local upstream development and upgrading processes. Fessehaie analysed the socio-economic context in which these dynamics are embedded to identify historical trajectories and institutional determinants.
---
This work is licensed under a Creative Commons Attribution-NoDerivatives 4.0 International License.
Please view the republishing articles page for more information.
---