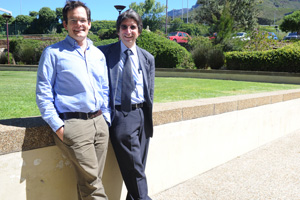 Winning pair: Assoc Prof Landon Myer (left) and Prof Dan Stein have, respectively, won the silver and gold medals of the Southern Africa Association for the Advancement of Science, considered among the top awards for academic achievement in the region.
As the leading research university in Africa, UCT is renowned for the high-calibre researchers it produces and attracts.
Recently the efforts of two UCT scientists were acknowledged by the Southern Africa Association for the Advancement of Science (S2A3) when they were presented with what are considered to be among the highest awards that can be made to scientists in Southern Africa.
Professor Dan Stein, head of the Department of Psychiatry and Mental Health and director of the university's Brain-Behaviour Initiative (BBI), received S2A3's South Africa Medal (Gold). This medal goes to someone "who, during his or her life, has contributed to the advancement of science, either on a broad front or in a specialised field". The South Africa Medal is one of the most prestigious awards for scientific merit and has been awarded since 1908. Previous recipients include renowned South African scientists such as Professor Phillip Tobias (1967) and UCT's Emeritus Distinguished Professor George Ellis (1993).
In turn, Associate Professor Landon Myer, of the Centre of Infectious Diseases Epidemiology and Research in the School of Public Health & Family Medicine, was the recipient of the British Association Medal (Silver), which is also awarded by this association. This medal goes to a scientist, under the age of 40 years, who has displayed "outstanding capability and achievements by way of publications, discoveries or special skills". It is one of the highest awards to young scientists for original research and has been awarded since 1932. Tobias (1953) and Stein (2001) were both previous recipients.
Stein indicated that his award reflects the integrative and collaborative work of colleagues, and the growing stature of the Department of Psychiatry & Mental Health, the BBI, and the Medical Research Council's Unit on Anxiety Disorders (the latter based at both the University of Cape Town and Stellenbosch University), which allows it to build the discipline as a whole. "I'm delighted that psychiatric and neuroscience research now has sufficient capacity locally that it is able to attract good graduate students and postdoctoral fellows, who have been key to the research process," he added.
Myer noted that the award reflected the outstanding research environment in the School of Public Health & Family Medicine and, more generally, the Faculty of Health Sciences, which encourages researchers to cultivate productive collaborations across departments and disciplines. "Groupings like the Institute of Infectious Diseases and Molecular Medicine are vital in this regard," Myer noted, "and are a unique asset in the university."
---
This work is licensed under a Creative Commons Attribution-NoDerivatives 4.0 International License.
Please view the republishing articles page for more information.
---