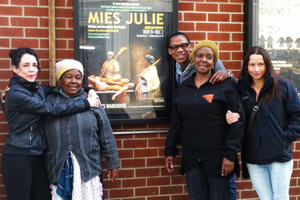 Mies Julie, Baxter's hit play, embarks on its national tour on 8 November, with its premiere in New York. In picture outside the theatre in New York are (from left) director Yael Farber and cast members, Nofirst Lungisa, Thoko Ntshinga, Bongile Mantsai and Hilda Cronje.
The cast and crew of the Baxter's hit play Mies Julie are set to brave the aftermath of New York's devastating 'Frankenstorm' as they embark on their international tour, kicking off with its US premiere at St Ann's Warehouse in Brooklyn on November 8.
After premiering at the National Arts Festival in Grahamstown earlier this year to rave reviews from local critics, the play has enjoyed a sell-out run at the Edinburgh Fringe Festival in Scotland, the largest and most prestigious arts festival in the world. The production was met with unanimous critical acclaim and garnered three of the festival's top awards and numerous five-star reviews.
The production beat over 2,600 other fringe festival offerings earning the Bank of Scotland Herald Angel Award, the Scotsman Fringe First Award and most recently the Carol Tambor Best of the Edinburg Fringe Award. It was also shortlisted for the Amnesty Freedom of Expression Award and received a nomination for The Stage Best Ensemble Award.
After a month-long run in New York, Mies Julie will return to South Africa for a stint at Johannesburg's Market Theatre from 17 January to 24 February 2013, before starting a three-month season at the Riverside Studios in London on 7 March.
Based on August Strindberg's 1888 classic, Miss Julie, director Yael Farber's new version is set in the remote, bleak beauty of the Eastern Cape Karoo and tackles the deeper complexities of South African society. The play is produced by Baxter Theatre CEO and artistic director, Lara Foot, also a UCT alumna.
The Guardian's Lyn Gardner called it "Brilliant" and "definitely the best Miss Julie I've ever seen - and I've seen a few".
Director of the National Arts Festival Ismail Mohamed, concurs: "From the moment that Mies Julie premiered in Grahamstown, we were all very confident that the outstanding artistic values benchmarked by this Baxter Theatre Centre production and created in association with the State Theatre and the National Arts Festival, was going to open new avenues for South African theatre in the international market."
"It has been tremendously exciting to work with Yael again and to be part of bringing to life her incredible vision and interpretation of this classic, aptly transposed to contemporary South Africa," says Foot.
"The journey so far is nothing short of overwhelming and exhilarating. Yael has brought together an absolutely amazing cast and creative team to present a fresh take on this play which made theatre history in South Africa in the 1980s. We are truly grateful and proud of our partnerships with the National Arts Festival, Grahamstown, the Edinburgh Festival and the South African State Theatre who all share in this phenomenal success."
A 1985 production of Miss Julie generated controversy when it was performed at the Baxter and Market Theatres and starred Sandra Prinsloo and John Kani. Their stage kiss sparked a national outcry by right-wing organisations and saw protests, and even death threats, that led to immense pressure on the Censor Board to ban the production.
"This is a Miss Julie for a world grappling to redefine itself. It is a disturbing yet mesmerising theatrical experience that reaches to address issues of restitution and the reality of what can and cannot ever be recovered," said Farber.
---
This work is licensed under a Creative Commons Attribution-NoDerivatives 4.0 International License.
Please view the republishing articles page for more information.
---